Second-Line Treatment for Pancreatic Cancer
Nancy Kaddis

Tufts Medical Center. Boston, MA, USA

Muhammad Wasif Saif

Tufts Medical Center. Boston, MA, USA
Keywords:
5-fluoropyrimidine, Drug Therapy, Combination, irinotecan, Pancreatic Neoplasms, S 1 (combination)
Abstract
Although standard of care for treatment of pancreatic cancer is established in the first line setting, there is limited data to support standard for second line chemotherapy for advanced pancreatic cancer. This is starting to change, as new studies have shown positive effect on overall survival in the second line setting. At the recent ASCO Annual Meeting 2014, several new second-line chemotherapy regimens were presented, including ruxolitinib with capecitabine, oxaliplatin with 5-FU/leucovorin, metformin plus paclitaxel and gemcitabine plus nab-paclitaxel. These abstracts provide exciting new directions for the second line treatment of advanced pancreatic cancer that has been refractory to both gemcitabine-based regimens as well as non-gemcitabine based regimens.
Image: Schematic representation of the mechanism of action of the Janus kinase inhibitors.
Downloads
Download data is not yet available.
References
Eltrich TJ, et al. DOCOX: A phase II trial with docetaxel and oxaliplatin as a second-line systemic therapy for patients with advanced and/or metastatic adenocarcinoma of the pancreas. J Clin Oncol. 31, 2013 (suppl; abstr 4034)
Gresham G, et al. A network meta-analysis (NMA) of randomized controlled trials (RCT) of chemotherapy regimens for metastatic pancreatic cancer (mPC). J Clin Oncol. 31, 2013 (suppl; abstr 4050)
Roxburgh CS, McMillan DC. Role of systemic inflammatory response in predicting survival in patients with primary operable cancer. Future Oncol 2010; 6: 149-63. [PMID:20021215]
Tingstedt B, Johansson P, Andersson B, Andersson R. Predictive factors in pancreatic ductal adenocarcinoma: role of the inflammatory response. Scand J Gastroenterol 2007; 42: 754-9. [PMID:17505998]
Nixon AB, et al. Prognostic and predictive blood-based biomarkers in patients with advanced pancreatic cancer: results from CALGB80303 (Alliance). Clin Cancer Res. 2013; 19: 6957-66.
Hurwitz H, et al. A randomized double-blind phase 2 study of ruxolitinib (RUX) or placebo (PBO) with capecitabine (CAPE) as second-line therapy in patients (pts) with metastatic pancreatic cancer (mPC). J ClinOncol 32. 55, 2014 (suppl; abstr 4000).
Pelzer, U. et al. A randomized trial in patients with gemcitabine refractory pancreatic cancer. Final results of the CONKO 003 study. J Clin Oncol. 26, 2008 (Suppl.), a4508.
Gill S, et al. PANCREOX: A randomized phase 3 study of 5FU/LV with or without oxaliplatin for second-line advanced pancreatic cancer (APC) in patients (pts) who have received gemcitabine (GEM)-based chemotherapy (CT). J ClinOncol 32. 55, 2014 (suppl; abstr 4022).
Esbah O, et al. Metformin in diabetic pancreatic cancer patients: Benefit or not—Multicenter experience. J ClinOncol, 31, 2013 (suppl; abstr e15110).
Ferrari C, et al. Phase II trial of metformin and paclitaxel for patients with gemcitabine-refractory advanced adenocarcinoma of the pancreas. J ClinOncol 32, 2014(suppl; abstr 4022).
Zaniboni A, et al. Gemcitabine plus nab-paclitaxel as second line and beyond for metastatic pancreatic cancer (MPC): A single institution retrospective analysis. J ClinOncol 32, 2014 (suppl; abstr e15196).
Ortiz-Ibáñez K, et al. Tofacitinib y otrosinhibidores de lascinasas en el tratamiento de la psoriasis. Actas Dermosifiliogr. 2013; 104: 304, 10.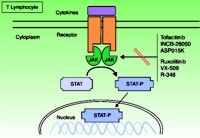 How to Cite
KaddisN., & SaifM. (2014). Second-Line Treatment for Pancreatic Cancer. JOP. Journal of the Pancreas, 15(4), 344-347. https://doi.org/10.6092/1590-8577/2691
Section
Highlights from the "50th ASCO Annual Meeting 2014". Chicago, IL, USA. May 30 - June 3, 2014
Copyright (c) 2014 Nancy Kaddis, Muhammad Wasif Saif
This work is licensed under a Creative Commons Attribution 4.0 International License.
As a member of Publisher International Linking Association, PILA, iMedPub Group's JOP follows the Creative Commons Attribution License and Scholars Open Access publishing policies. Journal of the Pancreas is the Council Contributor Member of Council of Science Editors (CSE) and following the CSE slogan Education, Ethics, and Evidence for Editors.