Somatostatinoma of the Minor Papilla Treated by Local Excision in a Patient with Neurofibromatosis Type 1
Ramesh Bhandari

Department of Surgery, University of Melbourne, Austin Health. Heidelberg, Melbourne, Victoria, Australia

Georgina Riddiough

Department of Surgery, University of Melbourne, Austin Health. Heidelberg, Melbourne, Victoria, Australia

Julie Lokan

Department of Pathology, University of Melbourne, Austin Health. Heidelberg, Melbourne, Victoria, Australia

Laurence Weinberg

Department of Anaesthesia, University of Melbourne, Austin Health. Heidelberg, Melbourne, Victoria, Australia

Marios Efthymiou

Department of Gastroenterology, University of Melbourne, Austin Health. Heidelberg, Melbourne, Victoria, Australia

Mehrdad Nikfarjam

Department of Surgery, University of Melbourne, Austin Health. Heidelberg, Melbourne, Victoria, Australia
Keywords:
Mastectomy, Segmental, Neuroendocrine Tumors, Neurofibromatoses, Pancreatic Ducts
Abstract
Context Somatostatinoma arising from the minor papilla in a patient with neurofibromatosis type 1 (NF1) is a known but very rare condition, which may cause non-specific symptoms and can present because of its mass effect. Case report A fifty-year-old female presenting with ongoing non-specific abdominal pain for a few months duration was found to have a mass involving the minor papilla. She had a history of NF1 but was otherwise well. Magnetic resonance imaging showed a dilated pancreatic duct and the finding of pancreatic divisum. The lesion was 18fluorine-fluoro-2-deoxyglucose positron emission tomography/computed tomography and 68gallium (Ga) DOTATATE negative. Endoscopic ultrasound revealed a 1.7 cm lesion confined to the minor ampulla. Endoscopic retrograde pancreatography attempts with biopsy and endoscopic ultrasound fine needle aspiration biopsy were inconclusive and resulted in mild pancreatitis on two occasions. Open local excision of the minor papilla was undertaken without complications. Histology confirmed a completely excised grade 1 neuroendocrine tumor with intense diffuse somatostatin staining. Conclusion Somatostatinoma of the minor papilla is a rare tumor that most commonly occurs in the setting of NF1 and may be amenable to local excision.
Image: Pancreatic duct reconstruction.
Downloads
Download data is not yet available.
References
Ganda OP, Weir GC, Soeldner JS et al. 'Somatostatinoma': a somatostatin-containing tumor of the endocrine pancreas. N Engl J Med1977; 296: 963-967. [PMID: 321960]
Kaneko H, Yanaihara N, Ito S et al. Somatostatinoma of the duodenum. Cancer 1979; 44: 2273-2279. [PMID: 509396]
Kontovounisios C, Korontzi M, Zahariodakis C et al. Duodenal Somatostatinoma: Case report and review article. Hellenic Journal of Surgery 2010; 82: 261-268.
Soga J, Yakuwa Y. Somatostatinoma/inhibitory syndrome: a statistical evaluation of 173 reported cases as compared to other pancreatic endocrinomas. J Exp Clin Cancer Res 1999; 18: 13. [PMID: 10374671]
Mao C, Shah A, Hanson DJ, Howard JM. Von Recklinghausen's disease associated with duodenal Somatostatinoma: contrast of duodenal versus pancreatic Somatostatinomas. J Surg Oncol 1995; 59: 67. [PMID: 7745981]
Francisco GB, Fabregat J, Jorba R et al. Exocrine pancreatic insufficiency caused by a Somatostatinoma of the minor and major duodenal papilla in a patient with neurofibromatosis. Eur J Surg 2001; 167: 154-156. [PMID: 11266260]
House MG, Yeo CJ, Schulik RD. Periamullary pancreatic Somatostatinoma. Annals of Surgical Oncology 2002; 9: 869-874. [PMID: 12417508]
Stommer PE, Stolte M, Seifert E. Somatostatinoma of vater's papilla and of the minor papilla. Cancer 1987; 60: 232-235. [PMID: 2885079]
Kainuma O, Ito Y, Taniguchi T et al. Ampullary somatostatinoma in a patient with von Recklinghausen's disease. J. Gastroenterol 1996; 31: 460–464. [PMID: 8726843]
Karasawa Y, Sakaguchi M, Minami S et al. Duodenal somatostatinoma and erythrocytosis in a patient with von Hippel-Lindau disease type 2. Intern Med 2001; 40: 38–43. [PMID: 11201368]
Tomassetti P, Migliori M, Lalli S, Campana D, Tomassetti V, Corinaldesi R. Epidemiology, clinical features and diagnosis of gastroenteropancreatic endocrine tumors. Ann Oncol 2001; 12 (Suppl. 2): S95–99. [PMID: 11762360]
Usui M, Matsuda S, Suzuki H, Hirata K, Ogura Y, Shiraishi T. Somatostatinoma of the papilla of Vater with multiple gastrointestinal stromal tumors in a patient with von Recklinghausen's disease. J Gastroenterol 2002; 37: 947–953. [PMID: 12483251]
Jensen RT, Norton JA. Endocrine tumors of the pancreas. In: Sleisinger MH, Fordtran JS, eds. Gastrointestinal Disease: Pathophysiology/Diagnosis/Management. Philadelphia, PA: W.B. Saunders Co, 1993; 1695–1721.
Bettini R, Falconi M, Crippa S, Capelli P, Boninsegna L, Pederzoli P. Ampullary Somatostatinomas and jejunal gastrointestinal stromal tumor in a patient with Von Recklinghausen's disease. World J Gastroenterol 2007; 13: 2761-2763. [PMID: 17569151]
Behranwala KA, Spalding D, Wotherspoon A, Fisher C, Thompson JN. Small bowel gastrointestinal stromal tumors and ampullary cancer in Type 1 neurofibromatosis. World J Surg Oncol 2004; 2: 1. [PMID: 14711379]
Fuller CE, Williams GT. Gastrointestinal manifestations of type 1 neurofibromatosis (von Recklinghausen's disease). Histopathology 1991; 19: 1-11. [PMID: 1916682]
Griffiths DF, Williams GT, Williams ED. Duodenal carcinoid tumors, phaeochromocytoma and neurofibromatosis: islet cell tumor, phaeochromocytoma and the von Hippel-Lindau complex: two distinctive neuroendocrine syndromes. Q J Med 1987; 64: 769-782. [PMID: 2897130]
Pinsk I, Dukhno O, Ovnat A, Levy I. Gastrointestinal complications of von Recklinghausen's disease: two case reports and a review of the literature. Scand J Gastroenterol 2003; 38: 1275-1278. [PMID: 14750649]
Malone MJ, Silverman ML, Braasch JW, Jin G, Dayal Y. Early Somatostatinoma of the duct of Santorini. Arch Surg 1985; 120: 1381-1383. [PMID: 2865941]
Angeletti S, Corleto VD, Schillaci O, et al. Use of somatostatin analogue octreotide to localize and manage somatostatin-producing tumors. Gut 1998; 42: 792. [PMID: 9691916]
Mojtahedi A, Thamake S, Tworoska I, Rangnathan D, Delpassand ES. The value of 68Ga-DOTATE PET/CT in diagnosis and management of neuroendocrine tumors compared to current FDA approved imaging modalities: a review of literature. Am J Nucl Med Mol Imaging 2014; 4: 426-434. [PMID: 25143861]
Kayani I, Bomanji JB, Groves A, et al. Functional imaging of neuroendocrine tumors with combined PET/CT using 68Ga- DOTATATE (DOTA-DPhe1, Tyr3-octreotate) and 18F-FDG. Cancer 2008; 112: 2447-2455. [PMID: 18383518]
Azimuddin K, Chamberlain RS. The surgical management of pancreatic neuroendocrine tumors. Surg. Clin. North Am. 2001; 81: 511–525. [PMID: 21922354]
Sato T, Konishi K, Kimura H et al. Strategy for pancreatic endocrine tumors. Hepatogastroenterology 2000; 47: 537–539. [PMID: 10791232]
Frick JE, Kralstein JR, Scarlato M. Somatostatinoma of the ampulla of vater in celiac sprue. J Gastrointest Surg 2000; 4: 388-391. [PMID: 11058857]
Madeira I, Terris B, Voss M et al. Prognostic factors in patients with endocrine tumors of the duodenopancreatic area. Gut 1998; 43: 422–427. [PMID: 9863490]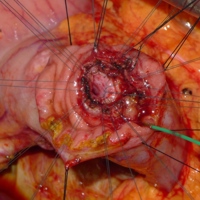 How to Cite
BhandariR., RiddioughG., LokanJ., WeinbergL., EfthymiouM., & NikfarjamM. (2015). Somatostatinoma of the Minor Papilla Treated by Local Excision in a Patient with Neurofibromatosis Type 1. JOP. Journal of the Pancreas, 16(1), 81-84. https://doi.org/10.6092/1590-8577/2906
Copyright (c) 2015 Ramesh Bhandari, Georgina Riddiough, Julie Lokan, Laurence Weinberg, Marios Efthymiou, Mehrdad Nikfarjam
This work is licensed under a Creative Commons Attribution 4.0 International License.
As a member of Publisher International Linking Association, PILA, iMedPub Group's JOP follows the Creative Commons Attribution License and Scholars Open Access publishing policies. Journal of the Pancreas is the Council Contributor Member of Council of Science Editors (CSE) and following the CSE slogan Education, Ethics, and Evidence for Editors.