The Role of Non-Operative Strategies in the Management of Severe Acute Pancreatitis
Jai Dev Wig

Department of General Surgery, Postgraduate Institute of Medical Education and Research. Chandigarh, India

Vikas Gupta

Department of General Surgery, Postgraduate Institute of Medical Education and Research. Chandigarh, India

Rakesh Kochhar

Department of Gastroenterology, Postgraduate Institute of Medical Education and Research. Chandigarh, India

Rudra Prasad Doley

Department of General Surgery, Postgraduate Institute of Medical Education and Research. Chandigarh, India

Thakur Deen Yadav

Department of General Surgery, Postgraduate Institute of Medical Education and Research. Chandigarh, India

Kuchhangi S Poornachandra

Department of Gastroenterology, Postgraduate Institute of Medical Education and Research. Chandigarh, India

Kishore Gurumoorthy Subramanya Bharathy

Department of General Surgery, Postgraduate Institute of Medical Education and Research. Chandigarh, India

Naveen Kalra

Department of Radiodiagnosis, Postgraduate Institute of Medical Education and Research. Chandigarh, India
Keywords:
Drainage, Pancreatitis, Acute Necrotizing
Abstract
Context Non-operative strategies are gaining preference in the management of patients with severe acute pancreatitis. Objective The present study was undertaken to evaluate the efficacy of a non-operative approach, including percutaneous drainage, in the management of severe acute pancreatitis. Design Prospective study. Setting Tertiary care centre in India. Patients Fifty consecutive patients with severe acute pancreatitis were managed in an intensive care unit. Interventions The patients were initially managed conservatively. Those with 5 cm, or more, of fluid collection having fever, leukocytosis or organ failure underwent percutaneous catheter drainage using a 10 Fr catheter. Those not responding underwent a necrosectomy. Depending on the outcome of their supportive care, the patients were divided into three groups: those responding to intensive care, those needing percutaneous catheter drainage and those requiring surgical intervention. Twelve patients were managed conservatively (Group 1) while 24 underwent percutaneous catheter drainage (Group 2), 9 of whom were not operated (Group 2a) and 15 of whom underwent necrosectomy (Group 2b). Fourteen patients were operated on directly (Group 3). Main outcome measures Hospital stay, intensive care unit stay, and mortality. Results Among patients requiring surgery, the patients in Group 2b had a shorter intensive care unit stay (22.1±11.1 days) as compared to the patients in Group 3 (25.0±15.6 days) and a longer interval to surgery, 30.7±8.9 days versus 25.4±8.5 days. However, these differences did not reach statistical significance (P=0.705 and P=0.133, respectively). The two groups did not differ in terms of mortality (5/15 versus 3/14; P=0.682). Conclusion The use of percutaneous catheter drainage helped avoid or delay surgery in two-fifths of the patients with severe acute pancreatitis.
Image: Schematic representation of the management of the 50 patients with severe acute pancreatitis.
Downloads
Download data is not yet available.
References
Andersson R, Sward A, Tingstedt B, Akerberg D. Treatment of acute pancreatitis. Focus on medical care. Drugs 2009; 69:505-14. [PMID 19368414]
Bumbasirevic V, Radenkovic D, Jankovic Z, Karamarkovic A, Jovanovic B, Milic N, et al. Severe acute pancreatitis. Overall and early versus late mortality in intensive care units. Pancreas 2009; 38:122-5. [PMID 18797421]
Mole DJ, Olabi B, Robinson V, Garden OJ, Parks RW. Incidence of individual organ dysfunction in fatal acute pancreatitis: analysis of 1024 death records. HPB 2009; 11:166-70. [PMID 19590643]
Fu CY, Yeh CN, Hsu JT, Jan YY, Hwang TL. Timing of mortality in severe acute pancreatitis: experience from 643 patients. World J Gastroenterol 2007; 13:1966-9. [PMID 17461498]
Bakker OJ, Van Santuoort HC, Basselink MGH, Uan der Harst E, Hofker HS, Goozen HG. Prevention, detection and management of infected necrosis in severe acute pancreatitis. Curr Gastroenterol Rep 2009; 11:104-10. [PMID 19281697]
Cheung MT. Surgical intervention in necrotizing pancreatitis: towards lesser and later. ANZ J Surg 2009; 79:220-1. [PMID 19432701]
Besselink MG, Verwer TJ, Schoenmaeckers EJ, Buskens E, Ridwan BU, Visser MR, et al. Timing of surgical intervention in necrotizing pancreatitis. Arch Surg 2007; 142:1194-201. [PMID 18086987]
Mier J, León EL, Castillo A, Robledo F, Blanco R. Early varsus late necrosectomy in severe necrotizing pancreatitis. Am J Surg 1997; 173:71-5. [PMID 9074366]
Uhl W, Warshaw A, Imrie C, Bassi C, McKay CJ, Lankisch PG, et al. IAP guidelines for the surgical management of acute pancreatitis. Pancreatology 2002; 2:565-73. [PMID 12435871]
Hasibeder WR, Torgersen C, Rieger M, Dünser M. Critical care of the patient with acute pancreatitis. Anaesth Intensive Care 2009; 37:190-206. [PMID 19400483]
Bruennler T, Hamer OW, Lang S, Gruene S, Wrede CE, Zorger N, et al. Outcome in a large unselected series of patients with acute pancreatitis. Hepatogastroenterology 2009; 56:871-6. [PMID 19621720]
UK Working Party on Acute Pancreatitis. UK guidelines for the management of acute pancreatitis. Gut 2005; 54(Suppl 3):1-9. [PMID 15831893]
Szentkereszty Z, Kotán R, Pósán J, Arkossy P, Sápy P. Therapeutic tactics in the treatment of acute necrotizing pancreatitis. Hepatogastroenterology 2008; 55:266-9. [PMID 18507122]
Seifert H, Biermer M, Schmitt W, Jürgensen C, Will U, Gerlach R, et al. Transluminal endoscopic necrosectomy after acute pancreatitis; a multicentre study with long-term follow-up (the GEPARD Study). Gut 2009; 58:1260-6. [PMID 19282306]
Kvinlaug K, Kriegler S, Moser M. Emphysematous pancreatitis: a less aggressive form of infected pancreatic necrosis. Pancreas 2009; 38:667-71. [PMID 19506530]
Ali X, Qian X, Pan W, Xu J, Hu W, Terai T, et al. Ultrasound guided percutaneous drainage may decrease the mortality of severe acute pancreatitis. J Gastroenterol 2010; 45:77-85. [PMID 19787287]
Rau B, Bothe A, Beger HG. Surgical treatment of necrotizing pancreatitis by necrosectomy and closed lavage: changing patient characteristics and outcome in a 19-year, single-center series. Surgery 2005; 138:28-39. [PMID 16003313]
Fatoohi M, Traverso LW. Management of severe pancreatic necrosis. Curr Treat Options Gastroenterol 2007; 10:341-6. [PMID 17897572]
Rodriguez JR, Razo AO, Targarona J, Thayer SP, Rattner DW, Warshaw AL, Fernández-del Castillo C. Debridement and closed packing for sterile and infected necrotizing pancreatitis. Insights into indications and outcomes in 167 patients. Ann Surg 2008; 247:294-9. [PMID 18216536]
Dong X, Gao SL, Xie QP, Xu YL, Wu YL. In situ high-volume modified continuous closed and/or open lavage for infected necrotizing pancreatitis. Pancreas 2008; 36:44-9. [PMID 18192880]
De Waele JJ, Hoste E, Blot SI, Hesse U, Pattyn P, de Hemptinne B, et al. Perioperative factors determine outcome after surgery for severe acute pancreatitis. Crit Care 2004; 8:R504-11. [PMID 15566598]
Rünzi M, Layer P. Non surgical management of acute pancreatitis. Use of antibiotics. Surg Clin North Am 1999; 79:759-65. [PMID 10470325]
Song JH, Seo DW, Byun SW, Koo DH, Bae JH, Lee SS, et al. Outcome of intensive medical treatments in patients with infected severe necrotizing pancreatitis. Korean J Gastroenterol 2006; 48:337-43. [PMID 17132922]
Runzi M, Niebel W, Goebell H, Gerken G, Layer P. Severe acute pancreatitis: nonsurgical treatment of infected necroses. Pancreas 2005; 30:195-9. [PMID 1578209]
Pupelis G, Zeiza K, Plaudis H, Suhova A. Conservative approach in the management of severe acute pancreatitis: eight year experience in a single institution. HPB (Oxford) 2008; 10:347-55. [PMID 18982151]
Bradley EL III. A clinically based classification system for acute pancreatitis: summary of the international symposium on acute pancreatitis, Atlanta, Ga September 11 through 13, 1992. Arch Surg 1993; 128:586-90. [PMID 8489394]
Balthazar EJ, Robinson DL, Megibow AJ, Ranson JH. Acute pancreatitis: value of CT in establishing prognosis. Radiology 1990; 174:331-6. [PMID 2296641]
Freeny PC, Hauptmann E, Althaus SJ, Traverso LW, Sinanan M. Percutaneous CT-guided catheter drainage of infected necrotizing pancreatitis: techniques and results. AJR Am J Roentgenol 1998; 170:969-75. [PMID 9530046]
Navalho M, Pires F, Duarte A, Gonçalves A, Alexandrino P, Távora I. Percutaneous drainage of infected pancreatic fluid collections in critically ill patients: correlation with C-reactive protein values. Clin Imaging 2006; 30:114-9. [PMID 16500542]
Mortelé KJ, Girshman J, Szejnfeld D, Ashley SW, Erturk SM, Banks PA, Silverman SG. CT-guided percutaneous catheter drainage of acute necrotizing pancreatitis: clinical experience and observations in patients with sterile and infected necrosis. AJR Am J Roentgenol 2009; 192:110-6. [PMID 19098188]
Olah A, Belaqvi T, Bartek P, Poharnok L, Romics L Jr. Alternative treatment modalites of infected pancreatic necrosis. Hepatogastroenterology 2006; 53:603-7. [PMID 16995471]
Rocha FG, Benoit E, Zinner MJ, Whang EE, Banks PA, Ashley SW, Mortele KJ. Impact of radiologic intervention on mortality in necrotizing pancreatitis: the role of organ failure. Arch Surg 2009; 144:261-5. [PMID 19289666]
Bruennler T, Langgartner J, Lang S, Wrede CE, Klebl F, Zierhut S, et al. Outcome of patients with acute necrotizing pancreatitis requiring drainage - does drainage size matter. World J Gastroenterol 2008; 14:725-30. [PMID 18205262]
Segal D, Mortele KJ, Banks PA, Silverman SG. Acute necrotizing pancreatitis: role of CT guided percutaneous catheter drainage. Abdom Imaging 2007; 32:351-61. [PMID 17502982]
Ferrucci JT, Mueller PR. Interventional approach to pancreatic fluid collections. Radiol Clin North Am 2003; 41:1217-26. [PMID 14661667]
Seewald S, Groth S, Omar S, Imazu H, Seitz U, de Weerth A, et al. Aggressive endoscopic therapy for pancreatic necrosis and pancreatic abscess; a new safe and effective treatment algorithm. Gastrointest Endosc 2005; 62:92-100. [PMID 15990825]
Coelho D, Ardengh JC, Eulalio JM, Manso JE, Monkemuller K, Coelho JF. Management of infected and sterile pancreatic necrosis by programmed endoscopic necrosectomy. Dig Dis 2008; 26:364-9. [PMID 19188729]
Escourrou J, Shehab H, Buscail L, Bournet B, Andrau P, Moreau J, Fourtanier G. Peroral transgastric / transduodenal necrosectomy: success in the treatment of infected pancreatic necrosis. Ann Surg 2008; 248:1074-80. [PMID 19092353]
Talreja JP, Kahaleh M. Endotherapy for pancreatic necrosis and abscess: endoscopic drainage and necrosecomy. J Hepatobiliary Pancreat Surg 2009; 16:605-12. [PMID 19551333]
Seewald S, Ang TL, Teng KCYK, Soehendra N. EUS guided drainage of pancreatic pseudocysts, abscesses and infected necrosis. Dig Endosc 2009; 21(Suppl 1):S61-5. [PMID 19691738]
Lee JK, Kwak KK, Park JK, Yoon WJ, Lee SH, Ryu JK, et al. The efficacy of non surgical treatment of infected pancreatic necrosis. Pancreas 2007; 34:399-404. [PMID 17446837]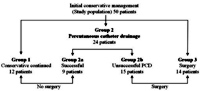 How to Cite
WigJ., GuptaV., KochharR., DoleyR., YadavT., PoornachandraK., BharathyK., & KalraN. (2010). The Role of Non-Operative Strategies in the Management of Severe Acute Pancreatitis. JOP. Journal of the Pancreas, 11(6), 553-559. https://doi.org/10.6092/1590-8577/3397
Section
ORIGINAL ARTICLES
Copyright (c) 2010 Jai Dev Wig, Vikas Gupta, Rakesh Kochhar, Rudra Prasad Doley, Thakur Deen Yadav, Kuchhangi S Poornachandra, Kishore Gurumoorthy Subramanya Bharathy, Naveen Kalra
This work is licensed under a Creative Commons Attribution 4.0 International License.
As a member of Publisher International Linking Association, PILA, iMedPub Group's JOP follows the Creative Commons Attribution License and Scholars Open Access publishing policies. Journal of the Pancreas is the Council Contributor Member of Council of Science Editors (CSE) and following the CSE slogan Education, Ethics, and Evidence for Editors.