Isolated Pancreatic Tuberculosis Mimicking Focal Pancreatitis and Causing Segmental Portal Hypertension
Surinder S Rana

Department of Gastroenterology, Post Graduate Institute of Medical Education and Research (PGIMER), Sector 12. Chandigarh, India

Deepak K Bhasin

Department of Gastroenterology, Post Graduate Institute of Medical Education and Research (PGIMER), Sector 12. Chandigarh, India

Chalapathi Rao

Department of Gastroenterology, Post Graduate Institute of Medical Education and Research (PGIMER), Sector 12. Chandigarh, India

Kartar Singh

Department of Gastroenterology, Post Graduate Institute of Medical Education and Research (PGIMER), Sector 12. Chandigarh, India
Keywords:
Endosonography, Pancreas, Tomography, X-Ray Computed, Tuberculosis
Abstract
Context Isolated pancreatic tuberculosis is a common mimicker of pancreatic malignancy and a common presentation is abdominal pain. However, segmental portal hypertension is very uncommon. Case report A case of isolated pancreatic tuberculosis mimicking focal pancreatitis and causing segmental portal hypertension is presented. Conclusion A histological or microbiological diagnosis of the presence of pancreatic masses is necessary to detect potentially treatable diseases, such as tuberculosis, in endemic countries like India.
Image: CECT showing the bulky head and body of the pancreas with heterogeneous areas of non-enhancement suggestive of necrosis and peripancreatic fat stranding.
Downloads
Download data is not yet available.
References
Yokoyama T, Miyagawa S, Noike T, Shimada R, Kawasaki S. Isolated pancreatic tuberculosis. Hepatogastroenterology 1999; 46:2011-14. [PMID 10430386]
Woodfield JC, Windsor JA, Godfrey CC, Orr DA, Officer NM. Diagnosis and management of isolated pancreatic tuberculosis: recent experience and literature review. ANZ J Surg 2004; 74:368-71. [PMID 15144259]
Bhansali SK. Abdominal tuberculosis. Experiences with 300 cases. Am J Gastroenterol 1977; 67:324-37. [PMID 879148]
Auerbach O. Acute generalized miliary tuberculosis. Am J Pathol 1944; 210:121-36. [PMID 19970738]
Stambler JB, Klibaner MI, Bliss CM, Lamont JT. Tuberculous abscess of the pancreas. Gastroenterology 1982; 83:922-5. [PMID 7106522]
Stock KP, Riemann H, Stadler W, Rosch W. Tuberculosis of the pancreas. Endoscopy 1981; 13:178-80. [PMID 7250088]
Teo LLS, Venkatesh SK, Ho KY. Clinic in diagnostic imaging. Singapore Med J 2007; 48:687-92. [PMID 17609835]
Foo FJ, Verbeke CS, Guthrie JA, Ala A, Menon KV. Pancreatic and peripancreatic tuberculosis mimicking malignancy. JOP. J Pancreas (Online) 2007; 8:201-5. [PMID 17356244]
Singh DK, Haider A, Tatke M, Kumar P, Mishra PK. Primary pancreatic tuberculosis masquerading as a pancreatic tumor leading to Whipple's pancreaticoduodenectomy. A case report and review of the literature. JOP. J Pancreas (Online) 2009; 10:451-6. [PMID 19581756]
Tan KK, Chen K, Liau KH, Ho CK. Pancreatic tuberculosis mimicking pancreatic carcinoma: series of three cases. Eur J Gastroenterol Hepatol 2009; 21:1317-9. [PMID 19474749]
Dang S, Atiq M, Saccente M, Olden KW, Aduli F. Isolated tuberculosis of the pancreas: a case report. JOP. J Pancreas (Online) 2009; 10:64-6. [PMID 19129619]
Morán Sánchez S, Rincón Fuentes JP, Nicolas de Prado I, Martínez Madrid OJ, Candel Erenas JM, García Pérez B, et al. Pancreatic tuberculosis with duodenal fistula. Gastroenterol Hepatol 2007; 30:457-60. [PMID 17949612]
Pandya G, Dixit R, Shelat V, Dixit K, Shah N, Shah K. Obstructive jaundice: a manifestation of pancreatic tuberculosis. J Indian Med Assoc 2007; 105:133-4. [PMID 17824465]
Nakai Y, Tsujino T, Kawabe T, Kogure H, Sasaki T, Yamamoto N, et al. Pancreatic tuberculosis with a pancreaticobiliary fistula. Dig Dis Sci 2007; 52:1225-8. [PMID 17372824]
Sachdev A, D'Cruz S, Chauhan S, Thakur R, Kapoor V, Handa U. Pancreaticobiliary tuberculosis diagnosed by endoscopic brushings. JOP. J Pancreas (Online) 2006; 7:665-9. [PMID 17095849]
Takhtani D, Gupta S, Suman K, Kakkar N, Challa S, Wig JD, Suri S. Radiology of pancreatic tuberculosis: a report of three cases. Am J Gastroenterol 1996; 91:832-4. [PMID 8792708]
De Backer AI, Mortele KJ, Bomans P, De Keulenaer BL, Vanschoubroeck IJ, Kockx MM. Tuberculosis of the pancreas: MRI features. AJR Am J Roentgenol 2005; 184:50-4. [PMID 15615950]
Evans JD, Hamanaka Y, Olliff SP, Neoptolemos JP. Tuberculosis of the pancreas presenting as metastatic pancreatic carcinoma. Dig Surg 2000; 17:183-7. [PMID 10781988]
Saluja SS, Ray S, Pal S, Kukaraja M, Srivastava DN, Sahni P, Chattopadhyay TK. Hepatobiliary and pancreatic tuberculosis: a two decade experience. BMC Surg 2007; 7:10. [PMID 17588265]
Song TJ, Lee SS, Park DH, Lee TY, Lee SO, Seo DW, et al. Yield of EUS-guided FNA on the diagnosis of pancreatic/peripancreatic tuberculosis. Gastrointest Endosc 2009; 69:484-91. [PMID 19231490]
Ahlawat SK. EUS-guided FNA diagnosis of pancreatic tuberculosis. Gastrointest Endosc 2007; 65:557-8. [PMID 17321273]
Itaba S, Yoshinaga S, Nakamura K, Mizutani T, Honda K, Takayanagi R, Yamada K. Endoscopic ultrasound-guided fine-needle aspiration for the diagnosis of peripancreatic tuberculous lymphadenitis. J Gastroenterol 2007; 42:83-86. [PMID 17322998]
Coriat R, Latournerie M, Galtier JB, Michiels C, Hillon P, Manfredi S. The role of echoendoscopic biopsy in diagnosing tuberculosis of pancreas. Gastroenterol Clin Biol 2008; 32:98-101. [PMID 18341981]
Chang WC, Chu HC, Tsai SH, Huang GS, Cheng MF, Yu CY. An extraordinary presentation. Am J Med 2009; 122:245-247. [PMID 19272485]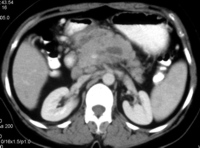 How to Cite
RanaS., BhasinD., RaoC., & SinghK. (2010). Isolated Pancreatic Tuberculosis Mimicking Focal Pancreatitis and Causing Segmental Portal Hypertension. JOP. Journal of the Pancreas, 11(4), 393-395. https://doi.org/10.6092/1590-8577/3629
Copyright (c) 2010 Surinder S Rana, Deepak K Bhasin, Chalapathi Rao, Kartar Singh
This work is licensed under a Creative Commons Attribution 4.0 International License.
As a member of Publisher International Linking Association, PILA, iMedPub Group's JOP follows the Creative Commons Attribution License and Scholars Open Access publishing policies. Journal of the Pancreas is the Council Contributor Member of Council of Science Editors (CSE) and following the CSE slogan Education, Ethics, and Evidence for Editors.