Periampullary Dieulafoy's Lesion: An Unusual Cause of Gastrointestinal Bleeding
Surinder S Rana

Department of Gastroenterology, Post Graduate Institute of Medical Education and Research (PGIMER), Sector 12. Chandigarh, India

Deepak K Bhasin

Department of Gastroenterology, Post Graduate Institute of Medical Education and Research (PGIMER), Sector 12. Chandigarh, India

Rajesh Gupta

Department of General Surgery, Post Graduate Institute of Medical Education and Research (PGIMER), Sector 12. Chandigarh, India

Thakur Deen Yadav

Department of General Surgery, Post Graduate Institute of Medical Education and Research (PGIMER), Sector 12. Chandigarh, India

Vivek Gupta

Department of Radiodiagnosis, Post Graduate Institute of Medical Education and Research (PGIMER), Sector 12. Chandigarh, India

Kartar Singh

Department of Gastroenterology, Post Graduate Institute of Medical Education and Research (PGIMER), Sector 12. Chandigarh, India
Keywords:
Ampulla of Vater, Angiography, Capsule Endoscopy, Endoscopy
Abstract
Context Dieulafoy's lesion is an unusual cause of gastrointestinal bleeding with the most common location being the stomach. A periampullary location is rare for a bleeding Dieulafoy's lesion. Case report We present the case of a 52-year-old female who presented with intermittent painless melena. Her upper gastrointestinal endoscopy and colonoscopy were normal. She was a diagnostic challenge as no definite lesion could be identified on capsule endoscopy. However, as there was presence of fresh blood in the proximal jejunum, a push enteroscopy was performed which revealed the presence of fresh blood in the duodenum and proximal jejunum. But no bleeding lesion could be identified. A side view endoscopy was performed which revealed a bleeding periampullary Dieulafoy's lesion. Immediate hemostasis was achieved with an injection of adrenalin. Other episodes of bleeding occurred and the patient was finally treated surgically. Conclusion A periampullary Dieulafoy's lesion presenting with obscure gastrointestinal bleed is a diagnostic challenge and can be missed on capsule endoscopy.
Image: The application of a hemoclip on the Dieulafoy's lesion.
Downloads
Download data is not yet available.
References
Kasapidis P, Georgopoulos P, Delis V, Balatsos V, Konstantinidis A, Skandalis N. Endoscopic management and long-term follow-up of Dieulafoy's lesions in the upper GI tract. Gastrointest Endosc 2002; 55:527-31. [PMID 11923766]
Sone Y, Kumada T, Toyoda H, Hisanaga M, Kiriyama S, Tanikawa M. Endoscopic management and follow up of Dieulafoy lesion in the upper gastrointestinal tract. Endoscopy 2005; 37:449-53. [PMID 15844024]
Lee YT, Walmsley RS, Leong RW, Sung JJ. Dieulafoy's lesion. Gastrointest Endosc 2003; 58:236-43. [PMID 12872092]
Veldhuyzen Van Zanten SJO, Bartelsman JF, Schipper ME, Tytgat GNJ. Recurrent massive haematemesis from Dieulafoy vascular malformations-a review of 101 cases. Gut 1986; 27:213-22. [PMID 3485070]
Ibrarullah M, Wagholikar GD. Dieulafoy's lesion of duodenum: a case report. BMC Gastroenterol 2003; 3:2. [PMID 12581456]
Hyun CB. Periampullary Dieulafoy's lesion. Hospital Physician 2005; 23-7. ]
Womack N. Blood flow through the stomach and duodenum. Clinical aspects. Am J Surg 1969; 117:771-80. [PMID 5794863]
Dy NM, Gostout CJ, Balm RK. Bleeding from the endoscopically-identified Dieulafoy lesion of the proximal small intestine and colon. Am J Gastroentorol 1995; 90:108-11. [PMID 7801908]
Romaozinho JM, Pontes JM, Lerias C, Ferreira M, Freitas D. Dieulafoy's lesion: management and long-term outcome. Endoscopy 2004; 36:416-20. [PMID 15100950]
Yamaguchi Y, Yamato T, Katsumi N, Imao Y, Aoki K, Morita Y, et al. Short-term and long-term benefits of endoscopic hemoclip application for Dieulafoy' s lesion in the upper GI tract. Gastrointest Endosc 2003; 57:653-6. [PMID 12709692]
Levy MJ, Wong Kee Song LM, Farnell MB, Misra S, Sarr MG, Gostout CJ. Endoscopic ultrasound (EUS)-guided angiotherapy of refractory gastrointestinal bleeding. Am J Gastroenterol 2008; 103:352-9. [PMID 17986314]
Reilly HF 3rd, al-Kawas FH. Dieulafoy's lesion. Diagnosis and management. Dig Dis Sci 1991; 36:1702-7. [PMID 1748038]
Schmulewitz N, Baillie J. Dieulafoy lesions: a review of 6 years of experience at a tertiary referral center. Am J Gastroenterol 2001; 96:1688-94. [PMID 11419815]
Durham JD, Kumpe DA, Rothbarth LJ, van Stiegmann G. Dieulafoy disease: arteriographic findings and treatment. Radiology 1990; 174:937-41. [PMID 2305095]
Ashour MA, Millward SF, Hadziomerovic A. Embolotherapy of a Dieulafoy lesion in the cecum: case report and review of the literature. J Vasc Interv Radiol 2000; 11:1059-62. [PMID 10997471]
Bhasin DK, Rana SS. Gastrointestinal bleeding: From overt to obscure. Endoscopy 2006; 38:116-21. [PMID 16479417]
Clarke JO, Giday SA, Magno P, Shin EJ, Buscaglia JM, Jagannath SB, Mullin GE. How good is capsule endoscopy for detection of periampullary lesions? Results of a tertiary-referral center. Gastrointest Endosc 2008; 68:267-72. [PMID 18378233]
Kong H, Kim YS, Hyun JJ, Cho YJ, Keum B, Jeen YT, et al. Limited ability of capsule endoscopy to detect normally positioned duodenal papilla. Gastrointest Endosc 2006; 64:538-41. [PMID 16996345]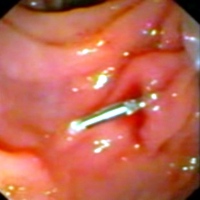 How to Cite
RanaS., BhasinD., GuptaR., YadavT., GuptaV., & SinghK. (2010). Periampullary Dieulafoy's Lesion: An Unusual Cause of Gastrointestinal Bleeding. JOP. Journal of the Pancreas, 11(3), 266-269. https://doi.org/10.6092/1590-8577/3826
Copyright (c) 2010 Surinder S Rana, Deepak K Bhasin, Rajesh Gupta, Thakur Deen Yadav, Vivek Gupta, Kartar Singh
This work is licensed under a Creative Commons Attribution 4.0 International License.
As a member of Publisher International Linking Association, PILA, iMedPub Group's JOP follows the Creative Commons Attribution License and Scholars Open Access publishing policies. Journal of the Pancreas is the Council Contributor Member of Council of Science Editors (CSE) and following the CSE slogan Education, Ethics, and Evidence for Editors.