Bortezomib-Induced Acute Pancreatitis
Bouraoui Elouni

Pharmacovigilance Regional Center, Saint Antoine Hospital. Paris, France

Chaker Ben Salem

Department of Clinical Pharmacology, Faculty of Medicine of Sousse. Sousse, Tunisia

Michelle Zamy

Pharmacovigilance Regional Center, Saint Antoine Hospital. Paris, France

Jaballah Sakhri

Department of Surgery, Farhat Hached University Hospital. Sousse, Tunisia

Kamel Bouraoui

Department of Clinical Pharmacology, Faculty of Medicine of Sousse. Sousse, Tunisia

Michel Biour

Pharmacovigilance Regional Center, Saint Antoine Hospital. Paris, France
Keywords:
bortezomib, Drug toxicity, Pancreatitis
Abstract
No abstract available.
Image: Illustration of the proteasome inhibitor bortezomib bound to an assembled yeast proteasome core (PDB ID 2F16). (Author: Opabinia regalis; Wikimedia Commons)
Downloads
Download data is not yet available.
References
Richardson PG, Barlogie B, Berenson J, Singhal S, Jagannath S, Irwin D, et al. A phase 2 study of bortezomib in relapsed refractory myeloma. N Engl J Med 2003; 384:2609-17. [PMID 12826635]
Popat R, Joel S, Oakervee H, Cavenagh J. Bortezomib for multiple myeloma. Expert Opin Pharmacother 2006; 7:1337-46. [PMID 16805719]
Naranjo CA, Busto U, Sellers EM, Sandor P, Ruiz I, Roberts EA, et al. A method for estimating the probability of adverse drug reactions. Clin Pharmacol Ther 1981; 30:239-45. [PMID 7249508]
Balani AR, Grendell JH. Drug-induced pancreatitis: incidence, management and prevention. Drug Saf 2008; 31:823-37. [PMID 18759507]
Badalov N, Baradarian R, Iswara K, Li J, Steinberg W, Tenner S. Drug-induced acute pancreatitis: an evidence-based review. Clin Gastroenterol Hepatol 2007; 5:648-61. [PMID 17395548]
Szabolcs A, Biczó G, Rakonczay Z, Tiszlavicz L, Halm G, Wittmann T, Takács T. Simultaneous proteosome inhibition and heat shock protein induction by bortezomib is beneficial in experimental pancreatitis. Eur J Pharmacol 2009; 616:270-4. [PMID 19486901]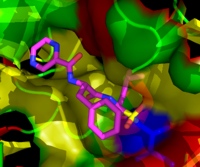 How to Cite
ElouniB., SalemC., ZamyM., SakhriJ., BouraouiK., & BiourM. (2010). Bortezomib-Induced Acute Pancreatitis. JOP. Journal of the Pancreas, 11(3), 275-276. https://doi.org/10.6092/1590-8577/3829
Copyright (c) 2010 Bouraoui Elouni, Chaker Ben Salem, Michelle Zamy, Jaballah Sakhri, Kamel Bouraoui, Michel Biour
This work is licensed under a Creative Commons Attribution 4.0 International License.
As a member of Publisher International Linking Association, PILA, iMedPub Group's JOP follows the Creative Commons Attribution License and Scholars Open Access publishing policies. Journal of the Pancreas is the Council Contributor Member of Council of Science Editors (CSE) and following the CSE slogan Education, Ethics, and Evidence for Editors.