Are City Logistics Solutions Sustainable? The Case of Cityporto
Jesus Gonzalez-Feliu

Laboratoire d'Economie des Transports

Joelle Morana

Laboratoire d'Econoòie des Transports
Abstract
Urban logistics is a field that studies the best solutions for urban freight distribution with high environmental objectives. However, most actions are started by public authorities without taking into account the impacts of the new organizational schemas in the existing distribution enterprises' organization. This paper proposes a case study from Padova, Italy: the city logistics system Cityporto, from which the sustainability of such systems is discussed in a Sustainable Development point of view, for both enterprise and collective dimensions, in order to relate the particularities of city logistics to the corresponding supply chains, i.e. to global logistics.
Downloads
Download data is not yet available.
References
Allen J., Thorne G., Browne M., (2007) Good Practice Guide on Urban Freight, Bestufs, Rijswijk, Pays-Bas.
Ambrosini C., Meimbresse B., Routhier J.L., Sonntag H. (2008) "Urban freight policy-oriented modelling in Europe". In Taniguchi E. and Thomson R.G., Innovations in City Logistics, Nova Science 197-212.
Anderson S., Allen J., Browne M. (2005) "Urban logistics. How can it meet policy makers' sustainability objectives?", Journal of Transport Geography 13, 71-81.
BESTUFS (2009), BESTUFS II Bibliographic Overview, Final DVD-Rom, BESTUFS, The Netherlands.
Crainic, T.G. (2008) "City Logistics", in Chen Z.L., Raghavan S. (eds.), Tutorials in Operations Research 2008. State-of-the-Art Decision Making Tools in the Information-Intensive Age, INFORMS, e-book, pp. 181-212.
Dablanc L.(2007) "Goods transport in large European cities: Difficult to organize, difficult to modernize", Transportation Research part A, v. 41, 280-285.
Dablanc L., Gonzalez-Feliu J., Ville S. (2010) "Los límites de las políticas públicas en el ámbito de la logística urbana: el caso de la ciudad de Vicenza", Actas del IV Congreso Internacional de Transporte: soluciones en un entorno económico incierto, Castellón de la Plana (Spain), 26-28 May.
Danielis R., Rotaris L. (2001) Rassegna critica delle stime dei costi esterni dei trasporti, Università di Trieste and ISTIEE, Trieste, Italy.
Gerardin B., Patier D., Routhier J. L., Segalou E. (2000) Diagnostic du Transport de marchandises dans une agglomération, Programme national Marchandises en ville, DRAST
Gonzalez-Feliu J. (2008) Models and methods for the City Logistics. The Two-Echelon Vehicle Routing Problem, PhD. thesis, Politecnico di Torino, Turin, Italy.
LET, Aria Technologies, Systems Consult (2006) Mise en place d'une méthodologie pour un bilan environnemental physique du transport de marchandises en ville, ADEME, Paris, France
Morana J., Van Hoorebeke D., Pire-Lechalard P. (2008) " Supply chain management, Green SCM, Social SCM : La Logistique Globale au coeur au Développement Durable", Actes des 3èmes journées Neptune, Toulon, 13-14 novembre.
Morana J., Gonzalez-Feliu J. (2010) "Sustainable supply chain management in city logistics solutions: an experience's comeback from Cityporto Padua (Italy)", Proceeding of the 3rd International Conference on Logistics and Information Systems, ILS 2010, Casablanca (Morocco), 14-16 April.
Munuzuri J., Larraneta J., Onieva L., Cortes P. (2005) " Solutions Applicable by Local Administrations for Urban Logistics Improvement", Cities, v. 22 n. 1, 15-28.
Paché G. (2009) "Quels impacts de la crise sur la logistique ?", Revue Française de Gestion, v. 5, 51-57.
Patier D., Dufour J. G., Routhier J.L. (2007) "Du transport de marchandises en ville à la logistique urbaine", Techniques de l'Ingénieurn° AG 8 210.
Rogers D., Tibben-Lembke R. (1999) "Reverse logistics : stratégies et techniques", Logistique & Management, v. 7 n. 2, 15-25.
Rosini R. (ed.) (2005) City Ports Project. Intermediary report. Quaderni del servizio Pianificazione dei Trasporti e Logistica, Regione Emilia Romagna, Bologna, Italy.
Routhier J.L., Traisnel J.P., Gonzalez-Feliu J., Henriot F., Raux C. (2009) ETHEL-II. Energie, Transport, Habitat, Environnement et Localisation. Rapport final. Contrat ADEME (in French).
Russo F., Comi A. (2006) "Demand models for city logistics : a state of the art and a proposed integrated system". In Taniguchi E.,
Thomson R.G.(ed.), Recent Advances in City Logistics, Elsevier, Amsterdam, 91-105.
Ségalou E., Ambrosini C., Routhier J.L. (2004) "The environmental assessment of urban goods movement". In Taniguchi E., Thomson R.G. (eds.), Logistics Systems for Sustainable Cities, Elsevier, Amsterdam, 207-220.
Spinedi M., ed. (2008) Logistica urbana: dagli aspetti teorici alle applicazioni pratiche. Esperienze italiane e straniere a confronto, Emilia Romagna Region, City Logistics Expo, Bologna, Italy.
Taniguchi E., Shimamoto H. (2004) "Intelligent transportation system based dynamic vehicle routing and scheduling with variable travel times", Transportation Research Part C, v. 12 n. 3-4, 235-250.
Vaghi C., Pastanella M. (2006) Analisi costi/benefici di Cityporto. Technical Report, Interporto di Padova and Bocconi University, Milan, Italy.
Visser J., van Binsbergen A., Nemoto T. (1999) "Urban freight transportation and policy", in Taniguchi E., Thomson, R. G., City
Logistics I, Institute for City Logistics, Kyoto, Japan.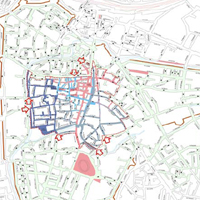 How to Cite
Gonzalez-FeliuJ., & MoranaJ. (2010). Are City Logistics Solutions Sustainable? The Case of Cityporto. TeMA - Journal of Land Use, Mobility and Environment, 3(2). https://doi.org/10.6092/1970-9870/167
Copyright (c) 2014 Tema. Journal of Land Use, Mobility and Environment
This work is licensed under a Creative Commons Attribution 4.0 International License.
Authors who publish in this journal agree to the following:
1. Authors retain the rights to their work and give in to the journal the right of first publication of the work simultaneously licensed under a Creative Commons License - Attribution that allows others to share the work indicating the authorship and the initial publication in this journal.
2. Authors can adhere to other agreements of non-exclusive license for the distribution of the published version of the work (ex. To deposit it in an institutional repository or to publish it in a monography), provided to indicate that the document was first published in this journal.

3. Authors can distribute their work online (ex. In institutional repositories or in their website) prior to and during the submission process, as it can lead to productive exchanges and it can increase the quotations of the published work (See The Effect of Open Access)