Air Transport Implications in Tourist Destinations. The Trapani Airport in Western Sicily
Keywords:
Regional and Urban Planning, Network, Tourism, Connections, Economic Data, Accessibility, Environment
Abstract
This search following the Sicily, the largest island in the Mediterranean Sea (25,460 sq km) and a self-governing Region, located in the southernmost part of Italy, has at least four tourist-related airports, sited between the eastern and western coast, separated from each other by a vast territory without efficient transport links and suffering from many diverse environmental problems. Utilizing a desk search methodology based on GIS software, this paper discusses the impact upon the regional development of the tourist traffic of the Trapani Airport situated in the westernmost part of Sicily. Ultimately it analyzes the critical role of connectivity and accessibility in the development of the area and tourism, seeking a maximum involvement of stakeholders. The recent growth of low-cost carriers have had a definite impact on the economic growth of the entire territory, where those choices could determine the life or the death of firms and, inevitably, their annual incomes. Tourism and connectivity are strictly related, thus showing deficiencies of the area in terms of accessibility, as well as the trade-offs between the different government (central and local) investment policies and the specific benefits emerging from the airport in the regional mobility.
Downloads
Download data is not yet available.
References
Airport, B. I. (2005). Environmental Impact Assessment of the Expansion of Bristol International Airport. Bristol, UK: Entec UK Limited. al., S. A. e., 2016. Atlas of Urban Expansion Vol. I, II. s.l.:s.n.
Bilotkach, V., Clougherty, J. A., Mueller, J., & Zhang, A. (2012). Regulation, privatization, and airport charges: panel data evidence from European airports. Journal of Regulatory Economics, 42 (1), 73-94.
CESUR (2007). The consequences of the growing european low-cost arline sector. [Online]
retrieved from: http://www.europarl.europa.eu/thinktank/en/document.html?reference=IPOL-TRAN_ET(2007)397234
COST - European Cooperation in Science and Technology, n.d. www.atard.net/publications/official-action-documents/. [Online] retrieved from: http://www.cost.eu/COST_Actions/tud/TU1408
Di Pietro, G. F. (1978). Strumenti urbanistici e identità del territorio. Parametro, Issue 63.
Dimitriou, D., Voskaki, A. & Sartzetaki, M., (2014). Airports Environmental Management: Results from the Evaluation of European Airports Environmental Plans. International Journal of Information Systems and Supply Chain Management 7 (1), 1-14.
Giampaolo Basoli, M. R. (2018). Transport Dimension of the BRICS Penetration in the Mediterranean Region. Rome, Eu-ropean Insitute of the Mediterranean Region.
Guan, C., & Peiser, R. (2018). Accessibility, urban form, and property value: Toward a sustainable urban spatial struc-ture (No. eres2018_330). European Real Estate Society (ERES).
Gürler, E., & Gülersoy, N. Z. (2010). Paradigm Shifts and Urban Regeneration Process in Planning History. In 14th Interna-tional Planning History Society Conference. Retrieved from: http://iphs2010.com/abs/ID504.pdf
Healey, P. (2003). Collaborative Planning in Perspective. Planning Theory, SAGE Publications, 2 (2), 101–123. doi: https://doi.org/10.1177/14730952030022002
Kazda, A., Hromádka, M., & Mrekaj, B. (2017). Small regional airports operation: unnecessary burdens or key to regional development. Transportation Research Procedia, 28, 59-68. doi: https://doi.org/10.1016/j.trpro.2017.12.169
Kepaptsoglou, K., Karlaftis, M. G., & Tsamboulas, D. (2010). The Gravity Model Specification for Modeling International Trade Flows and Free Trade Agreement Effects: A 10-Year Review of Empirical Studies. The Open Economics Journal. doi: https://doi.org/10.2174/1874919401003010001
Kwakkel, J. H., Walker, W. E., & Marchau, V. A. W. J. (2010). Adaptive airport strategic planning. European Journal of Transport and Infrastructure Research, 10 (3). doi: https://doi.org/10.18757/ejtir.2010.10.3.2891
Lupi, M.(2009). Methods and models for planning the development of regional airport systems. Milano: Franco Angeli (Tra-sporti).
MIT (2010). Stato del sistema aeroportuale nazionale. Studio dello sviluppo futuro della rete aeroportuale nazionale quale componente strategica dell'organizzazione strutturale del territorio. In: Vol3_ParteII_CAP_08_SUD. s.l.:s.n.
Ng, Y. C., & Sheate, W. R. (1997). Environmental impact assessment of airport development proposals in the United King-dom and Hong Kong: who should participate?. Project Appraisal, 12(1), 11-24. doi: https://doi.org/10.1080/02688867.1997.9727033
Sameh, M. M., & Scavuzzi, J. (2016). Environmental Sustainability Measures for Airports. Occasional Paper Series: Sus-tainable International Civil Aviation.
Schaar, J. (2018). The Geopolitical Impact of Climate Change in the Mediterranean Region. Rome, IEMed. Mediterranean Yearbook.
Tavasszy, L., Bollinger, L. A., & Dijkema, G. P. (2016). Special issue on Climate adaptation of infrastructure networks. Eu-ropean Journal of Transport and Infrastructure Research, 16 (1).
Ülkü, T., Jeleskovic, V., & Müller, J. (2014). How scale and institutional setting explain the costs of small airports? An application of spatial regression analysis. Joint Discussion Paper Series in Economics.
Van de Vijver, E., Derudder, B., & Witlox, F. (2016). Air passenger transport and regional development: Cause and effect in Europe. Promet-Traffic&Transportation, 28 (2), 143-154.
Ventura, P. & Tiboni, M. (2016). Sustainable Development Policies for Minor Deprived Urban Communities and Natural and Cultural Heritage Conservation. In: F. Rotondo, F. Selicato, V. Marin & J. Lòpez Galdeano, eds. Cultural Territorial Systems. Springer International Publishing.
Ventura, P., Montepara, A. & Sollazzi, J. (2015). Regional Development and Airport in Northern and Central Italy. Giuseppe Verdi Airport, Parma case study.
Vicarelli, C. (2005). Hub-and-spoke or else? Free trade agreements in the 'enlarged' European Union. The European journal of comparative economics, 2 Febbraio.
Vinci, I., & Cutaia, F. (2019). Implementing the environmental dimension of the EU's Urban Agenda 2014-2020. TeMA. Journal of Land Use, Mobility and Environment, 12 (2), 139-146. https://doi.org/10.6092/1970-9870/6136
Wells, A. T. (2004) (5th edition). Airport planning and management. United States: McGraw-Hill.
Yu, N., Jong, M. d., Storm, S. & Mi, J. (2013). Spatial spillover effects of transport infrastructure: evidence from Chinese regions. Retrieved from https://www.sciencedirect.com/science/article/pii/S0966692312002621?via%3Dihub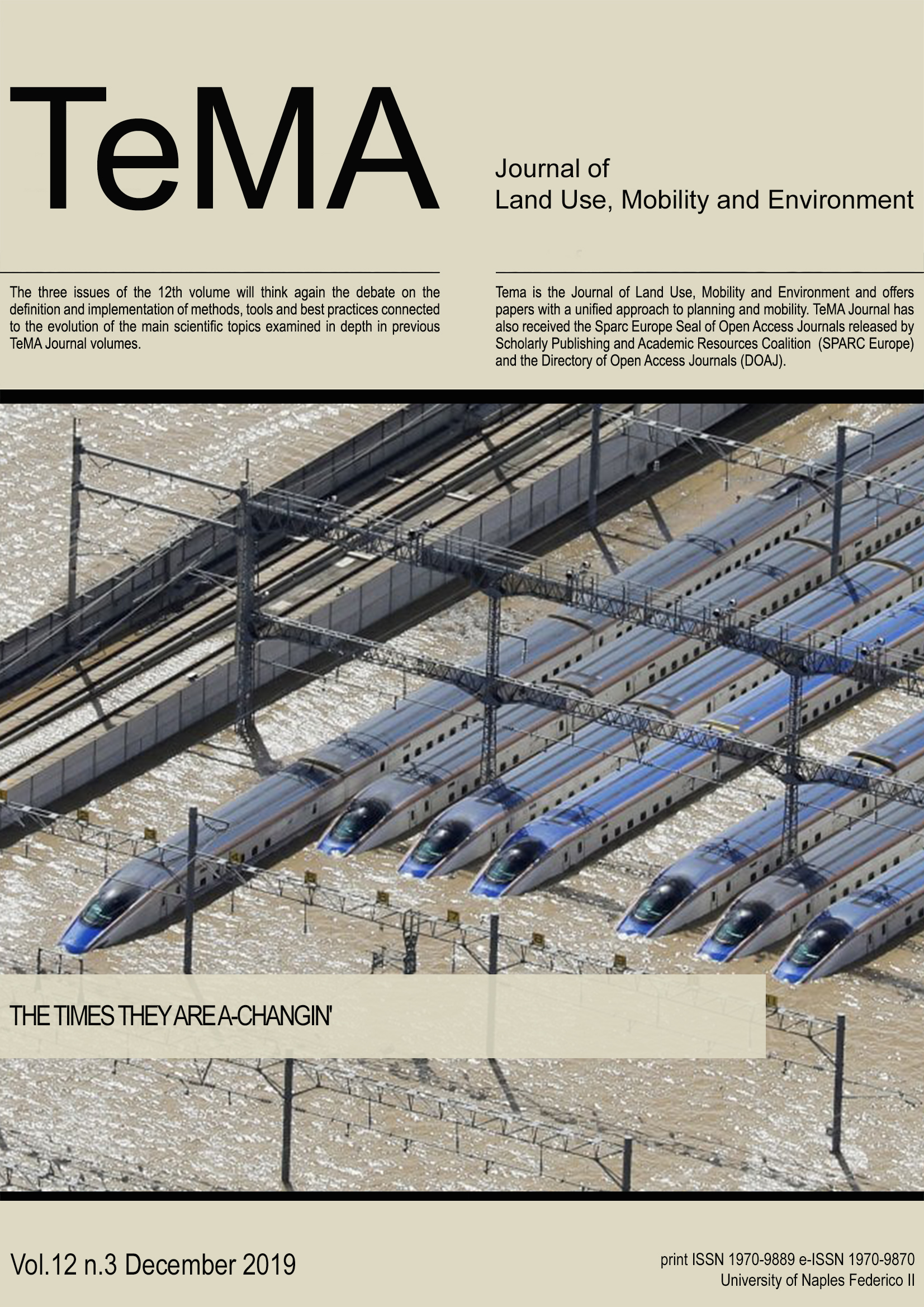 How to Cite
CalderonE., VenturaP., & MassaroA. (2019). Air Transport Implications in Tourist Destinations. The Trapani Airport in Western Sicily. TeMA - Journal of Land Use, Mobility and Environment, 12(3), 331-350. https://doi.org/10.6092/1970-9870/6298
Section
LUME (Land Use, Mobility and Environment)
Copyright (c) 2019 TeMA - Journal of Land Use, Mobility and Environment
This work is licensed under a Creative Commons Attribution 4.0 International License.
Authors who publish in this journal agree to the following:
1. Authors retain the rights to their work and give in to the journal the right of first publication of the work simultaneously licensed under a Creative Commons License - Attribution that allows others to share the work indicating the authorship and the initial publication in this journal.
2. Authors can adhere to other agreements of non-exclusive license for the distribution of the published version of the work (ex. To deposit it in an institutional repository or to publish it in a monography), provided to indicate that the document was first published in this journal.

3. Authors can distribute their work online (ex. In institutional repositories or in their website) prior to and during the submission process, as it can lead to productive exchanges and it can increase the quotations of the published work (See The Effect of Open Access)