Shaping space for ever-changing mobility. Covid-19 lesson learned from Milan and its region
Keywords:
Mobility, Resilient Infrastructure, Public Space, Data Analytics
Abstract
In the Milan experience, Covid-19 emergency crucial issues were already hidden weaknesses of the city and its region: the limited capacity of transit transport, roads and public spaces, with crowding problems for both work and leisure. The challenge is to regenerate the competitive "human measure" of Milan, based on its unique relationship between public spaces and mobility, overcoming its health risk. The report raises a question on the established transit-oriented development approach, focusing on spaces "in between" and not only on nodes and networks. The traditional "invariants" welcome changes: the spatial structure of the public realm becomes a platform for ever-changing mobility and services, providing quality of life for communities, users and tourists. With this respect, streets represent by far the most strategic asset of the urban public realm. They can be reshaped in resilient infrastructure capable to respond to new forms of mobility based on a renewed Mobility-as-A-Service paradigm, as final result of different travel behaviors of the post pandemic scenario, among which an expected reduction of the overall "mobility consumption" (space) and new temporal urban rhythms (time). To this end, short-term and responsive planning becomes a crucial opportunity to enable rapidly deployed responses, through an extensive use of new analytical tools based on Open and Big data analytics and computer-based simulations.
Downloads
Download data is not yet available.
References
Batty, M. (2013). Big data, smart cities and city planning. Dialogues in human geography, 3(3), 274-279. https://doi.org/10.1177/2043820613513390
Blecic, I., Cecchini, A., Congiu, T., Fancello, G., Truno, G.A. (2015). Evaluating walkability: a capability-wise planning and design support system. International Journal of Geographical Information Science, 29(8), 1350-1374. https://doi.org/10.1080/13658816.2015.1026824
Buhrmann, S., Wefering, F., Rupprecht, S. (2019). Guidelines for Developing and implementing a sustainable urban mobility plan – 2nd edition. Rupprecht Consult-Forschung und Beratung GmbH. Retrieved from: https://www.eltis.org/sites/default/files/guidelines_for_developing_and_implementing_a_sustainable_urban_mobility_plan_2nd_edition.pdf
European Commission (2020). COVID-19: Guidelines on the progressive restoration of transport services and connectivity, European Commission, Brussels.
Retrieved from: https://ec.europa.eu/info/sites/info/files/communication_transportservices.pdf
Foth, M., Choi, J.H.j., Satchell, C. (2011). Urban informatics. In: Proceedings of the ACM 2011 conference on Computer supported cooperative work, pp. 1–8. https://doi.org/10.1145/1958824.1958826
Fruin, J.J. (1971). Pedestrian Planning and Design, Metropolitan Association of Urban Designers and Environmental Planners, New York.
Gorrini, A. & Bertini, V. (2018). Walkability assessment and tourism cities: the case of Venice. International Journal of Tourism Cities, 1-14. https://doi.org/10.1108/IJTC-11-2017-0072
Graves, C.P. (2009). The Genealogy of Cities, The Kent State University Press, Ohio.
Highway Capacity Manual (2010). Highway Capacity Manual, Transportation Research Board, National Research Council, Washington, DC, 2010.
Kretz, T., Lohmiller, J., & Sukennik, P. (2018). Some indications on how to calibrate the social force model of pedestrian dynamics. Transportation research record, 2672(20), 228-238. https://doi.org/10.1177/0361198118786641
Hurtt, S., Latini, A.P., & Tice, J. (eds) (2019). The urban design legacy of Colin Rowe, Oro Editions, New York.
Oliveri, M., Recalcati, S., Scopelliti. D., Baldessari, F., Girani, S., Walt, N., Fraticelli, C., Jones, S.E., Prendergast, D.,
Garattini, C., Wilson, D., Pétercsák, R., Deponte, D., Alizzi, G., Boni, G., Presicce, D. (2015). Shaping Ageing Cities: 10 European case studies. https://doi.org/10.13140/RG.2.1.4938.2885
Seyfried, A., Steffen, B., Klingsch, W., & Boltes, M. (2005). The fundamental diagram of pedestrian movement revisited. Journal of Statistical Mechanics: Theory and Experiment, 2005(10), P10002.
Speck, J. (2013). Walkable city: How downtown can save America, one step at a time. Macmillan, New York City.
United Nations (2014). World urbanization prospects, the 2011 revision. Department of Economic and Social Affairs, Population Division, United Nations Secretariat, New York.
Retrieved from: https://www.un.org/en/development/desa/population/publications/pdf/urbanization/WUP2011_Report.pdf
United Nation (2016). Transforming our world: The 2030 agenda for sustainable development. United Nations Secretariat, New York.
Vandecasteele I., Baranzelli C., Siragusa A., Aurambout J.P. (2019). The Future of Cities - Opportunities, challenges and the way forward. Publications Office of the European Union. Retrieved from: https://urban.jrc.ec.europa.eu/thefutureofcities/
Vegara, A. (2016). La inteligencia del territorio. Supercities, Fundacion Metropoli, Madrid.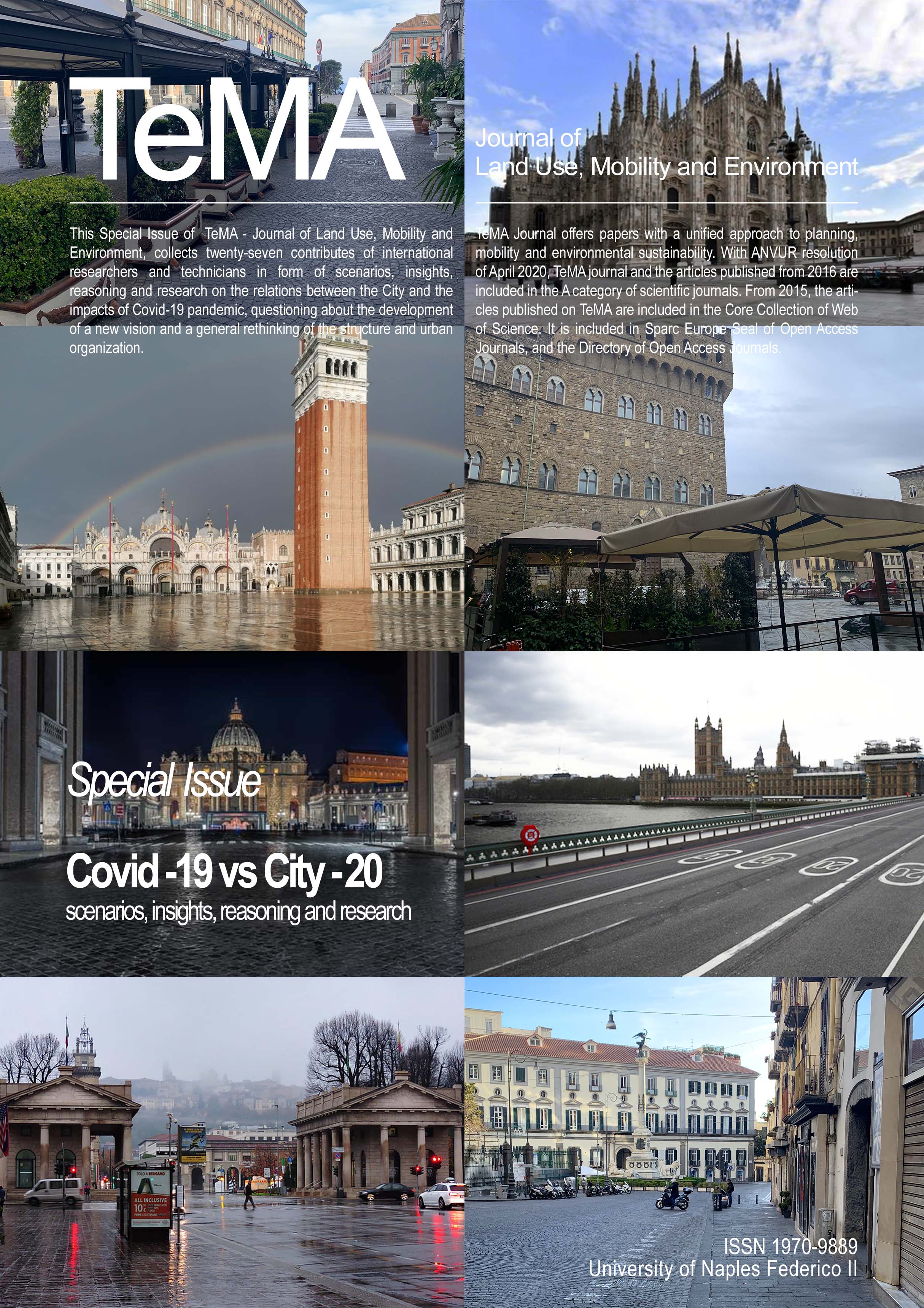 How to Cite
DeponteD., FossaG., & GorriniA. (2020). Shaping space for ever-changing mobility. Covid-19 lesson learned from Milan and its region. TeMA - Journal of Land Use, Mobility and Environment, 133-149. https://doi.org/10.6092/1970-9870/6857
Section
Special Issue - Covid-19 vs City-20
Copyright (c) 2020 TeMA - Journal of Land Use, Mobility and Environment
This work is licensed under a Creative Commons Attribution 4.0 International License.
Authors who publish in this journal agree to the following:
1. Authors retain the rights to their work and give in to the journal the right of first publication of the work simultaneously licensed under a Creative Commons License - Attribution that allows others to share the work indicating the authorship and the initial publication in this journal.
2. Authors can adhere to other agreements of non-exclusive license for the distribution of the published version of the work (ex. To deposit it in an institutional repository or to publish it in a monography), provided to indicate that the document was first published in this journal.

3. Authors can distribute their work online (ex. In institutional repositories or in their website) prior to and during the submission process, as it can lead to productive exchanges and it can increase the quotations of the published work (See The Effect of Open Access)