Covid-19. Some moments of the 21st century, with a look at Milan
Keywords:
Metropolis;, Catastrophe, Permanence, Milan
Abstract
Critically narrating some impacts on the civitas and urbs of the pandemic, the paper argues how the relative pathos of death and poverty unleashed on Milan is, in fact, a contingency on the endless flux of the urban body in the long history of the city. The text, divided into five paragraphs - then (May 2019), yesterday (March 2020), today (April 2020), tomorrow (May 2020) and later (May 2030) -, in addition to the bibliography, develops as in a Gaussian curve, the two extremes being ("then" and "later") in points before and after the beginning of the curvature, respectively (i.e., describing situations "at full throttle"), the centre ("today") the peak of the curve and the two intermediates ("yesterday" and "tomorrow") in its ascending and descending sections, respectively. The style varies from calmness at the extremes (with mainly hypotactic periods) to the unease of the intermediates, namely, at its peak (with mainly paratactic periods).
Downloads
Download data is not yet available.
References
Bloch, M. (2014). Che cosa chiedere alla storia?, Edited by G.G. Merlo & F. Mores. Castelvecchi.
Bortolotti, L. (1992). Origine e primordi della rete autostradale in Italia: 1922-1933. Storia urbana. 59, 35-69. Franco Angeli.
Braudel, F. (1986). I tempi della storia: economie, società, civiltà (Vol. 16). Edizioni Dedalo.
Briano, I. (1977), Storia delle ferrovie in Italia, Cavallotti.
Busi, R. (2020). 1944-1946. 1944-1946. Piani per la Milano del futuro. In press.
Busi, R. (2020). 1944: Piani per la grande Milano. Espansioni organiche o amorfe periferie?. In Proceedings of the International Conference Urban peripheries of European cities, Catholic University of the Sacred Heart, Milan, June 6-7, 2019. In press.
Busi, R. (2018). La "riapertura" del Navigli milanesi, tra fattibilità ed effetti. Quaderni di Legislazione tecnica, 4, 39-49.
Busi, R. (2018). Pianificazione urbanistica e mobilità. Il ruolo della bicicletta, in Mobilità ciclistica e sicurezza. edited by F. Giuliani and G. Maternini. Egaf, 17-33.
Busi, R. (2018). Potenzialità e limiti della bicicletta in ambiente urbano. Strade e autostrade, 130 (4), 162-168.
Busi, R. (2017). Pedonalità e città. Percorsi pedonali. Edited by F. Giuliani and G. Maternini, Egaf.
Busi, R. (2015). Milano, metropoli di sempre. E, da sempre, bella. in Il respiro italiano. Expo 2015, edited by M. A. Bedini et al., Gangemi, 242-251.
Busi, R. (2011). Milano: luogo senza identità, città senza territorio, metropoli senza governo. La città amica di Roberto Busi. Edited by F. Bronzini et al. Ancona University Press, 28-37.
Columbo, V. (1966). La ricerca urbanistica (Vol. 1). Giuffrè.
Municipality of Milan (1955). Milano 1945-1955. Arti Grafiche Amilcare Pizzi.
Consonni, G. (2019). Carta dell'habitat. Confcooperative.
Consonni, G. (2015). Milano, «il più bel fiore» della pianura, in Aa. Vv., Il respiro italiano, M.A. Bedini, F. Bronzini e G. Marinelli (Eds.), Gangemi, 253-259.
Febvre, L., & Vivanti, C. (1976). Problemi di metodo storico. Einaudi.
Mazza, L. (2011). Governo del territorio e pianificazione spaziale. CittàStudi Edizioni.
Montanari, M. (1993). La fame e l'abbondanza. Storia dell'alimentazione in Europa, 11.
Morini M. (1963), Atlante di storia dell'urbanistica, Hoepli.
Ogliari, F. (2006). Milano in tram. Storia del trasporto pubblico milanese. Hoepli Editore.
Ogliari, F. (1974). Storia dei trasporti italiani. Vol. I, Lombardia, Ogliari & Sapi.
Rossi, F., & Salvi, F. (2003). Manuale di ingegneria civile e ambientale. Zanichelli.
Savinio, A. (2019). Ascolto il tuo cuore, città. Adelphi Edizioni spa.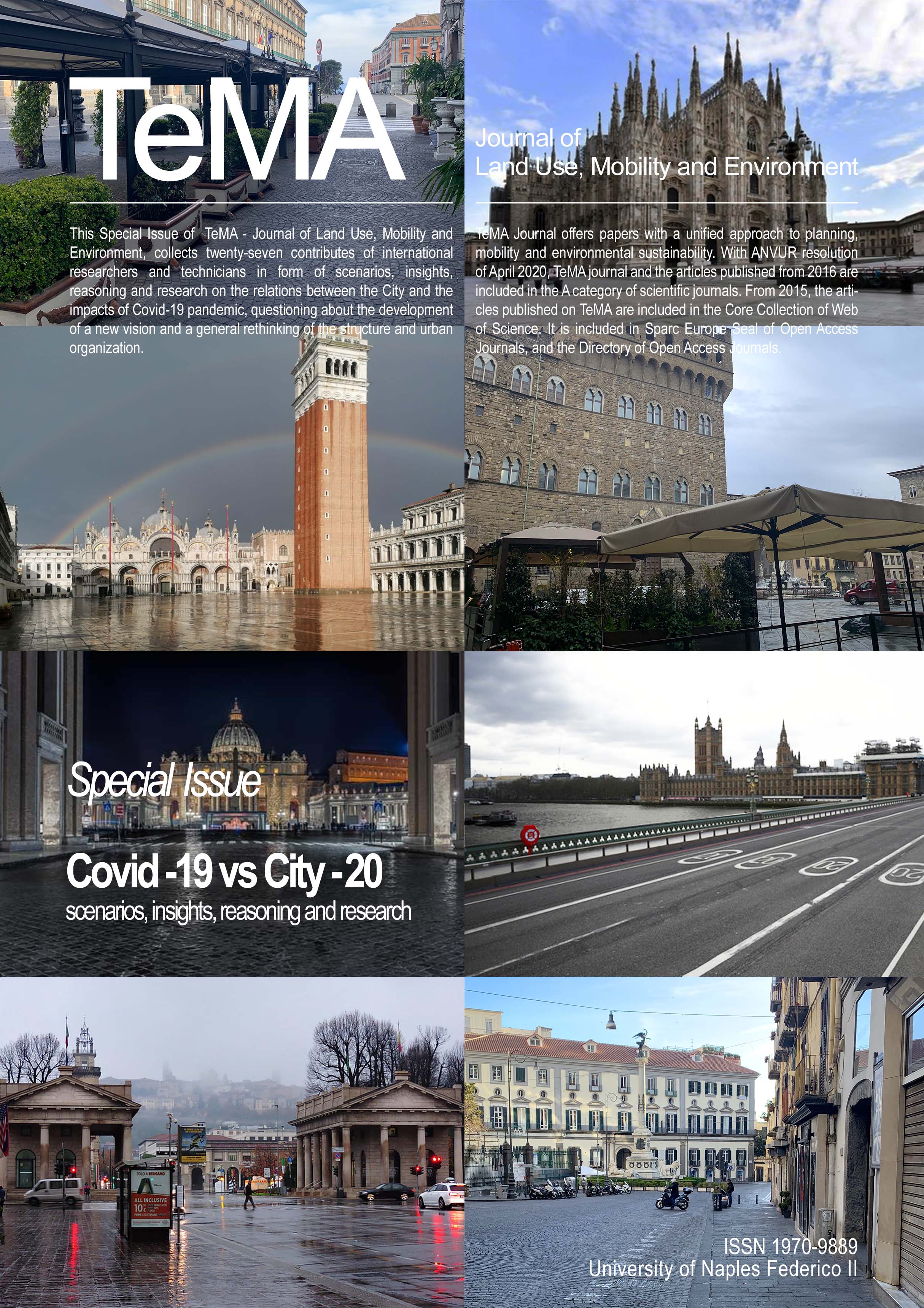 How to Cite
BusiR. (2020). Covid-19. Some moments of the 21st century, with a look at Milan. TeMA - Journal of Land Use, Mobility and Environment, 17-29. https://doi.org/10.6092/1970-9870/6858
Section
Special Issue - Covid-19 vs City-20
Copyright (c) 2020 TeMA - Journal of Land Use, Mobility and Environment
This work is licensed under a Creative Commons Attribution 4.0 International License.
Authors who publish in this journal agree to the following:
1. Authors retain the rights to their work and give in to the journal the right of first publication of the work simultaneously licensed under a Creative Commons License - Attribution that allows others to share the work indicating the authorship and the initial publication in this journal.
2. Authors can adhere to other agreements of non-exclusive license for the distribution of the published version of the work (ex. To deposit it in an institutional repository or to publish it in a monography), provided to indicate that the document was first published in this journal.

3. Authors can distribute their work online (ex. In institutional repositories or in their website) prior to and during the submission process, as it can lead to productive exchanges and it can increase the quotations of the published work (See The Effect of Open Access)