Three Hypothesis of Facilitated Pedestrian From Posillipo to Marechiaro
Aldo Capasso

Università degli Studi di Napoli Federico II, Dipartimento di Porgettazione Urbana e Urbanistica
Abstract
Several publications on pedestrian ways in Naples considered as a tourist attractions, have been published recently. They are based on research works carried out by Naples University scholars. Several Projects taking into account the specific environment of Borgo Marino have been submitted in order to facilitate the connection between Posillipo and Marechiaro area which is besieged by factors that alter its natural, cultural and environmental resources. It should be planned a transportation system less polluting than the existing one, re-evaluating the rehabilitation of the tramway connection between these areas. It should be upgraded the public roads, by improving environmental pathways and their equipment in order to encourage and to increase pedestrian access to the sea. It should also assess the feasibility of mechanical lifts, mini electric buses and marine transport. The three proposals presented here provide a line of small electric buses, that goes from Capo Posillipo to Marechiaro square; a cable railway that starts from the exedra of Coroglio slope gets to the square ; a leaning lift or a lightweight one carriage funicular that travels along the green area between the two roads. The three proposals must be tested functionally, environmentally and technologically. It is interesting to involve residents and traders in the planning.
Downloads
Download data is not yet available.
References
AA. VV., Ascensori e apparecchi elevatori, Maggioli Editore, Rimini 2000.
AA. VV., Lo spazio pedonale nel disegno della città, Atti del Convegno, Università degli Studi di Perugia, Perugia 1999.
AA. VV., New trasport systems in the world, Process Architecture 1979.
AA. VV., Trasporti urbani collettivi, Innovazione tecnologica, Qualità della vita nei centri storici, Atti del Convegno, Perugia 27-29 ottobre 1988.
A.N.I.A.I., Infrastrutture a Napoli. Progetti dal 1860 al 1898. Napoli 1978.
Alisio G., Lamont Young, Utopia e realtà nell'urbanistica napoletana dell'Ottocento, Officina Edizioni, Roma 1993.
Belardi P., "Centro storico e viabilità alternativa: parcheggio a rotazione, percorso pedonale meccanizzato" "L'Industria delle Costruzioni", n.199, maggio 1998.
Belardi P., "Perugia : la metropolitana pedonale", "Paesaggio urbano", n. 0, 1989, pp. 66-75.
Belardi P., "Connessioni urbane: percorsi pedonali meccanizzati per i centri storici" "Parametro", n. 182, gennaio-febbraio 1991, pp. 18 57.
Buchanam C., Traffic in towns, London 1963.
Caniglia Rispoli C., Spazio pubblico per la città -Problemi per la mobilità pedonale, Napoli 1970.
Capasso A., Niego A., Vittoria E., (a cura di), Lo spazio pedonale e la città, SEN, Napoli 1982.
Capasso A., (a cura di), Camminare e vedere, Collana Studi del Mezzogiorno della Camera di Commercio, Prismi editore, Napoli, 1989 (nuova edizione 1997).
Capasso A., (a cura di), Commercio e città: Lo spazio commerciale e lo scenario urbano, CUEN, Napoli 1992 Aldo Capasso, Mariangela
Bellomo, (a cura di), Piazze e città, Collana Studi sul Mezzogiorno della Camera di Commercio, Prismi editore, Napoli 2001.
Capasso A., (a cura di) Trasporto verticale e città, CLEAN, Napoli 2002.
Capasso A., "La città negata - L'invadenza degli oggetti che popolano lo spazio urbano", in: Morire di traffico, Edizione Sintesi, Napoli, 1987.
Capasso A., "Quel quotidiano soggiorno di emozioni - Gli spazi pedonali", in: Architettura E/O Architettura n.1, 1985
Capasso A., "Percorsi pedonali attrezzati per l'uso alternativo e collettivo dello spazio urbano", in: Atti ufficiali della Conferenza del traffico e della circolazione di Stresa, Automobil Club Italia, Milano 1974.
Cennamo M., La città obliqua, Fratelli Fiorentino, Napoli 1984. Comune di Perugia, Mobilità e relative infrastrutture nella città di Perugia, Perugia 1980.
De Sivo M., Lentini B., Guida alla progettazione senza barriere, Alinea Editrice, Firenze 1985.
Gelmini P., Città,Trasporti e Ambiente, Etas Libri, Milano 1998.
Gobbi A., (a cura di), Risalire la città: Napoli e i suoi Musei dall'Archeologico a Capodimonte, Premio Schindler 1997, Electa, Milano 1998.
Liguori F., L'Ascensore. Guida pratica alla macchina che tutti usano e nessuno conosce, Edizioni DEI- Tipografia Genio Civile, Roma 1992.
Lione R., Ascensori e altri impianti di sollevamento, Carocci Editore, Roma 1998.
Koening G.K., "Per il riuso della funicolare di Orvieto", in Ottagono, n.69, giugno 1983, pp.54-59.
Mandolesi D., (a cura di), "Progettare i luoghi della mobilità" L'industria delle costruzioni, n 343, maggio 2000, pp. 72-75.
Minoglio A., "Scoprire e capire il mondo. A che piano?L'ascensore:incubi, sicurezza, imbarazzi, novità tecniche e segreti del mezzo di trasporto più comune", Focus, n. 68, giugno 1998, pp. 20-24.
Vitale A., (a cura di), Ritrovare il mare, CLEAN, Napoli 2006.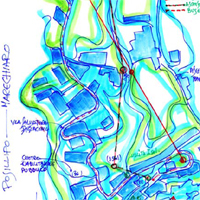 How to Cite
CapassoA. (2010). Three Hypothesis of Facilitated Pedestrian From Posillipo to Marechiaro. TeMA - Journal of Land Use, Mobility and Environment, 3(3). https://doi.org/10.6092/1970-9870/153
Copyright (c) 2014 Tema. Journal of Land Use, Mobility and Environment
This work is licensed under a Creative Commons Attribution 4.0 International License.
Authors who publish in this journal agree to the following:
1. Authors retain the rights to their work and give in to the journal the right of first publication of the work simultaneously licensed under a Creative Commons License - Attribution that allows others to share the work indicating the authorship and the initial publication in this journal.
2. Authors can adhere to other agreements of non-exclusive license for the distribution of the published version of the work (ex. To deposit it in an institutional repository or to publish it in a monography), provided to indicate that the document was first published in this journal.

3. Authors can distribute their work online (ex. In institutional repositories or in their website) prior to and during the submission process, as it can lead to productive exchanges and it can increase the quotations of the published work (See The Effect of Open Access)