Transports and Energy: Urban Strategies for Planning
Ilaria Delponte

Università degli Studi di Genova, DICAT, Dipartimento di Ingegneria delle Costruzioni, dell'Ambiente e del Territorio

Lorenza Tomasoni

Università degli Studi di Genova, DICAT, Dipartimento di Ingegneria delle Costruzioni, dell'Ambiente e del Territorio
Abstract
The fight against climate changing pushed the States of the EuropeanUnion to adopt new, strong and efficient objectives to protect theenvironment and improve life condition in urban centers.Particular attention is paid to the reduction of CO2 emissions in orderto promote a more livable environment and sustainable urbandevelopment. This growing communitarian policy and vision representsa suitable context for the introduction of innovative urban planningand managing practices allowing an attentive exploitation of naturalresources.The principle of sustainable and durable development and the newconcept of "energy planning" take to a revision of existent tools(PRG-Piano Regolatore Generale, PUM-Piano Urbano della Mobilità,etc.) used by Italian Public Administrations to plan and manage urbanspaces and to the introduction of new ones (PEC-Piano EnergeticoComunale, etc.).From this modern point of view, the field of transport and mobilitycovers a strategic role for two main reasons. The first is the relevantcontribution of transports to the production of CO2 emissions(transports are responsible of the 30 - 40% of CO2 emissions in urbancenters) and other toxic matters (PM10, NOx etc.); the second one isthe strong impact that the effectiveness of public transports can haveon citizens' quality of life and the reduction of private cars' use.Taking into account the wide range of fields, activities and serviceswhose efficiency and sustainability depends on that one of the urbanmobility system, a great number of actions can be proposed.The effective problem is the complexity of their mutual interaction inorder to satisfy urban exigencies and respect existing regulatoryindications.The analysis of alternative actions, technologies and scenarios thatLocal Administration can suppose to apply and/or realize might resultvery interesting taking into consideration also the recentcommunitarian policy of "20-20-20" aiming to reach a reduction of20% in greenhouse gas emissions, energy consumption to comefrom renewable resources and primary energy use.It turns out to be necessary a revision of existing management andplanning tools in the field of mobility and the engagement of newmethodologies (monitoring indicators, campaign for citizens'involvement, dynamic and temporal use of infrastructures, etc.) andtechnologies (biofuels, electric vehicles, etc.) to support LocalAdministration during a transitional moment in which long and shorttermdevelopment plans are strongly questioned.The more interesting strategic tool recently introduced into LA landplanning practices is the "Action Plan".Starting from the identification of environmental, social and economicalweaknesses and treats of the urban system the "Action Plan" tries toindividuate critical situations and propose, as a kind of agenda, timesand modalities of LA actions.Being strongly involved in these items, the city of Genoa turns to bea meaningful case study.
Downloads
Download data is not yet available.
References
AA.VV. (2008) Climate Plan's Strategic Planning Steering Committee California, Strategic Plan 2009-2011.
Commission of the European Communities (2009) Action Plan on Urban Mobility, COM(2009) 490 final, Brussels, 30.9.2009.
Comune di Genova, Urban Lab Sviluppo urbanistico del Territorio (2009) Documento degli obiettivi Piano Urbanistico Comunale
(PUC), Genova.
Conseil de Paris (2007) Plan Climat de Paris, Annexe de la délibération DEVE 2007 – 116.
Droege P. (2008) La città rinnovabile, Edizioni Ambiente, Milano.
Legge n. 10/1991, Norme sull'attuazione del piano energetico nazionale in materia di uso razionale dell'energia, di risparmio
energetico e di sviluppo delle fonti rinnovabili di energia.
Lorenzo R. (1998) La città sostenibile, Elèuthera, Milano.
Municipality of Delft, District and City Affairs Cluster, Sustainability Sector, Environmental department (2003), 3E:Delft Climate Plan
–2012, Effective, Efficient Energy Use, Deft.
Regione Liguria (2003) PEAR Piano Energetico Ambientale della Regione Liguria, Genova.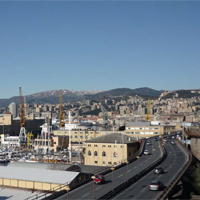 How to Cite
DelponteI., & TomasoniL. (2012). Transports and Energy: Urban Strategies for Planning. TeMA - Journal of Land Use, Mobility and Environment, 3(1). https://doi.org/10.6092/1970-9870/840
Copyright (c) 2014 Tema. Journal of Land Use, Mobility and Environment
This work is licensed under a Creative Commons Attribution 4.0 International License.
Authors who publish in this journal agree to the following:
1. Authors retain the rights to their work and give in to the journal the right of first publication of the work simultaneously licensed under a Creative Commons License - Attribution that allows others to share the work indicating the authorship and the initial publication in this journal.
2. Authors can adhere to other agreements of non-exclusive license for the distribution of the published version of the work (ex. To deposit it in an institutional repository or to publish it in a monography), provided to indicate that the document was first published in this journal.

3. Authors can distribute their work online (ex. In institutional repositories or in their website) prior to and during the submission process, as it can lead to productive exchanges and it can increase the quotations of the published work (See The Effect of Open Access)