Biomarkers in Pancreatic Adenocarcinoma
Nicholas Joza

Tufts University School of Medicine. Boston, MA, USA

Muhammad Wasif Saif

Tufts University School of Medicine. Boston, MA, USA
Keywords:
Biological Markers, Pancreatic Neoplasms, Proto-Oncogene Proteins c-met
Abstract
Pancreatic adenocarcinoma is a highly aggressive cancer, with a median patient survival of less than one year. Clinically useful biomarkers capable of accurately assessing prognosis, as well as response to therapy, are urgently needed. At the 2014 ASCO Annual Meeting, Maus et al. (Abstract #e15199) and Neuzillet et al. (Abstract #e15200) present data on use of c-met as a prognostic biomarker, and Shultz et al. (Abstract #4133) use a multiplex antibody panel to identify predictive markers of response to gemcitabine and erlotinib.
Image: Green space by the Jaharis Center and Tufts Medical Center. Boston, MA, USA
Downloads
Download data is not yet available.
References
Siegel R, Ma J, Zou Z, Jemal A. Cancer statistics 2014. CA Cancer J Clin. 2014; 64(1):9-29.
Vincent A, Herman J, Schulick R, Hruban RH, Goggins M, et al. Pancreatic cancer. Lancet. 2011; 378(9791):607-20. [PMID:21620466]
Reni M, Cereda S, Balzano G, Passoni P, Rognone A, Fugazza C, Mazza E, et al. Carbohydrate antigen 19-9 change during chemotherapy for advanced pancreatic adenocarcinoma. Cancer. 2009; 115(12):2630-9. [PMID:19353729]
Poruk KE, Gay DZ, Brown K, Mulvihill JD, Boucher KM, Scaife CL, Firpo MA, et al. The clinical utility of CA 19-9 in pancreatic adenocarcinoma: diagnostic and prognostic updates. Curr Mol Med. 2013; 13(3):340-51. [PMID:23331006]
Fang Y, Yao Q, Chen Z, Xiang J, William FE, Gibbs RA, Chen C. Genetic and molecular alterations in pancreatic cancer: implications for personalized medicine. Med Sci Monit. 2013; 19:916-26. [PMID:24172537]
Shultz D, Pai J, Graber MS, Heestand GM, Chang DT, Parulekar WR, Tu D, et al. A novel biomarker panel examining response to gemcitabine (G) with or without erlotinib (E) for pancreatic cancer (PA) therapy in NCIC clinical trials group PA.3. J Clin Oncol 2014; 32:5s (suppl; abstr 4133).
Moore MJ, Goldstein D, Hamm J, Figer A, Hecht JR, Gallinger S, Au HJ, et al. Erlotinib plus gemcitabine compared with gemcitabine alone in patients with advanced pancreatic cancer: a phase III trial of the National Cancer Institute of Canada Clinical Trials Group. J Clin Oncol. 2007; 25(15):1960-6. [PMID:17452677]
Ide T, Kitajima Y, Miyoshi A, Ohtsuka T, Mitsuno M, Ohtaka K, Koga Y, et al. Tumor-stromal cell interaction under hypoxia increases the invasiveness of pancreatic cancer cells through the hepatocyte growth factor/c-Met pathway. Int J Cancer. 2006; 119(12):2750-9. [PMID:16998831]
Hill KS, Gaziova I, Harrigal L, Guerra YA, Qiu S, Sastry SK, Arumugam T, et al. Met receptor tyrosine kinase signaling induces secretion of the angiogenic chemokine interleukin-8/CXCL8 in pancreatic cancer. PLoS One. 2012; 7(7):e40420. [PMID:22815748]
Gherardi E, Birchmeier W, Birchmeier C, Vande Woude G. Targeting MET in cancer: rationale and progress. Nature Reviews Cancer, 2012; 12: 89-103. [PMID:22270953]
Di Renzo MF, Poulsom R, Olivero M, Comoglio PM, Lemoine NR. Expression of the Met/hepatocyte growth factor receptor in human pancreatic cancer. Cancer Res.1995; 55: 1129–1138. [PMID:7866999]
Ebert M, Yokoyama M, Friess H, Büchler MW, Korc M. Coexpression of the c-met proto-oncogene and hepatocyte growth factor in human pancreatic cancer. Cancer Res. 1994; 54(22):5775-8. [PMID:7954397]
Yu J, Ohuchida K, Mizumoto K, Ishikawa N, Ogura Y, Yamada D, Egami T, et al. Overexpression of c-met in the early stage of pancreatic carcinogenesis; altered expression is not sufficient for progression from chronic pancreatitis to pancreatic cancer. World J Gastroenterol. 2006; 12(24):3878-82. [PMID:16804974]
Zhu GH, Huang C, Qiu ZJ, Liu J, Zhang ZH, Zhao N, Feng ZZ, et al. Expression and prognostic significance of CD151, c-Met, and integrin alpha3/alpha6 in pancreatic ductal adenocarcinoma. Dig Dis Sci. 2011; 56(4):1090-8. [PMID:20927591]
Neuzillet C, et al. C-MET expression as an independent prognostic marker in resected pancreatic ductal adenocarcinoma (PDAC): Proposition of a novel reliable immunostaining scoring method. J Clin Oncol. 2014; 32 (suppl; abstr e15200).
Maus MKH, et al. C-MET mRNA expression in pancreatic ductal adenocarcinoma and stromal tissue: Prognostic and therapeutic implications. J Clin Oncol. 2014; 32 (suppl; abstr e15199).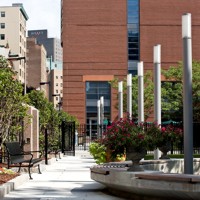 How to Cite
JozaN., & SaifM. (2014). Biomarkers in Pancreatic Adenocarcinoma. JOP. Journal of the Pancreas, 15(4), 308-309. https://doi.org/10.6092/1590-8577/2675
Section
Highlights from the "50th ASCO Annual Meeting 2014". Chicago, IL, USA. May 30 - June 3, 2014
Copyright (c) 2014 Nicholas Joza, Muhammad Wasif Saif
This work is licensed under a Creative Commons Attribution 4.0 International License.
As a member of Publisher International Linking Association, PILA, iMedPub Group's JOP follows the Creative Commons Attribution License and Scholars Open Access publishing policies. Journal of the Pancreas is the Council Contributor Member of Council of Science Editors (CSE) and following the CSE slogan Education, Ethics, and Evidence for Editors.