Pharmacogenetics in Pancreatic Cancer
Ioannis S Tourkantonis

Oncology Unit, Third Department of Internal Medicine, University of Athens, Sotiria General Hospital. Athens, Greece

Evangelia Peponi

Oncology Unit, Third Department of Internal Medicine, University of Athens, Sotiria General Hospital. Athens, Greece

Konstantinos N Syrigos

Oncology Unit, Third Department of Internal Medicine, University of Athens, Sotiria General Hospital. Athens, Greece

Muhammad Wasif Saif

Tufts University School of Medicine. Boston, MA, USA
Keywords:
gemcitabine, Pancreatic Neoplasms, Pharmacogenetics
Abstract
Pancreatic cancer is an aggressive malignancy with a poor overall survival rate. Given advances in pharmacogenomics, numerous gene mutations have been identified that could be potential targets for drug development. Therefore, future research strategies may identify prognostic and predictive markers aiming to improve outcome by maximizing efficacy whilst lowering toxicity. In this commentary, we summarize several interesting results regarding pancreatic cancer pharmacogenetics that have been presented in the 2014 American Society of Clinical Oncology (ASCO) Annual Meeting. In particular, we focus on Abstract #4124, which investigated the potential predictive role of human equilibrative nucleoside transporter 1 (hENT1) in patients treated with adjuvant gemcitabine for pancreatic cancer, on Abstract #4125, which examined the tolerability of a modified FOLFORINOX study based on UGT1A1*28 genotype guided dosing of IRI in patients with advanced pancreatic cancer, and on Abstract #4130, which confirmed the predictive role of circulating tumor and invasive cells (CTICs) from patients with unresectable pancreatic cancer in second-line chemotherapy treatment setting.
Image: Cellular metabolism of gemcitabine.
Downloads
Download data is not yet available.
References
Siegel R. Cancer statistics, 2013. CA: a cancer journal for clinicians 2013; 63: 11-30.
Ciccolini J, Mercier C, Dahan L, Andre N. Integrating pharmacogenetics into gemcitabine dosing-time for a change? Nat Rev Clin Oncol 2011; 8: 439-444. [PMID:21304503]
Greenhalf W, Ghaneh P, Neoptolemos JP, Palmer DH, Cox TF, Lamb RF, Garner E, et al. Pancreatic Cancer hENT1 Expression and Survival from Gemcitabine in Patients from the ESPAC-3 Trial. J Natl Cancer Inst. 2014; 106. [PMID:24301456]
Poplin E, Wasan H, Rolfe L, Raponi M, Ikdahl T, Bondarenko I, Davidenko I, et al. Randomized, Multicenter, Phase II Study of CO-101 Versus Gemcitabine in Patients With Metastatic Pancreatic Ductal Adenocarcinoma: Including a Prospective Evaluation of the Role of hENT1 in Gemcitabine or CO-101 Sensitivity. J Clin Oncol. 2013; 31: 4453-4461.
Ratain MJ, Innocenti F. Individualizing Dosing of Irinotecan. Clinical Cancer Res. 2010; 16: 371-372.
H. Yu K, Sangar V, Ricigliano M, Abou-Alfa GK, Lowery MA, Saltz L, CrottyJF, et al. Use of pharmacogenomic modeling in pancreatic cancer for prediction of chemotherapy response and resistance. J Clin Oncol. 2013; 31.
Ren C1, Han C, Zhang J, He P, Wang D, Wang B, Zhao P, et al. Detection of apoptotic circulating tumor cells in advanced pancreatic cancer following 5-fluorouracil chemotherapy. Cancer Biol Ther. 2011; 12: 700 - 706. [PMID:21811100]
Sinn M, Sinn BV, Stieler J, Pelzer U, Striefler JK, Oettle H, Bahra M, et al. Hent1 expression in patients with pancreatic cancer treated with gemcitabine after curative intended resection: Results from the CONKO-001 trial. J Clin Oncol. 2014; 32: (suppl; abstr 4124).
Sharma M, Catenacci DVT, Karrison T, Allen K, Peterson JD, Marsh RW, Kozloff M , et al. A UGT1A1 genotype-guided dosing study of modified FOLFIRINOX (mFOLFIRINOX) in previously untreated patients (pts) with advanced gastrointestinal malignancies. J Clin Oncol. 2014; 32: (suppl; abstr 4125).
Bélanger AS, Tojcic J, Harvey M, C G. Regulation of UGT1A1 and HNF1 transcription factor gene expression by DNA methylation in colon cancer cells. BMC Mol Biol. 2010; 11: 9.
Rouits E, Charasson V, Pétain A, Boisdron-Celle M, Delord JP, Fonck M, Laurand A, et al. Pharmacokinetic and pharmacogenetic determinants of the activity and toxicity of irinotecan in metastatic colorectal cancer patients. Br J Cancer. 2008; 99: 1239-1245. [PMID:18797458]
Cecchin E, Innocenti F, D'Andrea M, Corona G, De Mattia E, Biason P, Buonadonna A. et al. Predictive Role of the UGT1A1, UGT1A7, and UGT1A9 Genetic Variants and Their Haplotypes on the Outcome of Metastatic Colorectal Cancer Patients Treated With Fluorouracil, Leucovorin, and Irinotecan. J Clin Oncol. 2009; 27: 2457-2465. [PMID:19364970]
H. Yu K, Sangar V, Ricigliano M, Hidalgo M, O'Reilly EM, Abou-Alfa GK, Lowery MA, et al. Pharmacogenomic modeling of pancreatic cancer (PDAC) for prediction of chemotherapy response and resistance in second-line treatment setting. J Clin Oncol 2014; 32:5s.
Maréchal R, Bachet JB, Mackey JR, Dalban C, Demetter P, Graham K, Couvelard A, et al. Levels of Gemcitabine Transport and Metabolism Proteins Predict Survival Times of Patients Treated With Gemcitabine for Pancreatic Adenocarcinoma. Gastroenterology. 2012; 143: 664-674.e666. [PMID:22705007]
Yu M, Ting DT, Stott SL, Wittner BS, Ozsolak F, Paul S, Ciciliano JC, et al. RNA sequencing of pancreatic circulating tumour cells implicates WNT signalling in metastasis. Nature. 2012; 487: 510-513. [PMID:22763454]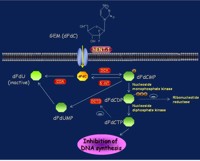 How to Cite
TourkantonisI., PeponiE., SyrigosK., & SaifM. (2014). Pharmacogenetics in Pancreatic Cancer. JOP. Journal of the Pancreas, 15(4), 335-339. https://doi.org/10.6092/1590-8577/2689
Section
Highlights from the "50th ASCO Annual Meeting 2014". Chicago, IL, USA. May 30 - June 3, 2014
Copyright (c) 2014 Ioannis S Tourkantonis, Evangelia Peponi, Konstantinos N Syrigos, Muhammad Wasif Saif
This work is licensed under a Creative Commons Attribution 4.0 International License.
As a member of Publisher International Linking Association, PILA, iMedPub Group's JOP follows the Creative Commons Attribution License and Scholars Open Access publishing policies. Journal of the Pancreas is the Council Contributor Member of Council of Science Editors (CSE) and following the CSE slogan Education, Ethics, and Evidence for Editors.