Sefer Yosippon: Reevaluations
Abstract
Author brings here some thoughts for discussion about Sefer Yosippon, that seminal history of Second Temple Jews whose influence on Jews and Christians for the past millennium has been monumental. Indeed scholarship since the Renaissance has interpreted the book as ranging from fabula to history. In his concluding remarks, author suggest that Sefer Yosippon has in addition to its historical methodology, to its literary innovations and brilliant style unique in its time, a possible polemical response to the vicissitudes of the Jews in southern Italy during the several generations following the Byzantine persecutions in southern Italy.
Downloads
Download data is not yet available.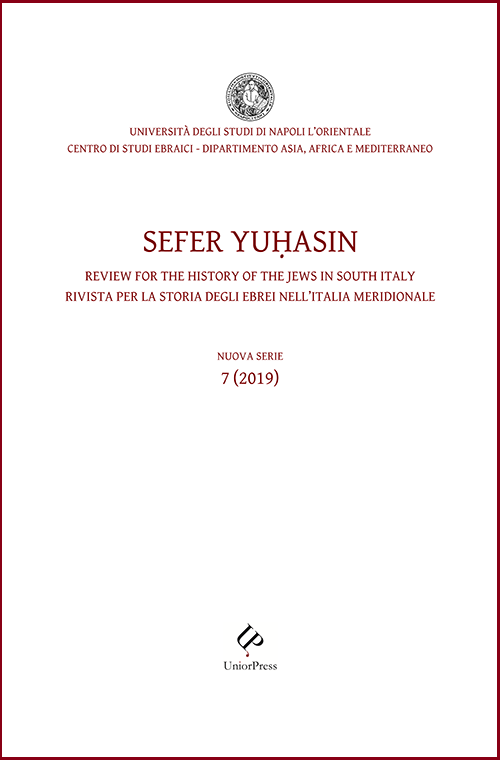 Come citare
Bowman, S. (2019). Sefer Yosippon: Reevaluations. Sefer Yuḥasin ספר יוחסין | Review for the History of the Jews in South Italy<br>Rivista Per La Storia Degli Ebrei Nell'Italia Meridionale<br><Font Size="1"&gt;Centro Di Studi Ebraici - Dipartimento Asia Africa E Mediterraneo, Università Degli Studi Di Napoli L'Orientale, 7, 57-64. https://doi.org/10.6092/2281-6062/6537
Gli autori che pubblicano su questa rivista accettano le seguenti condizioni:
Gli autori mantengono i diritti sulla loro opera e cedono alla rivista il diritto di prima pubblicazione dell'opera, contemporaneamente licenziata sotto una Licenza Creative Commons - Attribuzione che permette ad altri di condividere l'opera indicando la paternità intellettuale e la prima pubblicazione su questa rivista.
Gli autori possono aderire ad altri accordi di licenza non esclusiva per la distribuzione della versione dell'opera pubblicata (es. depositarla in un archivio istituzionale o pubblicarla in una monografia), a patto di indicare che la prima pubblicazione è avvenuta su questa rivista.
Gli autori possono diffondere la loro opera online (es. in repository istituzionali o nel loro sito web) prima e durante il processo di submission, poiché può portare a scambi produttivi e aumentare le citazioni dell'opera pubblicata (Vedi The Effect of Open Access).