Buildings Indicators for Sustainable Mobility: the District of Naples
Pietro D'Amico

Provincia di Napoli, Area Assetto del territorio, Ufficio SIT Via Don Bosco 4f 80141 Napoli

Ferdinando Di Martino

Università degli Studi di Napoli Federico II, Dipartimento di Costruzioni e Metodi Matematici in Architettura, Via Toledo 402, 80134 Napoli

Salvatore Sessa

Università degli Studi di Napoli Federico II, Dipartimento di Costruzioni e Metodi Matematici in Architettura, Via Toledo 402, 80134 Napoli
Abstract
Mobility is a major component in ensuring freedom of movement and good quality of life. It is strictly associated to the concept of sustainability, considering that more than 70% of European citizens live in urban areas.
Traffic volumes and congestion, air quality, noise pollution, consumption of non renewable resources, greenhouse gas emissions, social exclusion and urban sprawl are significant challenges to achieve sustainable urban mobility. This is one of the most important goals of the Coordination Plan of the District of Naples (PTCP). In this paper, we show the process of research, selection, valuation, weighting and synthesis of a set of indicators to monitor sustainable mobility during the realization process of the PTCP.
Two urban areas lacking infrastructure connections are considered: North Naples and Giuglianese. According to the Planning Code, the GIS Office and the Planning Office are responsible for choosing the set of indicators and its application, and for evaluating if the goals of the PTCP are achievable and if corrective actions should be undertaken as well.
The Environmental Report attached to the Plan sets down to link each topic of the plan to a unique index resulting from a set of specific indicators. One of the results of this study was the selection of 22 indicators for sustainable mobility.
They were the outcome of the intersection between the lists available in scientific literature and the databases available for the District of Naples. As set down by the PTCP Planning Code, a top down approach was adopted Therefore indicators were selected by technicians. However, a bottom up approach, i.e. citizenship and stakeholders select indicators, would have resulted in a more transparent process. This study applied a rating method named allocation of budget to weight indicators. Weights determined the importance of each indicator compared to the others.
After the weighting procedure, the aggregation of indicators into a single complex index could take place. The main result of this research was the design and implementation of a database via a GIS. Not only could this GIS be updated, but it could also convert information within each indicator into a single complex index. It could immediately give the trend towards sustainable mobility.
The database was useful to compare either a zone of the district in different times or different areas of the district at the same time. In addition, the process of building indices could help transparency in planning procedures and social learning through the appraisal process, if citizenship and stakeholders had been involved. The combined use of participatory techniques and multiple criteria analysis takes conflicting interest into account and is the only way to solve them in a common vision.
The method implemented in this research should be applied to planning process as well and should involve most of the society.
Downloads
Download data is not yet available.
References
ACAM (2009) "Infrastrutture, industria e servizi di trasporto e logistica in Campania - Terzo rapporto annuale 2009", http://www.acam-campania.it/web/it/Rapporto_2009.pdf.
Barker W.G. (2005) "Can a sustainable transportation system be developed for San Antonio, Texas?", Transportation Research Record, n. 1924, 120-128.
Costa M.S., Silva A.N.R. and Ramos R.A.R. (2005) "Sustainable urban mobility: a comparative study and the basis for a management system in Brazil and Portugal", in Brebbia, C.A. e Wadhwa, L.C. (eds.), "Urban transport and the environment in the 21th century", WIT Press, Southampton, 323-332.
Fusco Girard L., Nijkamp P. (1997) "Le valutazioni per lo sviluppo sostenibile della città e del territorio", Franco Angeli, Milano.
Jeon C.M, Amekudzi A. (2005) "Addressing sustainability in transportation systems: definitions, indicators, and metrics", Journal Of Infrastructure Systems, Vol. 11, n.1, 31-51.
Lautso K., Spiekermann K., Wegener M., Sheppard I., Steadman P., Martino A., Domingo R. e Gayda S. (2004) "PROPOLIS: Planning and research of policies for land use and transport for increasing urban sustainability. Final Report second edition", http://www.iee-library.eu/images/all_ieelibrary_docs/229_propolis.pdf.
Litman T. (2010) "Well measured - Developing indicators for sustainable and livable transport planning, Victoria Transport Policy Institute", http://www.vtpi.org/wellmeas.pdf.
Mameli F., Marletto G. (2009) "Osservatorio sulle Politiche per la Mobilità Urbana Sostenibile - La selezione degli indicatori di valutazione delle politiche per la mobilità urbana: una procedura partecipata", ISFORT Rapporti Periodici, n. 12, http://www.isfort.it/sito/pubblicazioni/Rapporti%20periodici/RP_12%20_giugno_2009.pdf.
Moccia F. D., Rete di comunicazione e assetto del territorio nel PTCP di Napoli, TeMA 04.09, http://www.tema.unina.it/index.php/tema/article/view/102.
Nijkamp P., Rietveld P., Voogd H. (1990) "Multicriteria evaluation in physical planning", North-Holland, Amsterdam.
Provincia di Napoli – Assessorato all'Urbanistica (2008) "PTCP Proposta di Piano – Relazione", http://www.provincia.napoli.it/Micro_Siti/Assetto_territorio/Navigazione_Sinistra/Pianificazione_territoriale/PTCP/.
von Winterfeldt D. and W. Edwards (1986) "Decision analysis and behavioural research", Cambridge University Press, New York.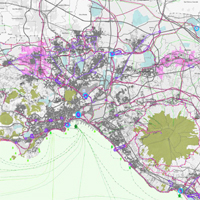 How to Cite
D'AmicoP., Di MartinoF., & SessaS. (2011). Buildings Indicators for Sustainable Mobility: the District of Naples. TeMA - Journal of Land Use, Mobility and Environment, 4(2). https://doi.org/10.6092/1970-9870/235
Copyright (c) 2014 Tema. Journal of Land Use, Mobility and Environment
This work is licensed under a Creative Commons Attribution 4.0 International License.
Authors who publish in this journal agree to the following:
1. Authors retain the rights to their work and give in to the journal the right of first publication of the work simultaneously licensed under a Creative Commons License - Attribution that allows others to share the work indicating the authorship and the initial publication in this journal.
2. Authors can adhere to other agreements of non-exclusive license for the distribution of the published version of the work (ex. To deposit it in an institutional repository or to publish it in a monography), provided to indicate that the document was first published in this journal.

3. Authors can distribute their work online (ex. In institutional repositories or in their website) prior to and during the submission process, as it can lead to productive exchanges and it can increase the quotations of the published work (See The Effect of Open Access)