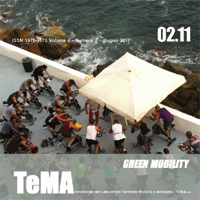 People and goods mobility has been widely acknowledged as unavoidable premise for economic growth and civil society development, strategic element for the competitive development of cities and regions as well as fundamental right of communities. In Europe, transportation is one of the most important economic sectors but also one of the main factors of environmental quality and livability decay, mostly in urban areas. Air and acoustic pollution, consumption of non renewable resources, soil consumption, congestion, accidents represent the main environmental costs related to transportation.
Therefore, this issue of TeMA points out strategies and actions targeted to re-address transport policies toward sustainability, in European, national and urban contexts, in order to guarantee an overall mobility growth and, in the meanwhile, a significant reduction of its environmental costs.
In detail, with reference to the different means of mobility (road, rail, air mobility) and their environmental costs (energy consumption, pollution, etc.), the following subjects will be investigated:
- the effectiveness of the strategies implemented by the European Union, with particular reference to the contents of The White Paper "European Transport Policy for 2010" issued in 2001, which provided measures for achieving a more sustainable mobility;
- the policies and measures adopted in single national contexts to reduce the environmental costs related to the different means of transport;
-  the successful initiatives and practices targeted to implement the principles of sustainable mobility implemented in different urban contexts both at European and international level.
Full Issue