The Foreigner, the Other, the Homeless: Challenges to the Golden Rule
John Abbarno

Buffalo State – The State University of New York.
Abstract
The twenty-first century has witnessed a rise in the number of global homeless. People are escaping their impoverished homelands with their families for security and peace in a country that promises a better life. The United States and countries in Europe are viewed as safe harbors but they resist adequate entry due to the increased numbers of people. The predominant perspective toward this phenomenon has been through political lens but it belies a deep-seated philosophical problem of humanity. This entails a convenience of interacting with strangers as classified groups and not persons of value. This paper examines the concept of "foreigner", as a particular kind of "other", the homeless. The Golden Rule alone is not sufficient to morally address this humanitarian crisis. The paper makes a case for a moral role of empathy that could reestablish the original ideal expressed by the Golden Rule.
Keywords: Foreigner, Other, Homeless, Golden Rule, Humanitarian crisis
Downloads
Download data is not yet available.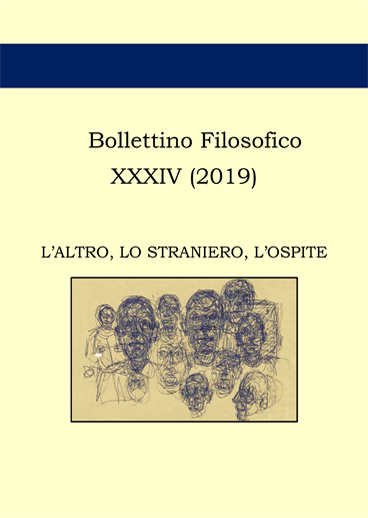 Come citare
AbbarnoJ. (2019). The Foreigner, the Other, the Homeless: Challenges to the Golden Rule. Bollettino Filosofico, 34, 7-16. https://doi.org/10.6093/1593-7178/6489
Bollettino Filosofico pubblica in internet, ad accesso aperto, con licenza:
| | |
| --- | --- |
|   | CCPL Creative Commons Attribution |
L'autore conserva il copyright sul suo contributo, consentendo tuttavia a chiunque "di riprodurre, distribuire, comunicare al pubblico, esporre in pubblico, rappresentare, eseguire e recitare l'opera", purché siano correttamente citati l'autore e il titolo della rivista. L'autore, al momento della proposta di pubblicazione, è inoltre tenuto a dichiarare che il contenuto e l'organizzazione dell'opera è originale e non compromette in alcun modo i diritti di terzi, né gli obblighi connessi alla salvaguardia di diritti morali ed economici di altri autori o di altri aventi diritto, sia per testi, immagini, foto, tabelle, sia per altre parti di cui il contributo può essere composto.  L'autore dichiara altresì di essere a conoscenza delle sanzioni previste dal codice penale e dalle leggi speciali per l'ipotesi di falsità in atti ed uso di atti falsi, e che pertanto Bollettino Filosofico  è esente da qualsiasi responsabilità di qualsivoglia natura, civile, amministrativa o penale, e sarà dall'autore tenuta indenne da qualsiasi richiesta o rivendicazione da parte di terzi.