Responsività
Maurizio Ferraris

Università di Torino
Abstract
In my contribution, I propose to define the subjective pole of otherness, namely the ability to respond and react to the other (human, animal, or inanimate) that is characteristic of the human being. Instead of being halfway between an animal and the Übermensch, as Nietzsche claimed, or in between an angel and an animal, as Pascal suggested, the human being is halfway between an animal and an automaton. Non-human animals only have the organism, and machines only the mechanism, while humans place themselves at the intersection between mechanism and organism: that is, they have responsiveness. And responsiveness (whose basic form lies in sensitivity and irritability, in terms of red eyes, an itch or a cough, while its most manifest form, philosophically, is reason as the faculty of ends) is where lies the decisive difference between human and automaton. This difference does not consist in some supplement of the spiritual soul, but in the animal nature that characterizes us as organisms. We are human because we are animals and we are more complex souls than non-human animals because we have-in us and especially outside of us-very powerful automata that are called language, culture, and technology.
Keywords: Otherness, Animal, Automaton, Mechanism, Organism
Downloads
Download data is not yet available.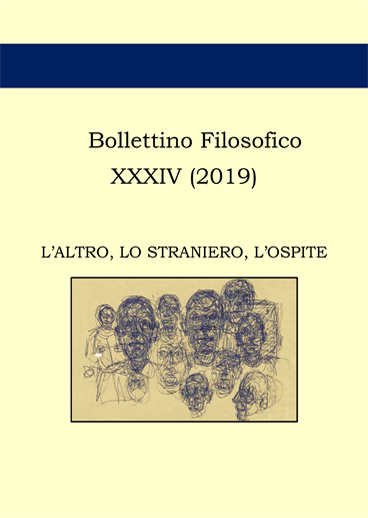 Come citare
FerrarisM. (2019). Responsività. Bollettino Filosofico, 34, 73-89. https://doi.org/10.6093/1593-7178/6493
Bollettino Filosofico pubblica in internet, ad accesso aperto, con licenza:
| | |
| --- | --- |
|   | CCPL Creative Commons Attribution |
L'autore conserva il copyright sul suo contributo, consentendo tuttavia a chiunque "di riprodurre, distribuire, comunicare al pubblico, esporre in pubblico, rappresentare, eseguire e recitare l'opera", purché siano correttamente citati l'autore e il titolo della rivista. L'autore, al momento della proposta di pubblicazione, è inoltre tenuto a dichiarare che il contenuto e l'organizzazione dell'opera è originale e non compromette in alcun modo i diritti di terzi, né gli obblighi connessi alla salvaguardia di diritti morali ed economici di altri autori o di altri aventi diritto, sia per testi, immagini, foto, tabelle, sia per altre parti di cui il contributo può essere composto.  L'autore dichiara altresì di essere a conoscenza delle sanzioni previste dal codice penale e dalle leggi speciali per l'ipotesi di falsità in atti ed uso di atti falsi, e che pertanto Bollettino Filosofico  è esente da qualsiasi responsabilità di qualsivoglia natura, civile, amministrativa o penale, e sarà dall'autore tenuta indenne da qualsiasi richiesta o rivendicazione da parte di terzi.