Una "natura" in ansia: l'identità umana alla prova della tecnica e della globalizzazione. Una glossa sul lessico dell'alterità
Eugenio Mazzarella

Università di Napoli Federico II.
Abstract
The contribution intends to reflect on the marginalization of the human, which in different forms is implemented by the progress of an increasingly technologized and globalized society. In dialogue with authors such as Bauman, Anders and Heidegger, the paper focuses on the main situations in which, in contemporary society, technique and globalization make the human being peripheral to himself. This marginalization strongly challenges the meaning and value of human dignity through dynamics that are often all the more insidious as they are not immediately noticeable. Faced with this scenario, the refuge of philosophy in an anthropology that merely describes a dimension beyond the human seems unable to recover the primitive link between the human being and his world, that is between the human being and his situation of being.
Keywords: Globalization, Technique, Human, Otherness, Nature
Downloads
Download data is not yet available.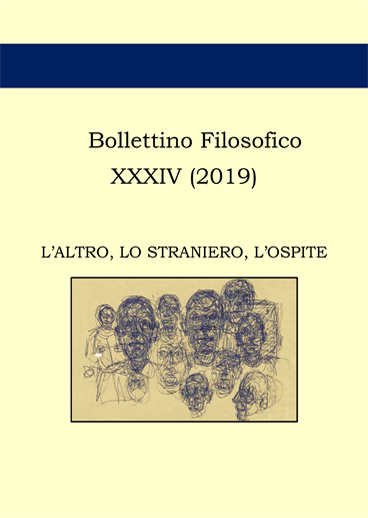 Come citare
MazzarellaE. (2019). Una "natura" in ansia: l'identità umana alla prova della tecnica e della globalizzazione. Una glossa sul lessico dell'alterità. Bollettino Filosofico, 34, 123-131. https://doi.org/10.6093/1593-7178/6496
Bollettino Filosofico pubblica in internet, ad accesso aperto, con licenza:
| | |
| --- | --- |
|   | CCPL Creative Commons Attribution |
L'autore conserva il copyright sul suo contributo, consentendo tuttavia a chiunque "di riprodurre, distribuire, comunicare al pubblico, esporre in pubblico, rappresentare, eseguire e recitare l'opera", purché siano correttamente citati l'autore e il titolo della rivista. L'autore, al momento della proposta di pubblicazione, è inoltre tenuto a dichiarare che il contenuto e l'organizzazione dell'opera è originale e non compromette in alcun modo i diritti di terzi, né gli obblighi connessi alla salvaguardia di diritti morali ed economici di altri autori o di altri aventi diritto, sia per testi, immagini, foto, tabelle, sia per altre parti di cui il contributo può essere composto.  L'autore dichiara altresì di essere a conoscenza delle sanzioni previste dal codice penale e dalle leggi speciali per l'ipotesi di falsità in atti ed uso di atti falsi, e che pertanto Bollettino Filosofico  è esente da qualsiasi responsabilità di qualsivoglia natura, civile, amministrativa o penale, e sarà dall'autore tenuta indenne da qualsiasi richiesta o rivendicazione da parte di terzi.