Reflections on a Phenomenological Ethics: Its Foundations on Empathy and the Acknowledgement of Vulnerability
Irene Breuer

Bergische Universität Wuppertal
Abstract
This paper reflects on the possibility of phenomenological ethics that grounds on the acknowledgment of our ontological/situational vulnerability, to which migrants and exiled people are particularly exposed. I argue that such an ethics, while being both universal and particular and guided by reason, has its foundation in affectivity. By taking recourse on both Husserl's late ethics and the ethical approaches of J. Butler, M.A. Fineman, A. MacIntyre, M.C. Nussbaum and B. Waldenfels. I'll argue that a proper recognition of our bodily vulnerability and the concomitant absolute value of self-preservation involves both a proper material axiology and the cultivation of emotions and virtues, such as love and solidarity, within a community bound by love, reason and the pursuit of happiness. 
Keywords: Affectivity, Exile, Phenomenological Ethics, Self-preservation, Vulnerability
Downloads
Download data is not yet available.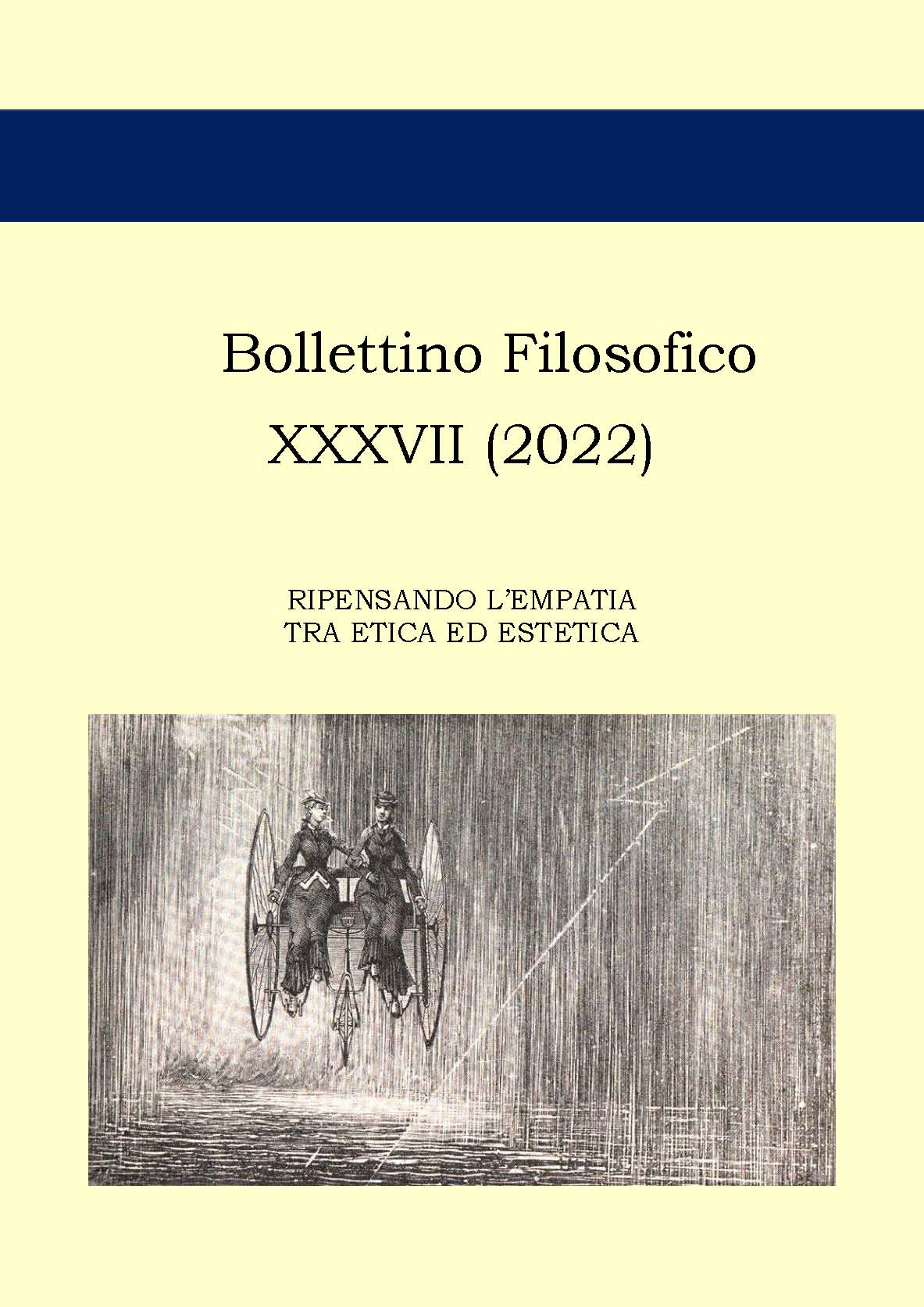 Come citare
BreuerI. (2022). Reflections on a Phenomenological Ethics: Its Foundations on Empathy and the Acknowledgement of Vulnerability. Bollettino Filosofico, 37, 28-41. https://doi.org/10.6093/1593-7178/9644
Bollettino Filosofico pubblica in internet, ad accesso aperto, con licenza:
| | |
| --- | --- |
|   | CCPL Creative Commons Attribution |
L'autore conserva il copyright sul suo contributo, consentendo tuttavia a chiunque "di riprodurre, distribuire, comunicare al pubblico, esporre in pubblico, rappresentare, eseguire e recitare l'opera", purché siano correttamente citati l'autore e il titolo della rivista. L'autore, al momento della proposta di pubblicazione, è inoltre tenuto a dichiarare che il contenuto e l'organizzazione dell'opera è originale e non compromette in alcun modo i diritti di terzi, né gli obblighi connessi alla salvaguardia di diritti morali ed economici di altri autori o di altri aventi diritto, sia per testi, immagini, foto, tabelle, sia per altre parti di cui il contributo può essere composto.  L'autore dichiara altresì di essere a conoscenza delle sanzioni previste dal codice penale e dalle leggi speciali per l'ipotesi di falsità in atti ed uso di atti falsi, e che pertanto Bollettino Filosofico  è esente da qualsiasi responsabilità di qualsivoglia natura, civile, amministrativa o penale, e sarà dall'autore tenuta indenne da qualsiasi richiesta o rivendicazione da parte di terzi.