Empatia e fenomenologia dell'esperienza
Elio Franzini

Università degli Studi di Milano
Abstract
In Husserl the problem of empathy is the core of the original theory of experience. The relationship between the constitution of the thing, experience, judgment and empathy is closely connected and interdependent. In an anti-Kantian sense, experience is not the material for judgement, but an aesthetic, sensitive act which constitutes it, placing itself as constitutive for the representation of the object. Empathy introduces the intersubjective validation of experiencing, its link with the constitution of the world in the variety of its appearances. Empathy makes possible the constitution of the intersubjectivity, the recognition of the other, and at the same time it is the attestation of the common truth of the world and of things. Intersubjectivity is the correlate of the founding experience of a sense that unites the original experience between subjects and the world, the pre-categorical experience. This experience has in my own body its focal point of encounter, both point of perspective and point of intentional irradiation. Empathy is an intentional form of "feeling by analogy", a bodily, space-time relationship, through which the psychophysical systems of others are intuitively grasped as analogous to ours by virtue of an "aesthetic coexistence". Only thanks to this "analogical apperception" the nature can be constituted as common to an intersubjectivity and as objectively (exactly) determinable.
Keywords: Analogical Apperception, Experience, Husserl, Intersubjectivity, Judgment
Downloads
Download data is not yet available.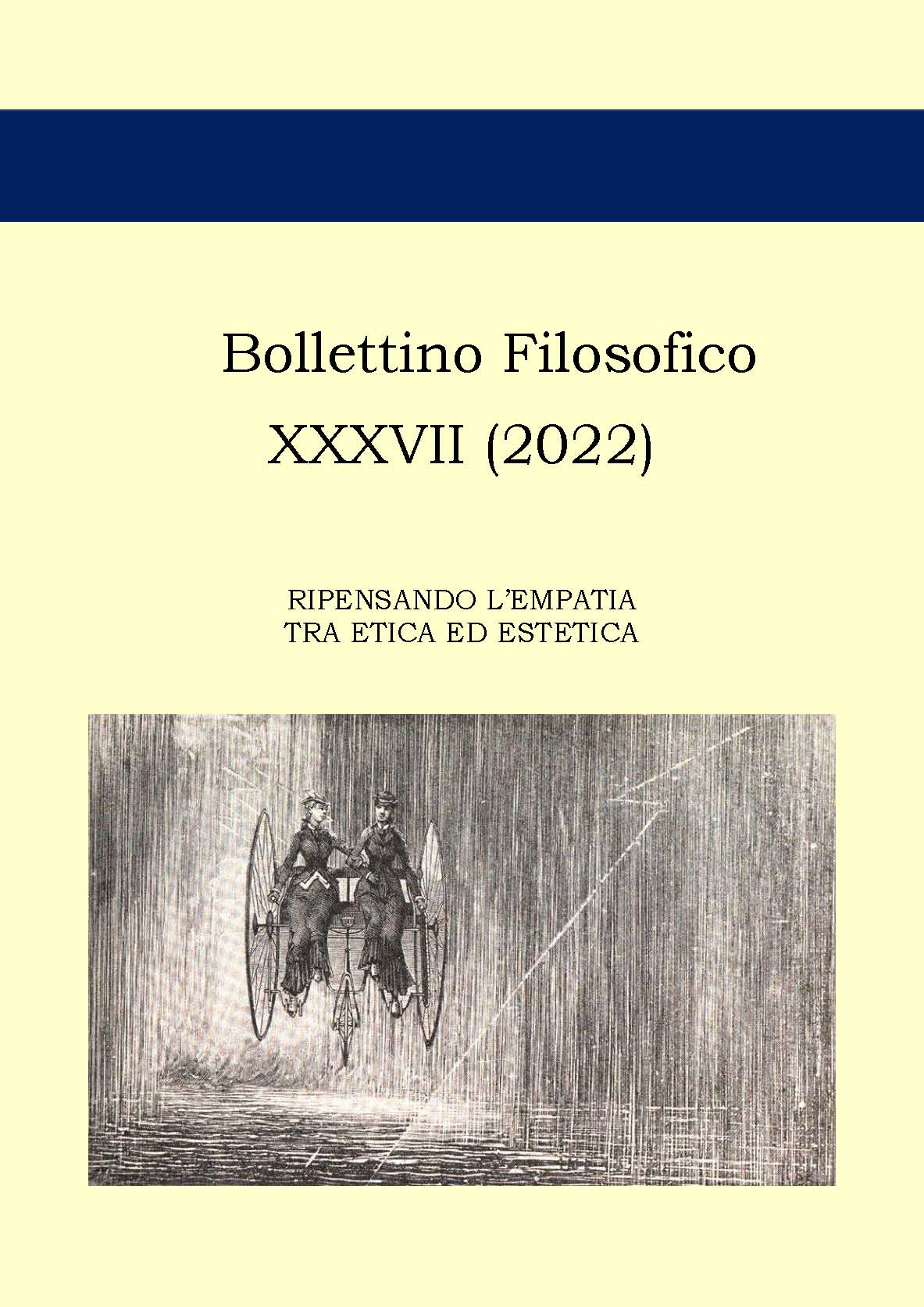 Come citare
FranziniE. (2022). Empatia e fenomenologia dell'esperienza. Bollettino Filosofico, 37, 261-269. https://doi.org/10.6093/1593-7178/9671
Bollettino Filosofico pubblica in internet, ad accesso aperto, con licenza:
| | |
| --- | --- |
|   | CCPL Creative Commons Attribution |
L'autore conserva il copyright sul suo contributo, consentendo tuttavia a chiunque "di riprodurre, distribuire, comunicare al pubblico, esporre in pubblico, rappresentare, eseguire e recitare l'opera", purché siano correttamente citati l'autore e il titolo della rivista. L'autore, al momento della proposta di pubblicazione, è inoltre tenuto a dichiarare che il contenuto e l'organizzazione dell'opera è originale e non compromette in alcun modo i diritti di terzi, né gli obblighi connessi alla salvaguardia di diritti morali ed economici di altri autori o di altri aventi diritto, sia per testi, immagini, foto, tabelle, sia per altre parti di cui il contributo può essere composto.  L'autore dichiara altresì di essere a conoscenza delle sanzioni previste dal codice penale e dalle leggi speciali per l'ipotesi di falsità in atti ed uso di atti falsi, e che pertanto Bollettino Filosofico  è esente da qualsiasi responsabilità di qualsivoglia natura, civile, amministrativa o penale, e sarà dall'autore tenuta indenne da qualsiasi richiesta o rivendicazione da parte di terzi.