Local agriculture, agri-food chains and sustainability: theoretical issues and policy indications
Domenica Farinella

Valentina Moiso

Università di Torino, Dipartimento Culture, Politica e Società
Keywords:
agri-food chains, governance, local development, social inclusion, environmental sustainability
Abstract
Le filiere del cibo sono state al centro di profonde trasformazioni nei decenni passati, a fronte di un debole interesse degli studi sociologici da un lato e di un basso impatto sull'opinione pubblica dall'altro. Il dibattito sviluppato all'interno delle scienze sociali italiane negli ultimi anni presenta però elementi di notevole originalità, collegandosi con la letteratura internazionale nell'analisi delle dinamiche globali della distribuzione di valore a sfavore delle realtà locali e portando alla luce l'intensificazione dei processi di sfruttamento dei lavoratori e dell'ambiente. Il ruolo fondamentale rivestito dalle filiere nella tenuta del sistema socio-economico durante il periodo di lockdown iniziato a marzo 2020, inoltre, ha riattivato nell'opinione pubblica l'interesse sulle modalità e sulle condizioni con cui i prodotti agricoli e i loro derivati vengono prodotti e distribuiti. Temi centrali a questo proposito sono la lunghezza e l'articolazione delle filiere, la qualità delle materie e il tipo di regime agricolo, questioni che vengono fortemente impattate dalla politica agricola di riferimento: nel frame del contesto europeo, le direzioni su cui insiste la regolamentazione nazionale sono rivelatrici di priorità e criticità dell'agenda politica italiana nei confronti della questione agricola. Al proposito, nel decreto rilancio (DL. 34/2020) sono stati destinati fondi pari a 1.150 milioni di euro per sostenere l'agricoltura del nostro paese, con una specifica voce a favore delle filiere.
Downloads
Download data is not yet available.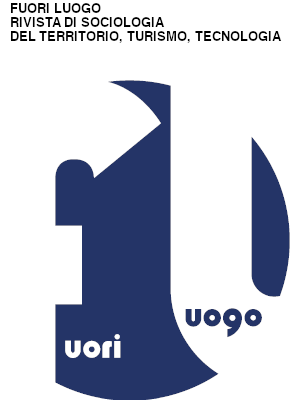 How to Cite
Farinella, D., & Moiso, V. (2021). Local agriculture, agri-food chains and sustainability: theoretical issues and policy indications. Fuori Luogo. Rivista Di Sociologia Del Territorio, Turismo, Tecnologia, 9(1), 14 - 29. https://doi.org/10.6093/2723-9608/7665
Copyright (c) 2021 Valentina Moiso, Domenica Farinella
This work is licensed under a Creative Commons Attribution 4.0 International License.