Gender-Based Violence Realized and Represented in The World of Young People
Keywords:
violence, gender, young people, prevention
Abstract
The focus of this article is the gender-based violence compared to how it is realized, represented and experienced by the new generations from adolescence.
At the beginning of the article, to confirm the urgency of the topic, will be indicated data that starting from a European framework specify how more and more young women are subjected to violence, which in many cases is attributable to the online dimension. After that, will be indicated the most interesting reflections emerged in this regard and that propose the urgency of new reading keys to read and to understand how the violence is practice among the young people, strengthening a dimension of conflict and opposition that inexorably invades the relational and emotional-affective sphere. This more descriptive part will also be supported by the presentation of national and local data, using the Regional Observatory and the statistics of Anti Violence Center operating in the territories.
Specific measures should be reinforced in order to intercept requests for help and information from young people. In this sense, an example, is an action-research project entitled "Genere-azione: Ciack si gira contro la violenza. Dal dialogo a fare prevenzione", which has produced, among other actions, an awareness-raising campaign designed by young people for young people.
Violence should no longer be regarded as a natural way of expressing one's feelings. Among the means of combating violence against women, one of the most effective of these is the education one, and it is no coincidence that in the Istanbul Convention, prevention is the first measure to be taken to promote change in behaviour leading to violence against women.
Downloads
Download data is not yet available.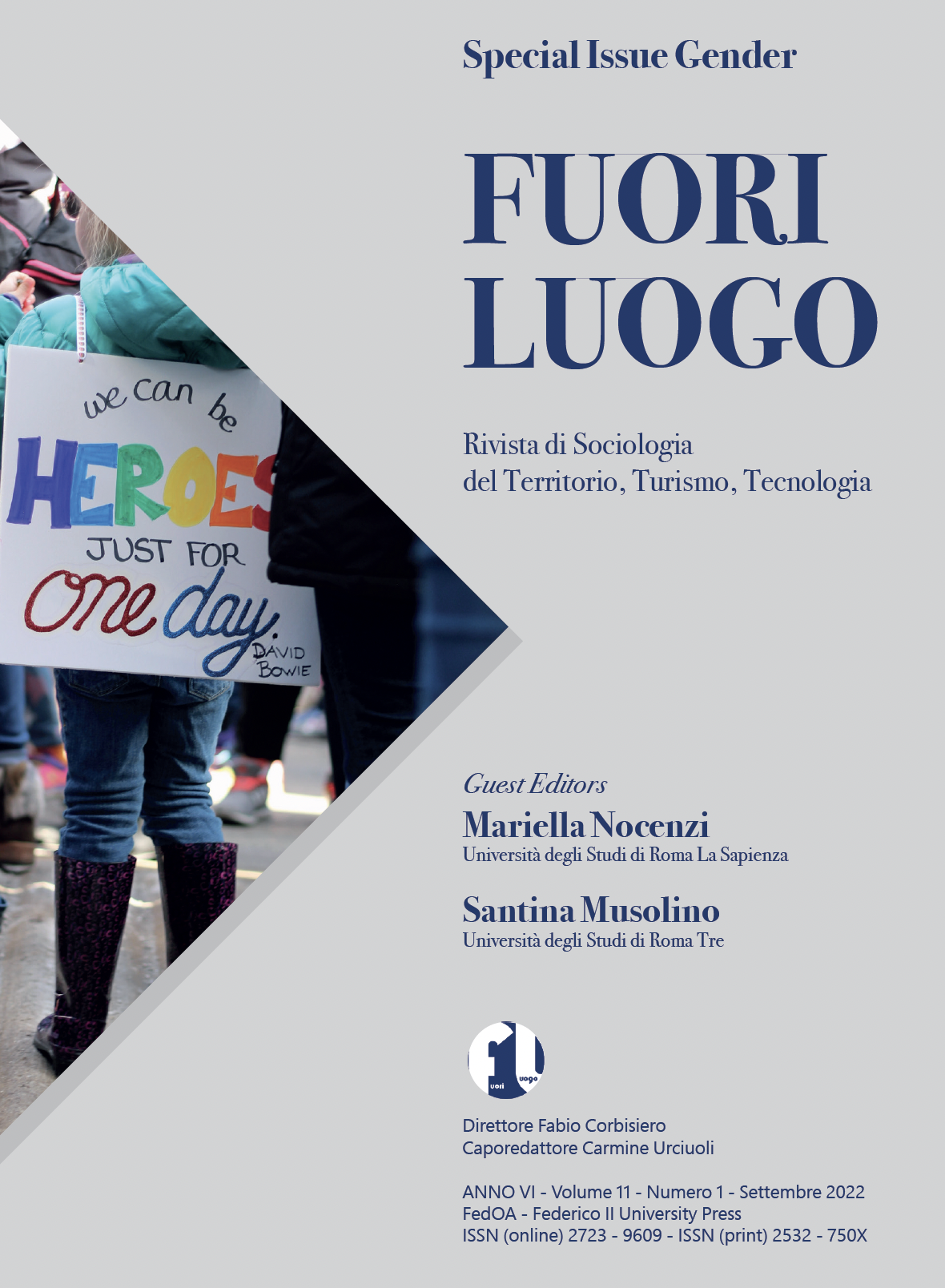 How to Cite
SantoniC. (2022). Gender-Based Violence Realized and Represented in The World of Young People. Fuori Luogo. Rivista Di Sociologia Del Territorio, Turismo, Tecnologia, 11(1), 87 - 100. https://doi.org/10.6093/2723-9608/8683
Copyright (c) 2022 Claudia Santoni
This work is licensed under a Creative Commons Attribution 4.0 International License.