The 'ndrina Family as Device of the Mafia System
Keywords:
mafia, power, gender, family, foucault
Abstract
L'articolo affronta la questione del potere nella 'ndrangheta a partire dalla dimensione familiare dell'organizzazione mafiosa, utilizzando le cinque "precauzioni di metodo" suggerite da Michel Foucault durante il corso tenuto nel 1976 al Collège de France. Il contributo colloca al centro dell'analisi il codice dell'onore interpretandolo come un «apparato di sapere» che, in maniera evidente o talvolta latente, orienta le relazioni di genere e generazionali all'interno della famiglia-'ndrina –unità di base della 'ndrangheta che corrisponde alla famiglia di sangue. Focalizzandosi sui processi di indottrinamento e sulle complicità femminili nell'esercizio del dominio maschile, l'articolo mostra come mediante la ri-attualizzazione di pratiche volte a controllare le donne, affinché esse siano conformi alle regole onorifiche, o a punirle, nel caso le trasgrediscano, la famiglia funga da dispositivo di sorveglianza per l'intera associazione criminale, rivelandosi in tal modo una fondamentale risorsa per la sua continuità culturale e la sua tenuta criminale. Infatti, le due principali funzioni tradizionali del controllo preventivo e delle punizioni per violazione del codice dell'onore – mantenimento/ripristino della reputazione del gruppo familiare e deterrenza –, sono usate dal clan familiare come strumento sia per dimostrare la propria capacità di protezione, indispensabile al fine di acquisire e conservare il potere territoriale, sia per mantenere coesi i membri del gruppo, evitando delazioni o comportamenti che potrebbero arrecare disordine e attirare di conseguenza l'attenzione delle forze dell'ordine.
Le lenti foucaultiane, utilizzate nel contributo, permettono di leggere la famiglia-'ndrina come un dispositivo non solo repressivo, ovvero di dominazione sulla base di una sovranità, quella maschile, capace di imporre agli individui che ne fanno parte l'obbedienza necessaria al sistema mafioso, ma anche produttivo di forme di vita, di figure della soggettività, di modi di stare al mondo e abitare il legame, che risultano fondamentali per il funzionamento dell'intero ingranaggio, su cui si articola nel suo complesso la macchina organizzativa della 'ndrangheta. In conclusione, l'articolo avanza la tesi secondo cui il potere mafioso non è fatto soltanto da individui che reprimono altri individui, ma di dispositivi complessi di assoggettamento che producono l'humus necessario al suo stesso funzionamento. 
Downloads
Download data is not yet available.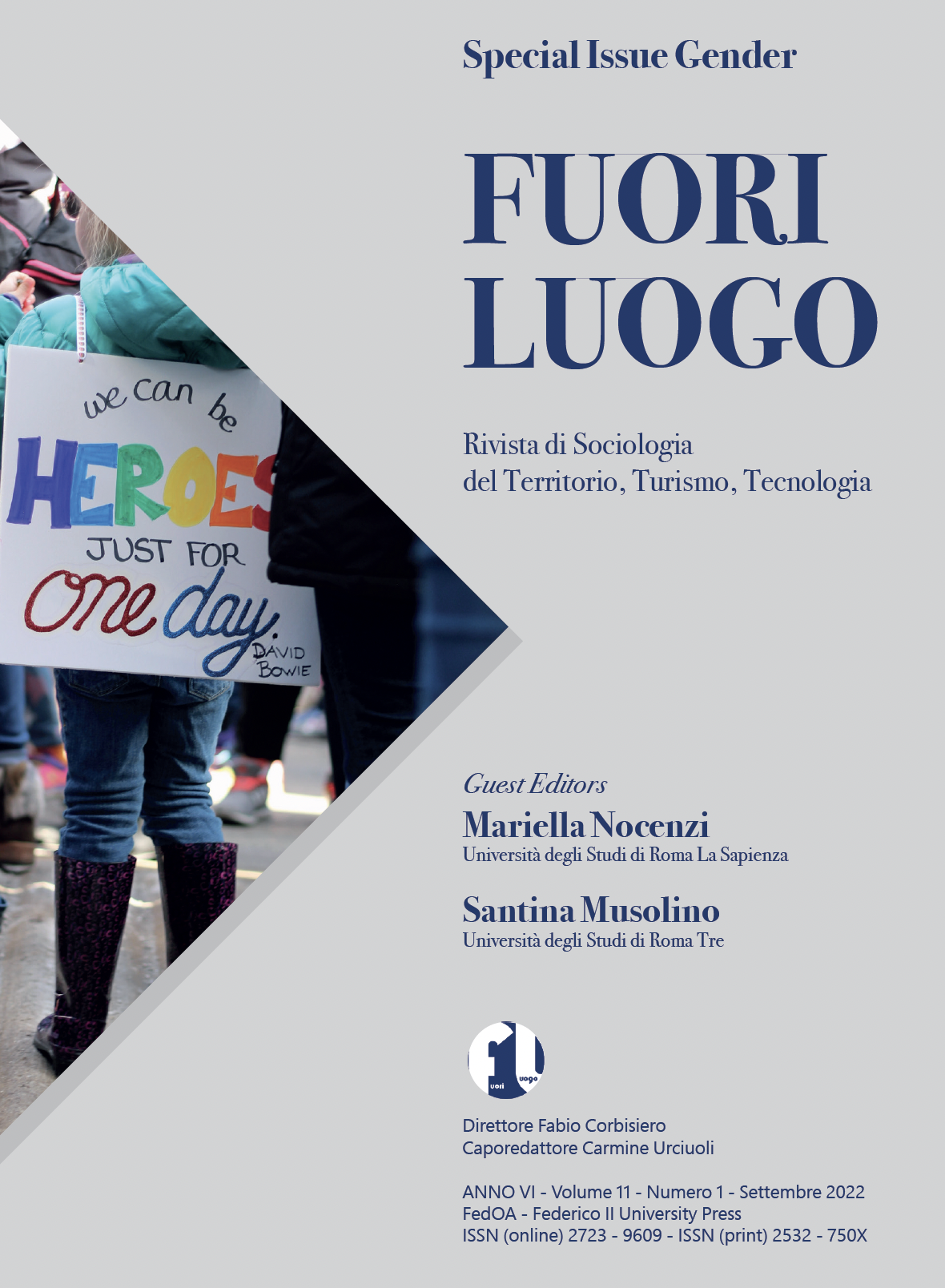 How to Cite
IngrascìO. (2022). The 'ndrina Family as Device of the Mafia System. Fuori Luogo. Rivista Di Sociologia Del Territorio, Turismo, Tecnologia, 11(1), 51 - 62. https://doi.org/10.6093/2723-9608/8720
Copyright (c) 2022 Ombretta Ingrascì
This work is licensed under a Creative Commons Attribution 4.0 International License.