Place Branding in the Gastro-populist Age. Navigating through Giorgia Meloni and Matteo Salvini's Exploitation of the Symbolic Nature of Food
English
Giovanni Daniele Starita

Università degli Studi di Perugia
Keywords:
place branding, populism, gastronomy, food politics, gastropopulism, gastronomic place branding, Italy
Abstract
The relationship between food and identity is long-standing, and it has been proficiently studies by social scientists in a variety of fields and disciplines. This article wants to contribute to this literature, with an original thematic and methodological approach. By showing the key elements that gastronomic place-branding and (gastro)populist styles of communication share, this article builds bridges between the two disciplines. With (gastro)populism is intended the exploitation of food products as performed by politicians to fuel populist messages. This empirical study provides a visual analysis of the practices of gastropopulism as performed on Instagram by two leaders of right-wing, populist parties: Matteo Salvini and Giorgia Meloni. First, I detail some key elements that make food so central in place branding, and in the establishment of collective identities. Second, I explain its strict connection to politics and introduce the concept of gastropopulism. Third, I provide some key elements useful to better understand the Italian political landscape. Fourth, I describe the approach I developed to disentangle the leaders' communicational strategies and how they become tied to gastronomies. In a nutshell, I grounded my methods in some of the most influential works on visual analysis to find the dominant elements in the analysed images, and the recurring topics in the attached texts. Subsequently, I use the results emerged from this approach to focus on some specific instances of gastropopulism, where food politics and gastronomic place-branding contaminate each other. The main contention of this article is that when high-visibility characters, like national party leaders, implement gastronomy in their communication strategies, they can influence the public perception of food as an identarian element. Thus, gastronomic place-branding actors need to confront themselves with the association that gastropopulists make between the local identities connected to cuisines and a set of right-wing, populist values.
Downloads
Download data is not yet available.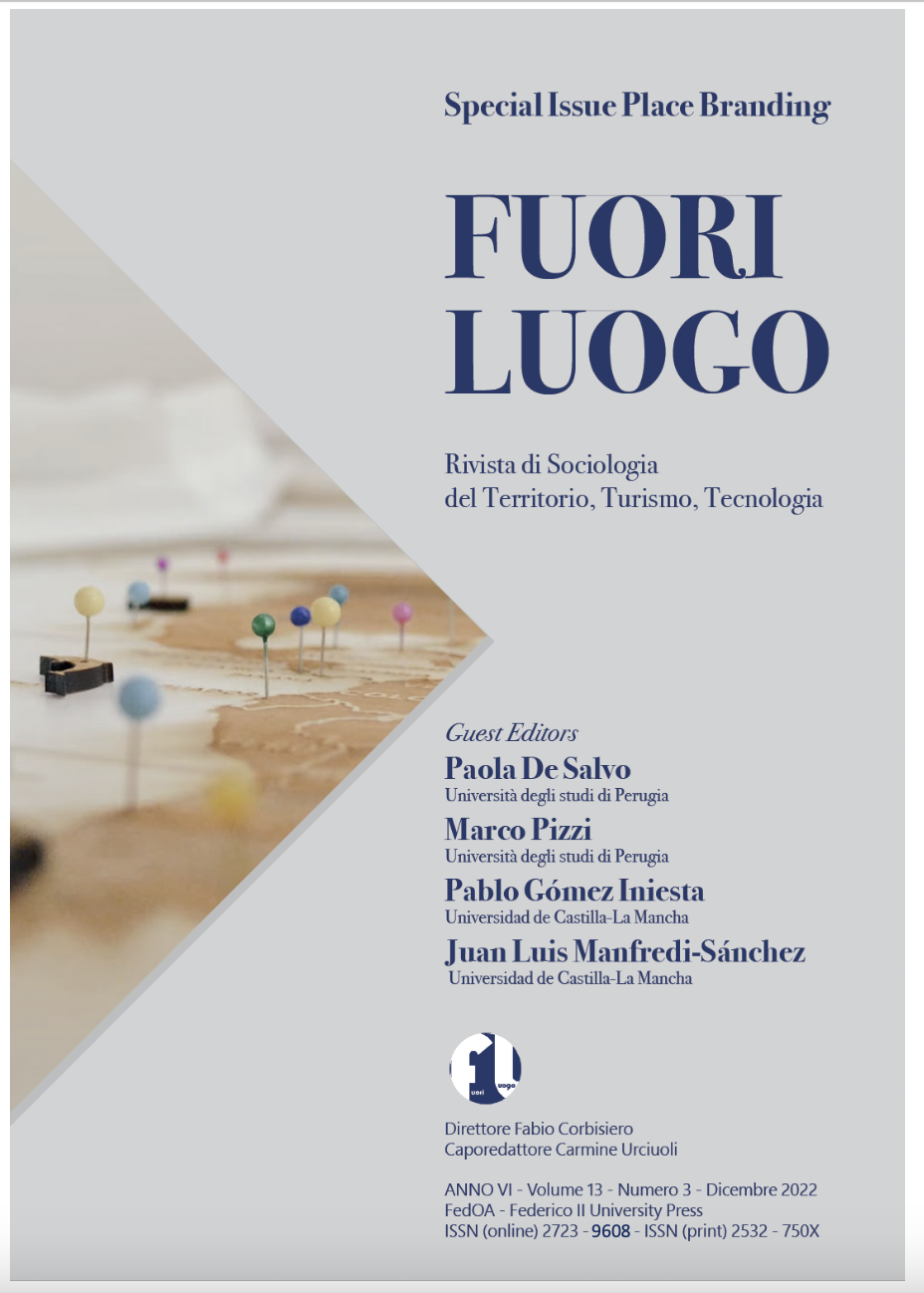 How to Cite
StaritaG. D. (2022). Place Branding in the Gastro-populist Age. Navigating through Giorgia Meloni and Matteo Salvini's Exploitation of the Symbolic Nature of Food. Fuori Luogo. Rivista Di Sociologia Del Territorio, Turismo, Tecnologia, 13(3), 83-98. https://doi.org/10.6093/2723-9608/9261
Copyright (c) 2022 Giovanni Daniele Starita
This work is licensed under a Creative Commons Attribution 4.0 International License.