Tourism is a Spatial Phenomenon
Pasquale Boccagna

Dipartimento Economia Aziendale
Abstract
Tourism and activities it generates are combined with the territorial factor giving rise to the process of using the service in which, essentially, the delivery and consumption of tourism, an entity largely immaterial, are simultaneous in a geographical context chosen by the consumer and defined tourist destination. If clarification of the concept of tourism and tourism product was essential to explain to some extent the reasons for the offer (why tourism activities born and develop?), the opportunity to single out, among the various definitions that have been proposed in the literature, the characteristic features of the destination seems equally significant to get to the explanation of why management system offered (comprehensive and complex product). The basic questions are: What drives tourists to go from s place of habitual residence to a place in which the natural, environmental and cultural region are completely different from starting? What does turning a geographical place into a tourism destination? Because some tourists prefer certain destinations than the other? What is the impact of tourism in terms of territorial and urban mobility? The transport system can be considered a resource-generating competitive advantages? The framework of the article is represented by the Marshallian theory of industrial district which puts the land and its resources behind the development of the local system. It tries to overlay the framework VRIO (Value, Rarity, inimitably, Organization), derived from the Resource Based View, in determining whether a particular resource area can generate a sustainable competitive advantage and lasting. Stakeholder Theory is the framework that leads the analysis of the impact of tourism development policy on local businesses and the framework of Corporate Social Responsibility leads in environmental issues. Against this background, in this paper will be exhibited in the various contributions of the literature on tourism systems starting from the basic that tourist is a person who drives a process of spending a part of his income in a place other than in his habitual residence. The choice of the destination to enjoy the tourist facilities and carry out the complementary activities of consumption is the result of a complex decision-making process based on selection among alternative competitive solutions that are able to respond to a set of needs and aspirations to equal costs and level of services required. Then you will be taken into consideration of the manner in which a geographic location becomes a tourist destination and the way in wich the structural characteristics (accommodation services, catering, equipment) and infrastructure (accessibility geographical, social and economic) are able to express a point of "emotional" for tourists; the encounter between supply and demand is seen according to the post-Fordist framework of "Mutual Value" that drives the service process in tourism businesses and the way in which an assets (tangible and intangible) may be able to generate a competitive advantage in the market. Hereinafter the tourism phenomenon is related to the concept of territorial mobility to highlight the impact that it creates on environmental and urban planning, and the need to monitor and plan the phenomenon for structural and infrastructural adjustment of the territory in the way of sustainability. Finally will be exposed some cases of urban and extra-urban mobility in tourism according to a perspective that sees the urban and suburban transport a real resource (VRIO) generating competitive advantage for the local system.
Downloads
Download data is not yet available.
References
Becattini G. (1989) Modelli locali di sviluppo, Bologna, Il Mulino.
Becattini G., Rullani E.(1993) "Sistema locale e mercato globale", Economia e Politica Industriale, n. 80.
Bieger T. (1996) Management von Destinationen und Tourismusorganisationen, Monaco, Oldenbourg Verlag.
Buhalis D. (2000) "Marketing the Competitive Destination of the Future", Tourism Managament, n.21.
Casarin F. (1996) Il marketing del prodotto turistico, Torino, Giappichelli.
Cooper C., Fletcher J., Fyall A., Wahill S., Gilbert D. (2008) Tourim: Principles and Practice, Harlow, FT Prentice Hall.
Della Corte V. (2000) La gestione dei sistemi locali di offerta turistica, Padova, CEDAM.
Della Corte V. (2009) Imprese e sistemi turistici. Il management, Milano, EGEA.
Ejarque J. (2003) La destinazione turistica di successo. Marketing e Management, Milano, HOEPLI.
Flagestad A., Hope C.A.(2001) "Strategic Success in Winter Sports Destinations: a Sustainable Value Creation Perspective", Tourism Management, vol 22.
Franch M. (2010) Marketing delle destinazioni turistiche. Metodi, approcci e strumenti, Milano, McGrow-Hill.
Franch M. (2002) Destination Management. Governare tra Locale e Globale, Torino, Giappichelli.
Freeman R. E. (1984) Strategic Management. A Stakeholder Approach, Pitman, Boston.
Golinelli G.M. (2000) L'approccio sistemico al governo dell'impresa, Padova, CEDAM.
Grönroos C. (2009) Management e Marketing dei Servizi, Milano, ISEDI.
Grönroos C. (2010) "Adopting a Service Logic in Manufacturing: Conceptual Foundation and Metrics for Mutual Value Creation", Journal of Service Management, vol. 21, n. 5.
Gunn C. (1988) Tourism Planning, New York,Taylor and Francis.
Kaspar C. (1995) Management in Tourism, Bern, Verlag Paul Haupt.
Kozak M., Rimmington M. (1999) "Measuring Tourist Destination Competitiveness: Conceptual Considerations and Empirical Findings", International Journal of Hospitality Management, 18, 273-283, Elsevier, London.
Laesser C. (2003) Politica del turismo e destination management, TUP, Milano.
Lazzeretti L., Petrillo C.S. (2006) Tourist Local System and Networking, Elsevier, London.
Leiper N. (1995) Tourism Management, RMIT Press, Melbourne.
Martini U. (2005) Management dei Sistemi Territoriali, Giappichelli, Torino.
Murphy P.E. (1985) Tourism. A Community Approach, Methuen, New York.
Murphy P., Pritchard M.P., Smith B. (2000) "The Destination Product and Its Impact on Traveller Perception", Tourism Management, n.2, Elsevier, London.
Pechlaner H.,Weiermair K. (2000) Fondamenti di marketing e gestione delle destinazioni turistiche, TUP, Milano.
Pechlaner H., Weiermair K., Laesser C. (2003) Politica del Turismo e Destination Management, TUP, Milano.
Pencarelli T. (2003) Letture di economia e management delle organizzazioni turistiche, Edizioni Goliardiche, Trieste.
Pencarelli T. (2009) "Presentazione all'edizione italiana" di C. Grönroos, Management e Marketing dei Servizi, ISEDI, Milano.
Pencarelli T., Forlani F. (2002) "Il marketing dei distretti turistici. Sistemi vitali nell'economia delle esperienze", Sinergie, n.58, CUEIM, Verona.
Peroni G. (2008) Fondamenti di Marketing Turistico Territoriale, Franco Angeli, Milano.
Pike S. (2004) Destination Marketing Organisations, Elsevier, Oxford.
Rispoli M., Tamma M.(1995) Risposte Strategiche alla Complessità: le Forme di Offerta dei Prodotti Alberghieri, Giappichelli, Torino.
Ritchie J.R.B., Crouch G.I. (2000) "The Competitive Destination: A Sustainability Perspective", Tourism Management, n. 21, Elsevier.
Sainaghi R. (2004) La gestione strategica dei distretti turistici, EGEA, Milano.
Sciarelli S. (2007) Il Management dei Sistemi Turistici Locali, Giappichelli, Torino.
Tamma M. (2002) "Aspetti strategici del destination management", in H.Pechlaner, K.Weiermair (a cura di), Destination Management. Fondamenti di marketing e gestione delle destinazioni turistiche, TUP, Milano.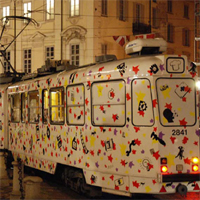 How to Cite
BoccagnaP. (2010). Tourism is a Spatial Phenomenon. TeMA - Journal of Land Use, Mobility and Environment, 3(3). https://doi.org/10.6092/1970-9870/144
Copyright (c) 2014 Tema. Journal of Land Use, Mobility and Environment
This work is licensed under a Creative Commons Attribution 4.0 International License.
Authors who publish in this journal agree to the following:
1. Authors retain the rights to their work and give in to the journal the right of first publication of the work simultaneously licensed under a Creative Commons License - Attribution that allows others to share the work indicating the authorship and the initial publication in this journal.
2. Authors can adhere to other agreements of non-exclusive license for the distribution of the published version of the work (ex. To deposit it in an institutional repository or to publish it in a monography), provided to indicate that the document was first published in this journal.

3. Authors can distribute their work online (ex. In institutional repositories or in their website) prior to and during the submission process, as it can lead to productive exchanges and it can increase the quotations of the published work (See The Effect of Open Access)