A-Priority and Hermeneutics: The Scientificity of Phenomenology from Husserl to Heidegger
Bruno Cassara

Fordham University – New York, USA
Abstract
Like Husserl, the young Heidegger was preoccupied with the a-priority of phenomenology. He also incorporates hermeneutics into phenomenology, though Husserl was convinced that the a-priority of phenomenology removed all interpretation from its analyses. This paper investigates how the early Heidegger is able to make hermeneutics a general condition of understanding while maintaining, in line with Husserl, that phenomenology is an a-priori science. This paper also provides insight into key debates in the history of phenomenology. I examine two places in which Heidegger departs from Husserl's phenomenology – the doctrine of categorial intuition and the "as-structure" of understanding – to show that a-priority and hermeneutic understanding come together, ontically, in facticity as the only possible starting point for phenomenology. Ontologically, however, a-priority and hermeneutics come together in the co-affection of Dasein as understanding and being as pre-given. This co-affection is itself dependent on Temporality as "the condition of any possible earlier".
Keywords: Apriori, Heidegger, Hermeneutics, Husserl, Idea of Science
Downloads
Download data is not yet available.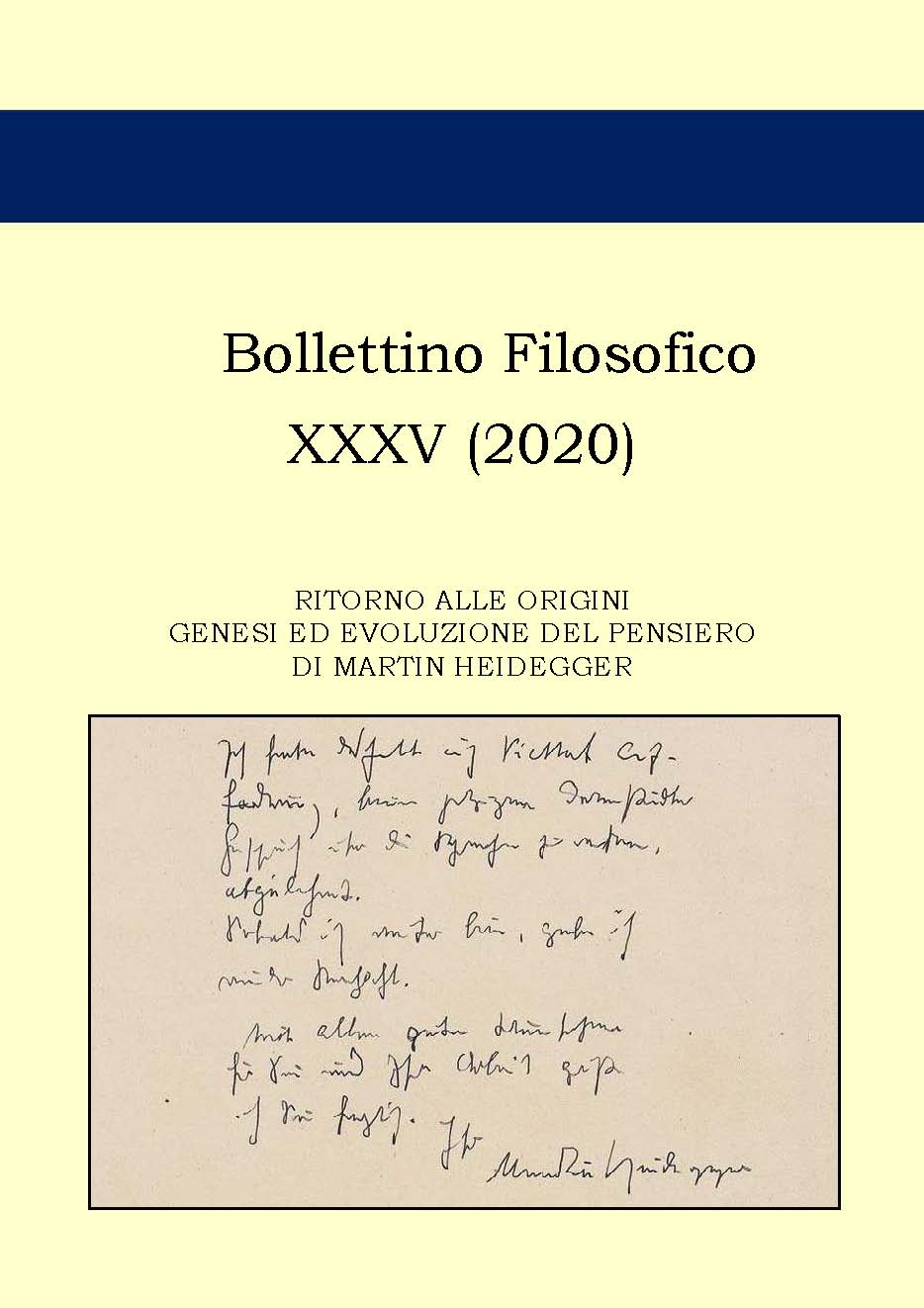 Come citare
CassaraB. (2020). A-Priority and Hermeneutics: The Scientificity of Phenomenology from Husserl to Heidegger. Bollettino Filosofico, 35, 58-70. https://doi.org/10.6093/1593-7178/7438
Bollettino Filosofico pubblica in internet, ad accesso aperto, con licenza:
| | |
| --- | --- |
|   | CCPL Creative Commons Attribution |
L'autore conserva il copyright sul suo contributo, consentendo tuttavia a chiunque "di riprodurre, distribuire, comunicare al pubblico, esporre in pubblico, rappresentare, eseguire e recitare l'opera", purché siano correttamente citati l'autore e il titolo della rivista. L'autore, al momento della proposta di pubblicazione, è inoltre tenuto a dichiarare che il contenuto e l'organizzazione dell'opera è originale e non compromette in alcun modo i diritti di terzi, né gli obblighi connessi alla salvaguardia di diritti morali ed economici di altri autori o di altri aventi diritto, sia per testi, immagini, foto, tabelle, sia per altre parti di cui il contributo può essere composto.  L'autore dichiara altresì di essere a conoscenza delle sanzioni previste dal codice penale e dalle leggi speciali per l'ipotesi di falsità in atti ed uso di atti falsi, e che pertanto Bollettino Filosofico  è esente da qualsiasi responsabilità di qualsivoglia natura, civile, amministrativa o penale, e sarà dall'autore tenuta indenne da qualsiasi richiesta o rivendicazione da parte di terzi.