Picturing North African Cities in the Sixteenth Century
Valeria Manfrè

Universidad de Valladolid
Abstract
This article provides an approach to North African urban landscapes of the sixteenth century. To that end, it focuses primarily on the views in the Civitates orbis terrarum by Georg Braun and Franz Hogenberg, which are explored through a comparative analysis to other contemporary graphic materials. The purpose is to deepen our understanding of the image of the city by looking at the methods used to represent the city during the Renaissance, the importance and degree of verisimilitude that these views were expected to achieve through a language that relied on direct, in-situ observation.
Downloads
Download data is not yet available.
Riferimenti bibliografici
ALEGRIA, M.F., DAVEAU, S., GARCIA J. C., RELAÑO, F. (2007). Portuguese Cartography in the Renaissance. In The history of cartography, cartography in the European renaissance, ed. by D. Woodward, Vol. 3, Chicago, University of Chicago Press, pp. 975-1068.
AVILÉS, L. F. (2008). Ética del espectador: Vermeyen y Garcilaso ante la conquista de Túnez. In Cánones críticos en la poesía de los Siglos de Oro, ed. P. Ruiz Pérez, Vigo, Editorial Academia del Hispanismo, pp. 87-94.
BELLINI, P. (1975). Stampatori e mercanti di stampe in Italia nei secoli XVI e XVII, in «I quaderni del conoscitore di stampe», n. 26, pp. 19-45.
BONAVENTURA, M.A. (1960). L'industria e il commercio delle incisioni nella Roma del '500, in «Studi Romani: Rivista Bimestrale dell'istituto di Studi Romani», n. 8, pp. 430-436.
BORRONI SALVADORI, F. (1980). Carte, piante e stampe storiche delle Raccolte lafreriane della Biblioteca Nazionale di Firenze, Rome, Istituto poligrafico e Zecca dello Stato.
BRAVO NIETO, A. (2016). Ciudad, guerra y dibujo en el siglo XVI: Imágenes desde Trípoli hasta el Atlántico marroquía. In El dibujante ingeniero al servicio de la monarquía hispánica: siglos XVI-XVIII, coord. A. Cámara Muñoz, Madrid, Fundación Juanelo Turriano, pp. 237-238.
BUSTAMANTE GARCÍA, A. (2008). La conquista del Peñón de Vélez de la Gomera en 1564. In Arte, poder y sociedad en la España de los siglos XV a XX, eds. M. Cabañas Bravo, A. López-Yarto Elizalde, W. Rincón García, Madrid, Consejo Superior de Investigaciones Científicas, pp. 169-178.
Città d'Europa. Iconografia e vedutismo dal XV al XVIII secolo, atti del convegno, (Napoli, 7-8 aprile 1995), a cura di C. de Seta, Naples, Electa Napoli, 1996.
Chronica do Felicissimo Rei Dom Emanuel (1926), parte III, Coimbra, Imp. da Universidade.
COLLETTA, C. (1984). Il "Theatrum urbium" e l'opera di Joris Hoefnagel nel Mezzogiorno d'Italia: (1577-1580), «Archivio storico per le Province Napoletane», XXI, 45-102.
CORTESãO, A. (1935). Cartografia e cartógrafos portugueses dos séculos XV e XVI, 2 vols.,Vol. 2, Lisbon, Seara Nova.
CORTESãO, A. (1960). Portvgaliae monumenta cartograpica, Lisbon, s.n., I.
CORREIA, J. (2008). Implantação da cidade portuguesa no Norte de África: da tomada de Ceuta a meados do século XVI, Porto, FAUP publicações.
DA SILVA CASTELO-BRANCO, M. (1994). O libro de Duarte de Armas. In A arquitetura militar na expansão portuguesa, Lisbon, Comissão Nacional para as Comemorações dos Descobrimentos Portugueses, pp. 101-105.
DAVEAU, S. (1999-2000). A propósito das 'pinturas' do litoral marroquino incluídas no Esmeraldo de Situ Orbis, in «Mare Liberum», nn. 18-19, pp. 79-132.
DE BUNES IBARRA, M. A., FALOMIR FAUS, M. (2001). Carlos V, Vermeyen y la conquista de Túnez. In Europeísmo y Universalidad. Religión, cultura y mentalidad, coord. Juan L. Castellano Castellano, F. Sánchez-Montes González, Madrid, Sociedad Estatal para la Conmemoración de los Centenarios de Felipe II y Carlos V, pp. 243-57.
DE BUNES IBARRA, M.A. (2006). Vermeyen y los tapices de la Conquista de Túnez'. In La imagen de la guerra en el arte de los antiguos Países Bajos, ed. B. García, Madrid, Fundación Carlos de Amberes, Editorial Complutense, pp. 95-134.
DE BUNES IBARRA, M. A. (2010). Las hazañas de un rey: tapices flamencos del siglo XV en la Colegiata de Pastrana. Historia y armamento, Madrid, Fundación Carlos de Amberes.
DE BUNES IBARRA M. A. (2011). Las empresas africanas de las Monarquías ibéricas en las tapicerías reales, in Fernando Checa Cremades, Bernardo García García (ed.), Los triunfos de Aracne. Tapices flamencos de los Austrias en el Renacimiento Madrid, Fundación Carlos de Amberes, 225-247.
DE GUEVARA, F. (2016). Comentario de la pintura y pintores antiguos, ed. E. Vázquez Dueñas, Madrid, Akal.
DE SETA, C. (2011). Ritratti di città, dal Rinascimento al secolo XVIII, Turin, Einaudi.
DE MENEZES, D. F., Conde da Ericeira (1732). Historia de Tangere, que comprehende as noticias desde a sua primeira conquista ate a sua ruína, Lisboa, Occidental, na Officina Ferreiriana.
DOMÍNGUEZ ORTIZ, A., HERRERO CARRETERO, C., GODOY, J.A. (1991). Resplendence of the Spanish Monarchy. Renaissance Tapestries and Armor from the Patrimonio Nacional, New York, The Metropolitan Museum of Art.
EBEL, K. A. (2008). Representations of the Frontier in Ottoman Town Views of the Sixteenth Century, in «Imago Mundi», n. 60, pp. 1-22.
ELBL, M. M. (2013). Portuguese Tangier (1471-1662)- Colonial urban as cross-cultural skeleton, Toronto, Baywolf Press.
EWART POPHAM, A. (1936). Georg Hoefnagel and the Civitates orbis terrarum', in «Maso Finiguerra», n.1, pp. 185-193.
GALERA Y MONEGAL, M. (1998). Antoon van den Wijngaerde, pintor de ciudades y de hechos de armas en la Europa del Quinientos, Barcelona, Generalitat de Catalunya.
GONZÁLEZ GARCÍA, J.L. (2007)."Pinturas tejidas". La guerra como arte y el arte de la guerra en torno a la Empresa de Túnez, in «Reales Sitios», n. 44, 174, pp. 24-47.
GOSS, J. (1992). Ciudades de Europa y España. Mapas antiguos del siglo XVI de Braun & Hogenberg, Madrid, Cop.
GREGG, R. E. (2013). Further insights into Anton van den Wyngaerde's working methods, in «Master Drawings», n. 51, pp. 323-342.
HARBISON, C. (1995). Fact, symbol, ideal. Roles for realism in Early Netherlandish painting. In Petrus Christus in renaissance Bruges. An interdisciplinary approach ed. Maryan W. Ainsworth, Turnhout, Brebols, pp. 21-34.
HAVERKAMP-BEGEMANN, E (1969). The Spanish Views of Anton van den Wyngaerde, in «Master Drawings», 7, pp. 375-399.
HAVERKAMP-BEGEMANN, E. (1986). Las vistas de España de Anton van den Wyngaerde. In Ciudades del Siglo de oro. Las Vistas Españolas de Anton Van den Wyngaerde, ed. R. L. Kagan, Madrid, El Viso, pp. 54- 67.
HENDRIK, J. H. (1989). Jan Cornelisz Vermeyen (1500-1559): Painter of Charles V and his Conquest of Tunis, 2 vols., Doornspijk, Davaco.
História das Fortificações portuguesas no Mundo, ed. R. Moreira, Lisbon, Alfa, 1989.
JUNQUERA DE VEGA, P., HERRERO CARRETERO, C. (1986). Catalogo de Tapices del Patrimonio Nacional. Volumen I: Siglo XVI, Madrid, Patrimonio Nacional, pp. 73-92.
JORDAN, A. (2005). The Manufacture and Marketing of Flemish Tapestries in Mid-Sixteenth Century Brussels. Two Habsburg Patrons and Collectors: Mary of Hungary and Catherine of Austria. In Ao Modo de Flandres. Disponibilidade, inovacão e mercado de arte na época dos descobrimentos (1415 - 1580), actas do Congresso Internacional (Universidade de Lisboa, 11-13 de abril de 2005), ed. B. J. García García, F. Grilo, Lisboa, Madrid, Carlos de Amberes, pp. 91-114.
KAGAN, R. L. (2000). Urban images of the Hispanic world, 1493-1793 New Haven-London, Yale University Press.
LÓPEZ TORRIJOS, R. (2000). Las pinturas de la Torre de la Estufa o del Peinador, Granada, Junta de Andalucía, Consejería de Cultura.
Los Austrias. Grabados de la Biblioteca Nacional, Madrid, Biblioteca Nacional Julio Ollero, D.L., 1993.
Mercado de Arte (1415-1580). eds. B. J. García, F. Grilo, Madrid, Fernando de Villaverde Ediciones.
MISITI, M. C. (1992). Antonio Salamanca: qualche chiarimento biografico alla luce di un'indagine sulla presenza spagnola a Roma nel '500. In La stampa in Italia nel Cinquecento, ed. Marco Santoro, 2 vols., Rome, Bulzoni Editore, I, pp. 545-563.
NUTI, L. (1996). Ritratti di città. Visione e memoria tra Medioevo e Settecento, Venice, Marsilio.
NUTI, L. (1984). Alle origini del Grand Tour: immagini e cultura della città italiana negli atlanti e cosmografie del secolo XVI secolo, in «Storia Urbana», n. 27, pp. 3-35.
NUTI, L. (1988a). The Urban Imagery of Georg Hoefnagel. In Prag um 1600 Beiträge zur Kunst und Kultur am Hofe Rudolfs II, Freren, Luca Verlag, pp. 211-217.
NUTI, L. (1988b). The mapped views by Georg Hoefnagel: the merchant's eye, the humanist's eye, in «Word & Image», n. 2, pp. 545-570.
PANE, P. (2009). La Tavola Strozzi tra Napoli e Firenze: un'immagine della città nel Quattrocento, Naples, Grimaldi.
PARSHALL, P. (1993). Imago Contrafacta: Images and facts in the Northern Renaissance, «Art History», 16, pp. 554-579.
PIMENTA, A. (1944). Duarte Darmas e o seu Livro das Fortalezas, Lisbon, Edição do autor.
RENDA, G. (1992). Representations of Towns in Ottoman Sea Charts of the Sixteenth Century and their Relation to Mediterranean Cartography. In Soliman le Magnifique et son temps, ed. G. Veinstein, Paris, La Documentation Française, pp. 279-297.
ROGERS, J. M. (1992). Itineraries and Town Views in Ottoman Histories. In The History of Cartography, ed. by J. B. Harley, D. Woodward, Vol. 2, parte 1, Chicago, University of Chicago Press, 1992, pp. 228-255.
SCHULZ, J. (1990). La veduta di Jacopo de'Barbari. La cartografia, vedute di città e geografia moralizzata nel Medioevo e nel Rinascimento. In ID., La cartografia tra scienza e arte. Carte e cartografi nel Rinascimento italiano, Modena, Panini, pp.13-63.
SCHULZ, J. (1999). La grande veduta a volo d'uccello di Jacopo de' Barbari. In A volo d'Uccello, a cura di G. Romanelli, S. Biadene, C. Tonini, Venezia, 1999, pp. 58-66.
SKELTON, R. (1965). 'Introduction'. In Georg Braun, Franz Hogenberg, Civitates Orbis Terrarum, 3 vols., Amsterdam, I, Theatrum Orbis Terrarum.
SOUCEK, S. (1992). Islamic Charting in the Mediterranean. In The History of Cartography, vol. 2. 1, Cartography in Prehistoric, the Traditional Islamic and South Asian Societies, ed. by J. B. Harley, D. Woodwar, Chicago, University of Chicago Press, pp. 263-292.
SWAN, C. (1995). 'Ad vivum, naer het leven, from the life: defining a mode of representation', in «Word & Image», n. 11, pp. 353-372.
VON ENGERTH, E. (1889). Zu der Abhandlung über die im kaiserlichen Besitze befindlichen Cartone, darstellend Kaisers Karl V. Kriegszug nach Tunis, von Jan Vermayen (Nachtrag), in «Jahrbuch der kunsthistorischen Sammlungen des allerhöchsten Kaiserhauses», n. 9, pp. 419-28.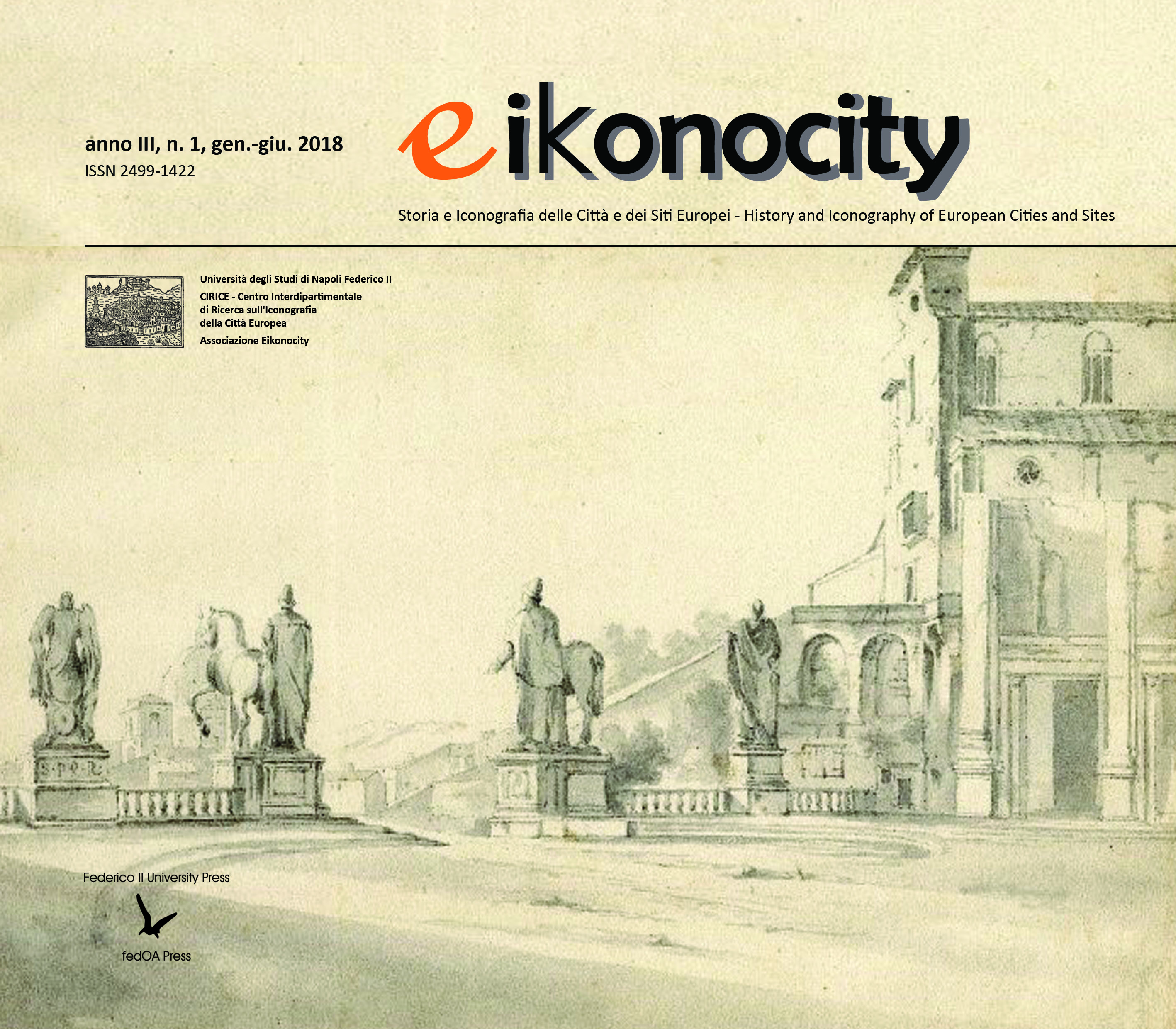 Come citare
ManfrèV. (2018). Picturing North African Cities in the Sixteenth Century. Eikonocity. Storia E Iconografia Delle Città E Dei Siti Europei, 3(1), 11-30. https://doi.org/10.6092/2499-1422/5518
Copyright (c) 2018 Valeria Manfrè
This work is licensed under a Creative Commons Attribution 4.0 International License.
Eikonocity pubblica in internet, ad accesso aperto, con licenza:
L'autore conserva il copyright sul suo contributo, consentendo tuttavia a chiunque "di riprodurre, distribuire, comunicare al pubblico, esporre in pubblico, rappresentare, eseguire e recitare l'opera", purché siano correttamente citati l'autore e il titolo della rivista. L'autore, al momento della proposta di pubblicazione, è inoltre tenuto a dichiarare che il contenuto e l'organizzazione dell'opera è originale e non compromette in alcun modo i diritti di terzi, né gli obblighi connessi alla salvaguardia di diritti morali ed economici di altri autori o di altri aventi diritto, sia per testi, immagini, foto, tabelle, sia per altre parti di cui il contributo può essere composto. L'autore dichiara altresì di essere a conoscenza delle sanzioni previste dal codice penale e dalle leggi speciali per l'ipotesi di falsità in atti ed uso di atti falsi, e che pertanto Eikonocity è esente da qualsiasi responsabilità di qualsivoglia natura, civile, amministrativa o penale, e sarà dall'autore tenuta indenne da qualsiasi richiesta o rivendicazione da parte di terzi.