Airbnb: what do we share and what do we lose? What is true into collaborative model.
Elena Musolino

Università di Napoli Federico II
Keywords:
city, gentrification, platform, sharing, local-action
Abstract
The study of territories with widespread urbanization is now intertwined with a new research trajectory: the Airbnb universe and its socio-spatial echoes in cities.
Ten years after its appearance in the hospitality industry scenario, Airbnb is recognized as one of the most significant players within the so-called platform economy. The scale of its rapid growth and evolution has attracted a growing number of studies, responding to different research questions depending on the areas of academic interest in which they are located. There are researches on its business model and disruptive effects, user behaviour (host and guest side), legal issues, law enforcement and taxation, impact on cities.
This contribution will give a general description of the platform and its functioning and, subsequently, will return the problematic profile of the phenomenon according to a territorialist perspective able to highlight its impression on cities, urban functions, vulnerabilities and the nascent transformations of the places connected to it.
It will demonstrate how the presence of Airbnb is influencing the socio-spatial dimension of the cities of destination of major tourist flows – both in the order of real estate and commercial dynamics and the distribution of urban activities – and, at the same time, will be identified as a new determinant factor of gentrification processes.
Starting from the critical externalities that have emerged in the cities where Airbnb has had its greatest development, we will try to identify alternative practices in which forms of life in common are realised, and where new actions of urban regeneration are created in them.
We will refer to the example of FairBnB which is still being settled by a community of activists, programmers, researchers and designers who aim to face this challenge by bringing back the "share" in the economy of sharing. They want to offer a community-centred alternative that privileges people and facilitates authentic, sustainable and intimate travel experiences.
The project aims to avoid the social and economic impact of AirBnB, in parallel with the increase in real estate prices of flats or houses, the fragmentation of local communities and the closure of local businesses in areas where it usually operates. The basic principle of FairBnB is to promote collective ownership of the platform, where the platform is not owned by faceless investors but by those who use it and are influenced by its use: Guest, Host, local business owners, neighbours. Create democratic governance, based on collaboration and consensus among community members to collectively decide how the platform will be managed in their neighbourhood. In addition, the project plans to reinvest the benefits for the community, with the aim of generating social sustainability. Thus, locals directly support the projects they want to see in their neighbourhoods: food cooperatives, playgrounds, green projects, community cafes, etc.
The case of FairBnB will be recalled as an example of local action which, while inviting collective reflection on the development of platform economies and the transformation of cities, in the absence of a political, legal and social framework adequate for its development, risks remaining very marginal and therefore very limited.
Reference will be made on a review of the literature on the subject, together with the results of some research activities – with mixed methodological approaches – contained in the DECODE project[1], funded by the European Union under the Horizon 20201 program.
[1] https://www.decodeproject.eu/                                                      
Downloads
Download data is not yet available.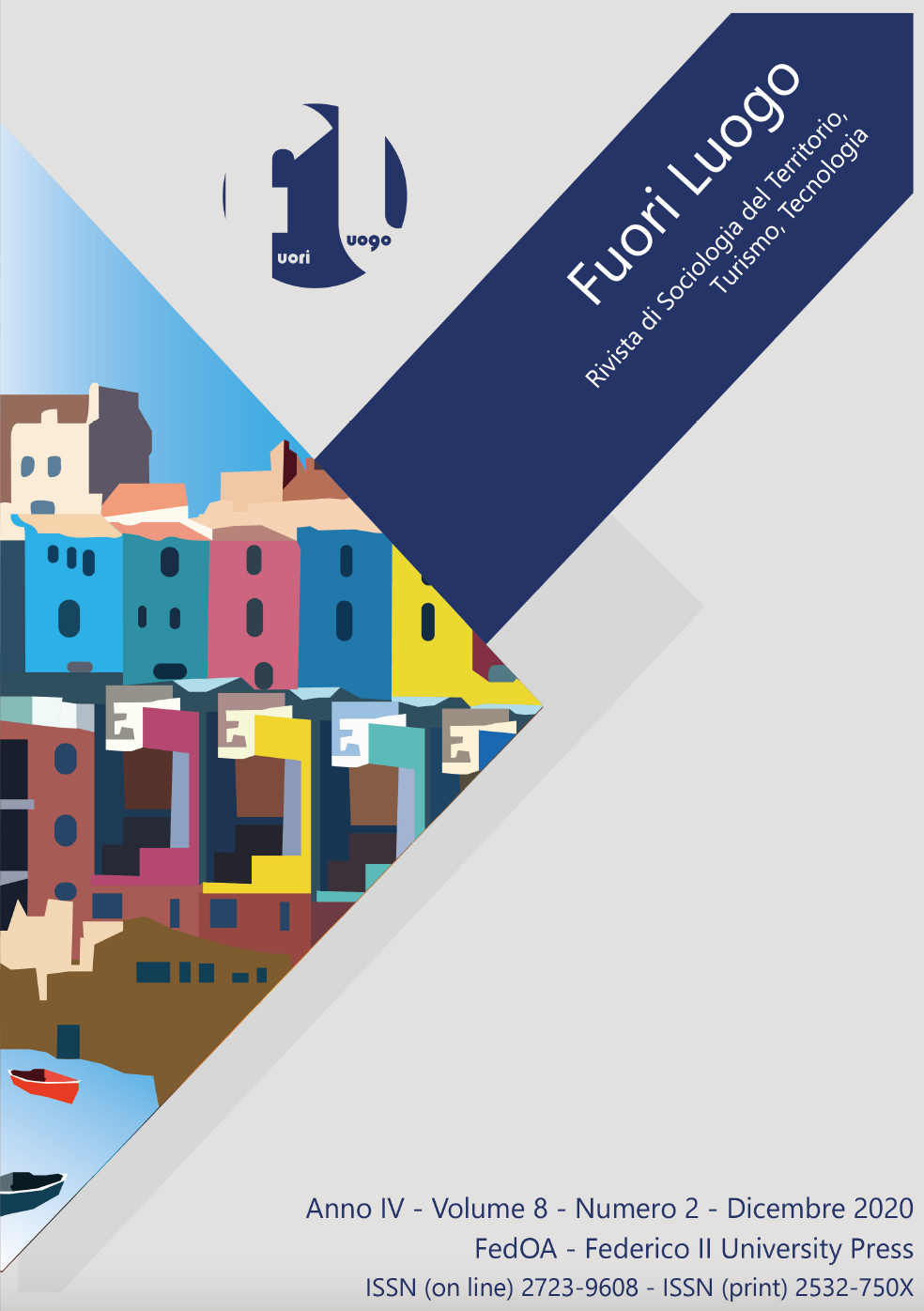 How to Cite
MusolinoE. (2021). Airbnb: what do we share and what do we lose? What is true into collaborative model. Fuori Luogo. Rivista Di Sociologia Del Territorio, Turismo, Tecnologia, 8(2), 49-55. https://doi.org/10.6092/2723-9608/7289
Copyright (c) 2021 Elena Musolino
This work is licensed under a Creative Commons Attribution 4.0 International License.