Roots tourism, Second Homes and Terraphilia in a Portuguese Context
Keywords:
roots tourism, second homes, second home tourism, topophilia, terraphilia
Abstract
One of the main feature of roots tourism is the visitation of the place of origin by people who have established their residence elsewhere. One of the most frequent manifestations of roots tourism has to do with the establishment of a second home. This home becomes the mark of a relationship that, at one time, derives from the search for better living conditions in other geographical contexts and, at the other, lingers in the memory of those who stayed there as a demonstration of the success of those who departed.
This phenomenon incorporates different forms and intensities of manifestation of connections to that the root place. These connections ranges from the simple relationship that values, above all, the more physical aspects of the natural and social environments, to the existence of family members and the need to affirm social and economic success. This last connection can induce greater levels of interaction, material and immaterial, with the place. In this way, degrees of involvement with the root community can be reflected in different transforming effects of that very same community.
Topophilia and terraphilia are two basic theoretical concepts that will help to understand this involvement, which is framed, in large part, by the desire to recover the lost territorial identity. Topophilia is more related with place attachment anchored in the physical and social characteristics of the place, whilst terraphilia adds up a pro-developmental attitude to that concept. In other words, terraphilia is measured by the willingness of people to directly contribute to the development of a place or territory.
In Portugal there are no known studies on roots tourism. Despite the abundance of tourism studies that place foreigners at the main level of demand, those dedicated to the study of Portuguese travel and, even less, on the part of those who descend from them are less frequent or in-depth.
In the absence of statistical or other information derived from other direct or indirect sources related with roots tourism, the phenomenon is contextualized in the more general problem of second homes, for which the results of a surveys conducted by the authors during 2019 and 2020, using the internet and the services of a marketing firm, are available and never published.
Downloads
Download data is not yet available.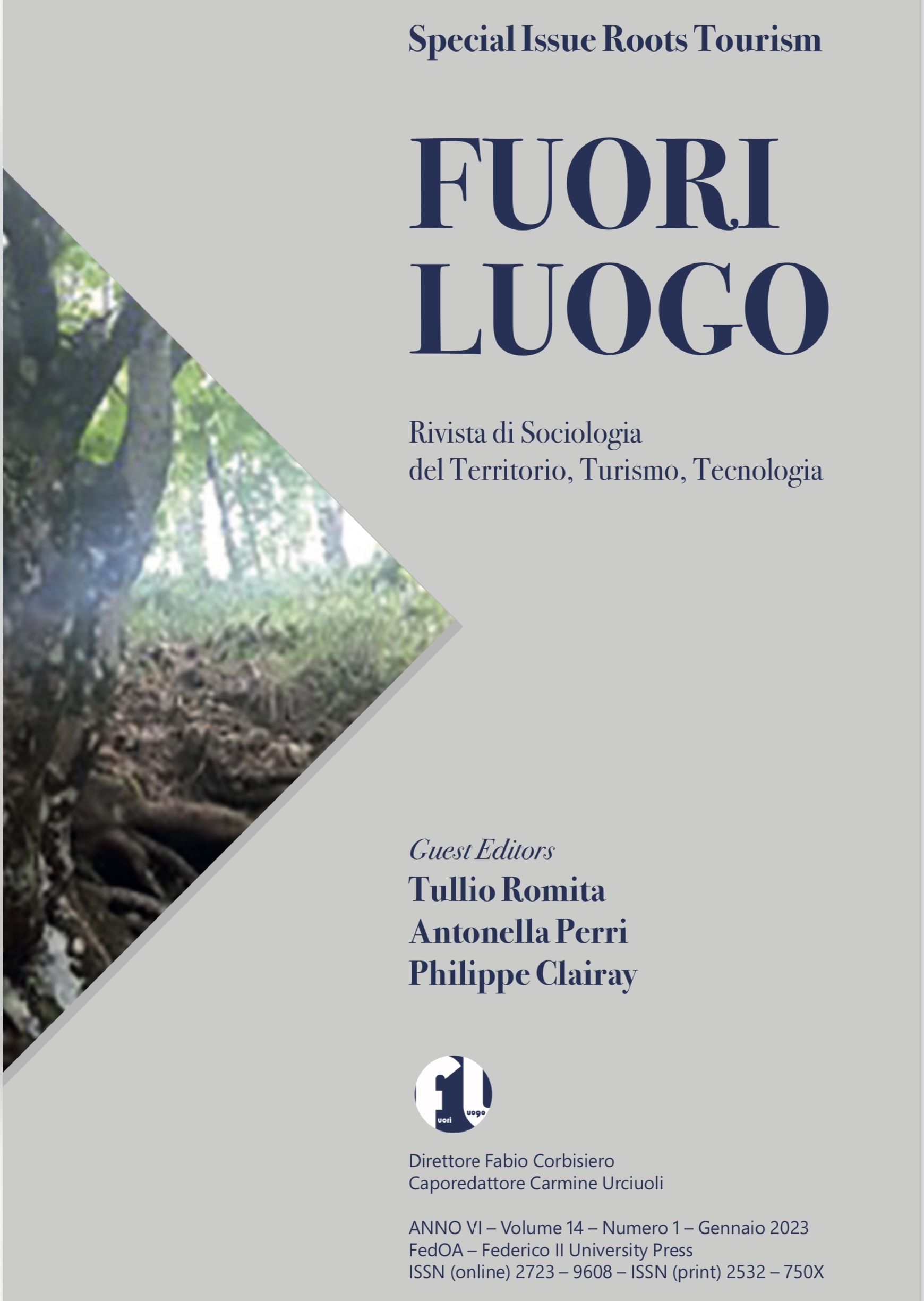 How to Cite
OliveiraJ., RocaZ., & Oliveira-RocaM. (2023). Roots tourism, Second Homes and Terraphilia in a Portuguese Context. Fuori Luogo. Rivista Di Sociologia Del Territorio, Turismo, Tecnologia, 14(1), 51-66. https://doi.org/10.6093/2723-9608/9498
Copyright (c) 2023 José António Oliveira, Zoran Roca, Prof., Maria de Nazaré Oliveira-Roca, Prof.
This work is licensed under a Creative Commons Attribution 4.0 International License.