The Ethnic Tourism for the Preservation and Valorisation of the Identity of Cross-Border Territories and as an Opportunity for the Development of the Roots Tourism
Andrej Bertok

University of Trieste, Euroservis srl

Moreno Zago

Università di Trieste
Keywords:
Cultural heritage×, Cross-border networks, Tourism promotion, Role of ethno-linguistic communities, Multisensory experiences
Abstract
The north-eastern border areas have experienced continuous and significant identity transformations. The presence of different cultures (Italian, Friulian, Slavic, German, etc.) has enriched the identity of the places, but their abandonment by choice, by compulsion (e.g., the Giuliano-Dalmatian exodus) or, simply, by natural demographic decline have risked dispersing a significant cultural heritage. In recent years, thanks to the role of ethno-linguistic communities and cross-border cooperation programmes, projects for the enhancement of linguistic and cultural heritage have been launched, thematic historical-naturalistic itineraries created, opportunities for wine and food cooperation promoted, cross-border mobility fostered, etc. The European funding programmes involving these areas are diverse and have had a considerable impact on the planning of territories, the creation of networks involving institutional, economic and cultural operators and the promotion of increasingly sustainable approaches. Not only has these programmes enhanced the area's rich natural and cultural heritage, but it has also supported, through dedicated associations (e.g., Fogolârs furlans, Julians in the world Association, etc.), a tourism aimed at those who have left these lands and their descendants to rediscover the places thus regenerated, the traditions recovered, and the flavours safeguarded belonging to family memories and narratives. The article focuses on what the various cross-border programmes on Italy's eastern border have achieved to promote a roots tourism in terms of sustainability, recovery of traditions, renovation of the architectural heritage, involvement of ethnic-linguistic communities, and creation of multi-sensory itineraries. The keywords of roots tourism addressed here are those linked to personal and collective memories, to village festivities and religious rituals, to friendships, to the familiarity of places, to the pride of territorial and community belonging, to cultural identity, to local knowledge and flavours, to relevant architectural and landscape heritage, etc. The cross-border projects have thus increased the tourist attractiveness and visibility of cross-border areas through sustainable models, innovative products and marketing of cultural heritage and ecotypes of planned landscapes through green technologies.
Downloads
Download data is not yet available.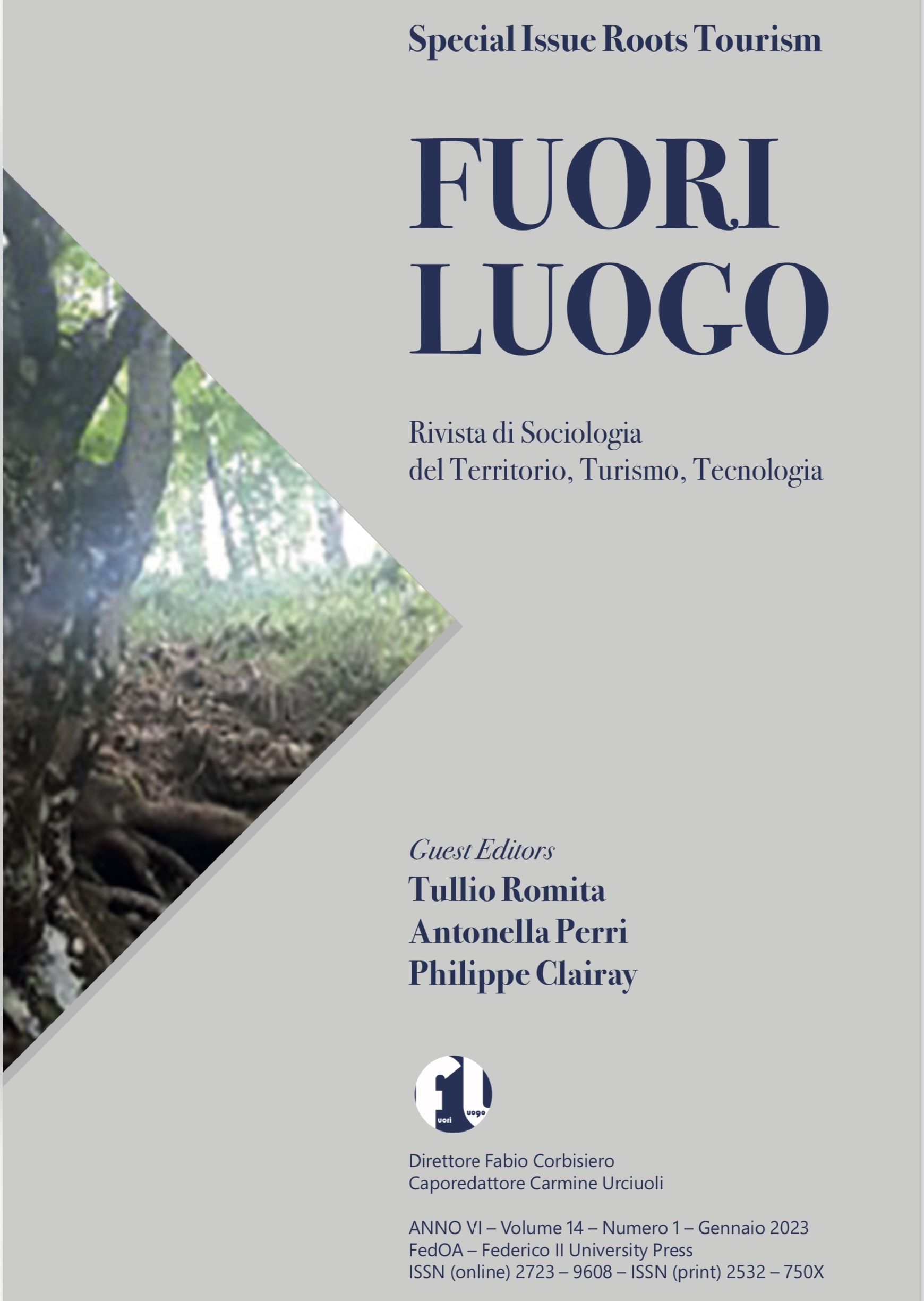 How to Cite
BertokA., & ZagoM. (2023). The Ethnic Tourism for the Preservation and Valorisation of the Identity of Cross-Border Territories and as an Opportunity for the Development of the Roots Tourism. Fuori Luogo. Rivista Di Sociologia Del Territorio, Turismo, Tecnologia, 14(1), 81-92. https://doi.org/10.6093/2723-9608/9510
Copyright (c) 2023 Moreno Zago
This work is licensed under a Creative Commons Attribution 4.0 International License.