Editorial
Luigi Fusco Girard

Dipartimento di Architettura, Università di Napoli Federico II
Abstract
The outcome of the United Nations Conference in Istanbul in 1996 was the Habitat Agenda, a global action plan for the sustainable development of human settlements.
In 2001, a plenary assembly was held at the United Nations in order to verify its effectiveness and implementation status all over the world.
Then, in 2002, the Habitat Agenda was published also in Italian by the Department of Architectural and Environmental Heritage Conservation in the book entitled Habitat Agenda/Agenda Habitat. Verso la sostenibilità urbana e territoriale, describing some experiences concretely realized.
Today the Habitat Agenda needs to be updated because it could not predict the extraordinary changes occurred over the latest 20 years.
Increasingly, the wealth of a country/region is represented by the wealth produced in its cities. However, cities are also major generators of entropy: they are the most significant source of pollution/environmental degradation, climate destabilization, etc., that adversely affect the health and the economic conditions, too. It represents a source of significant waste of resources and dissipation of wealth: an economic damage that, in the current conditions of crisis, is not affordable.
The starting point of the new urban regeneration strategies is the intertwine with the environmental strategies and with the regeneration of local economy ones.
Downloads
Download data is not yet available.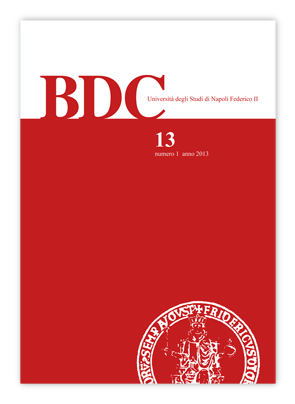 Come citare
Fusco GirardL. (2013). Editorial. BDC. Bollettino Del Centro Calza Bini, 13(1), 7-8. https://doi.org/10.6092/2284-4732/2447
Copyright (c) 2014 BDC. Bollettino Del Centro Calza Bini
This work is licensed under a Creative Commons Attribution 4.0 International License.