CREATIVE CITIES: THE CHALLENGE OF "HUMANIZATION" IN THE CITY DEVELOPMENT
Luigi Fusco Girard

Dipartimento di Architettura, Università di Napoli Federico II
Abstract
Small cities can offer interesting practices of urbanization at the human scale, in achieving benefits for a more balanced regional order and also for the regeneration of "central" cities, i.e. big cities. High quality of landscape enhances city attractiveness and thus development perspectives. This quality depends on the density of circular and synergistic processes, i.e. on their capacity to multiply the flow of benefits. In the examined experiences, the "piazza" becomes the catalyst for communication, relationships, exchange of ideas and not only for marketing goods: the place of regeneration of all forms of energies and thus places for humanization. It is here that the quality of the complex landscape is maximized. The regenerative model development, that starts from the new circular metabolism and economic processes, should be extended to the whole city-region, modifying land and space use. The "piazza" characterized by a rich complex landscape as engine of social, symbiotic and economic exchanges, should be multiplied in the city: every urban building should become a little "piazza". In this paper some elements that should be included in the new Urban Agenda in order to implement the human scale of urbanization are proposed.
Downloads
Download data is not yet available.
Riferimenti bibliografici
Keywords: circular economy, symbiosis, synergies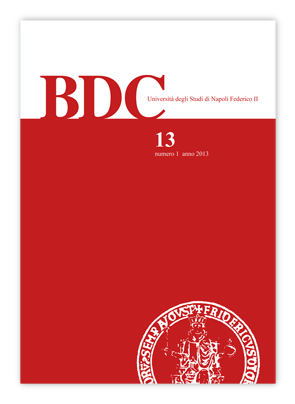 Come citare
Fusco GirardL. (2013). CREATIVE CITIES: THE CHALLENGE OF "HUMANIZATION" IN THE CITY DEVELOPMENT. BDC. Bollettino Del Centro Calza Bini, 13(1), 9-33. https://doi.org/10.6092/2284-4732/2448
Copyright (c) 2014 BDC. Bollettino Del Centro Calza Bini
This work is licensed under a Creative Commons Attribution 4.0 International License.